Women in Jazz Media recently held the 'Maxine Gordon – Sophisticated Giants' event, an evening of celebration of the inspirational work of award-winning Arts Advocate, Jazz Historian, Archivist, Scholar, Manager and Producer Maxine Gordon, in London, at Jazz Cafe Posk. The event was a fantastic opportunity to celebrate the many layers of this legends work including her forthcoming book 'Jazz Quartette' which explores the work of Shirley Scott, Maxine Sullivan, Velma Middleton and Melba Liston along with a rare opportunity to hear the music of these artists.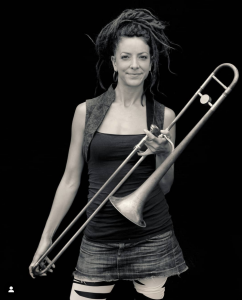 We asked trumpeter/flugelhorn player Charlotte Keeffe to put some questions to some of the artists performing about their process, how they prepared and how the artists they were representing have influenced their work. In this article, Charlotte talks to the brilliant trombonist Laura Impallomeni about her Melba Liston set.
Laura Impallomeni studied Jazz Trombone at Trinity Laban Conservatoire of Music and Dance during which she regularly performed in venues such as Ronnie Scott's with Mark Lockheart's Contemporary Big Band, and various other smaller jazz ensembles. Laura plays in a plethora of other musical projects and genres including 'Barnacles', an experimental jazz quintet, and Latin Jazz ensemble 'The Voodoo Love Orchestra'. She has also toured with the renowned 'Giffords Circus' and runs an 11-piece afro-jazz band 'Yamäya' that recently reached the final 8 bands (out of 5600 entries) in the Glastonbury emerging talent competition. Laura is certainly one to watch especially as she has just received the Arts Council England 'Develop Your Creative Practice' grant to explore her own contemporary jazz compositions and to continue studying under various renowned UK trombonists and composers.
CK: Please briefly introduce yourselves to us and share what really inspires you about the artist you represented and therefore the music you played as part of this special night?
I am Laura (Lao-ra) Impallomeni, a London based female trombonist, and I had the privilege of representing the mighty Melba Liston during this special concert!  There are so many things that inspire me about Melba's musical skills and style. She was a phenomenal trombone player, jazz improviser, arranger and composer. Asides from her own wonderful repertoire, she is reported to have also composed as a "ghost writer' for many renowned artists. Many of the arrangements found in the Gillespie, Jones and Weston repertoires were accomplished by Melba. I've even heard that she arranged music for Bob Marley whilst living in Jamaica!
Music is still very much a male dominated world, but back then it was even more so! Melba seems to me to have been a truly courageous, resilient and ground-breaking woman. I find her character truly inspiring! She was the first female trombonist to play in the big bands of the 1940s and 1960s. She was also the first female jazz trombonist to play in many other smaller jazz ensembles.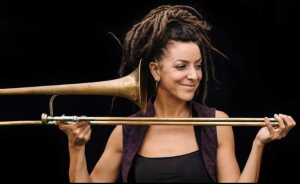 She was known for being nervous when she was asked to take solos, but with encouragement she became more comfortable. I love her improvisational style! She became a featured voice in many bands and toured with artists such as Count Basie and Billie Holiday.  I feel a real affinity to Melba, and these feelings she supposedly felt around soloing in her early career. My experience of studying jazz at a conservatoire and playing jazz in general has been very male dominated. 
There is a primal, sometimes macho element to solo-ing, that at times feels like a sort of Darwinian display of ones 'assets'. Whilst I deeply respect and value musical virtuosity and the discipline that lays behind it, I don't want to buy into the competitive alpha element that can sometimes emerge in very male jazz scenes. So, for women, I think we have to find a way to healthily and intelligently navigate that energy that can infiltrate the music. Perhaps Melba's nerves were partly born from a similar experience, given she was the only woman in the majority of her musical projects. It is inspiring that she acclimatised to improvising, and not only overcame these nerves, but came out as a strong and recognisable improvisational voice!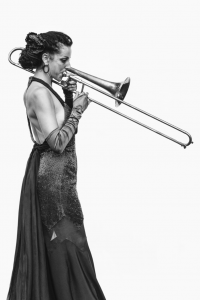 CK: How have you approached learning someone else's voice whilst maintaining your own powerful voice?
I have spent a lot of time attentively and actively listening to Melba's repertoire. I have also transcribed big chunks of her solos. Whilst I have tried my best to assimilate aspects of her sound and language, I trust that my own musical voice will still prevail, because no matter how hard we try, I believe that we always sound like ourselves! We can transcribe phrases and feel, but at the end of the day it will be my breath, vibration and presence that comes through the horn.
CK: Do you have a favourite song, piece and/or a story about the artist that you'd like to share with us?
There are so many tunes of Melba's that I love, but perhaps my favourite is 'The Trolley Song', as it is such a fantastically angular and wonky piece of music! However, I sadly couldn't play it at this concert, as we didn't have enough musicians in the ensemble to do justice to this fantastic piece of music that was arranged for a much larger band. Another personal favourite that we did play is 'Insomnia', a moody minor piece that moves between a swing and rhumba feel.
Melba articulated the problems of being a female on the road in a 'male' profession; "There's those natural problems on the road, the female problems, the lodging problems, the laundry, and all those kind of things to try to keep yourself together, problems that the guys don't have to go through". She also recounted the struggles she experienced as an African American woman, which affected her musical career. One can imagine just how challenging it was for her to pursue a career as a jazz musician in that even more racist and patriarchal era. It has been said that due to these gender and racial inequalities, she continually had to prove her credentials in order to gain employment as a musician, composer and arranger. She was not paid equally and was denied access to larger opportunities.  But she kept playing and composing despite this significantly disadvantageous context, and she did it with tremendous success!
She was evidently a force to be reckoned with! She strikes me as a powerhouse of musical talent, drive and determination. One that carved out a path that many female musicians and composers have since followed. 
Huge thank you to Charlotte Keeffe and Laura Impallomeni!
Photos of Laura by Mark Lord
To support Charlotte, please visit her site here
To support Laura, please visit her here
And do keep an eye on Maxine Gordon's site for news and release date for her new book, Jazz Quartette.
Last modified: July 14, 2022