At the beginning of the summer, Rotterdam is already getting into jazz atmospheres with the 17th edition of fringe festival North Sea Round Town. From June 23rd to July 10th, the Dutch metropole will buzz with 375 concerts from jazz to hip-hop at over 100 locations throughout the city. This year, all eyes are on Artist in Focus, Teis Semey. The guitarist and composer is given the opportunity to present various (dream) projects and share his artistic vision, "I don't want to waste a moment".
Text: Angelique van Os | Photography: archive North Sea Round Town | Featured Image by Oligar Da Paz
Two weeks before NN North Sea Jazz kicks off, Rotterdam is already submerged by contemporary and innovative music of outstanding quality. The city forms a challenging scenery and the connecting factor for rising stars and contemporary acts at a local and (inter)national level. The keyword here is collaboration, because North Sea Round Town (NSRT) is a festival where everything revolves around joining forces with new young voices and creating lasting collaborations together. This certainly applies for this year's Artist in Focus Teis Semey.
Rising star
Teis Semey (Aalborg, 1993) is a rising star in the Netherlands. And after his exuberant performance with his quintet in April during the annual German showcase festival Jazzahead, he is ready to 'take over' Europe. The Danish guitarist/composer, who has lived in Amsterdam since 2013, has developed rapidly in a short period of time. He released three albums in just three years, of which Mean Mean Machine (Zennez Records) was released last November. In addition, since all corona restrictions have been abolished, he has been on stage almost non-stop, with his own projects and with other formations, such as Guy Salamon Group and Fuensanta Mendez Ensemble.
Artistic desire
The guitarist stands out for his passionate, spirited, almost punkish and charismatic playing and recognizable compositions, always looking for adventure and musical discovery. These recognizable characteristics also struck the programmers of NSRT. Semey's artistic desire to experiment, create and discover new musical worlds also fits perfectly with the role of Artist in Focus of the almost three-week festival in Rotterdam.
Flattered and shocked
Semey has to work hard, because he will have the opportunity to realize several unique projects and concerts in collaboration with the festival. When the guitarist was asked by NSRT to follow in the footsteps of drummer, bandmate and close friend Sun-Mi Hong who was Artist in Focus last year, he felt flattered but also shocked. "I'm a little scared to get this recognition for my work. It's a big responsibility, but I can't wait to get my new music heard," he said in an earlier interview in November.
Now, after almost nine months of preparation, the festival is in sight, and he has grown more into his role. The projects have been further developed, have taken shape and Semey is increasing the pressure to get the best out of himself, he says in an online conversation.
Cultural diversity
As Artist in Focus, Semey is looking for new collaborations related to the city of Rotterdam. And because of the cultural diversity, the choice is immense. The festival is inspired by the social and artistic diversity and the cultural fusion that Rotterdam is offering with 174 nationalities. This cultural diversity forms the connecting link with new musical productions and forms a meeting place and a testing ground for starting musical experiments and (re)discovering the city. And because not everyone is able to attend the concerts, performances are also organized in, for example, care and nursing homes, to serve the entire city in all layers of the population to bridging boundaries between cultures and connecting generations.
Fascinating playing field
How does Teis Semey look at his role in the vibrant city? "Rotterdam is a fascinating creative playing field", says the musician. He continues: "There are plenty of lesser-known locations and different sides of the city where you normally don't end up quickly and that are interesting to transform into stages for modern art."
A good example of this is the concert with Raw Fish, the duo with the Italian Giovanni Lacovella (drums, electronics). Semey: "During Jazz biking on July the 3rd, we will give a concert in a former swimming pool! That setting alone brings a special atmosphere to this intense music. I'm really looking forward to it!", he says enthusiastically. "After our concerts, I'm always completely wrecked. It takes so much energy and at the same time I am completely satisfied because it is fantastic to play with Giovanni. Soon we will go into the studio for a new recording session."
Community-based festival
NSRT is a real community-based festival, because the festival collaborates with the people of Rotterdam in many ways. Teis adds to this: "It is a real city festival, focusing on so many different venues. The format also varies from other Dutch festivals, since it is spread out for several weeks instead of one weekend or week. I urge anyone to come for a few days. See concerts, hang out and enjoy the feeling of being around of so much music. And of course, it is up to the community how far they want to be part of it."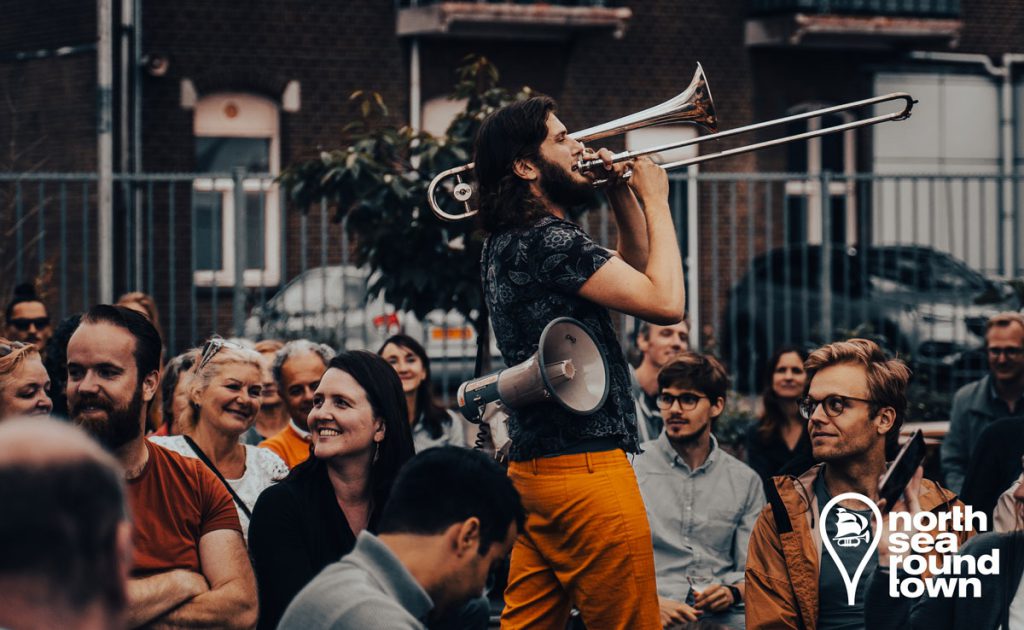 Midnight Mass
A completely different musical and genre-transcending meeting will be Midnight Mass, which will take place in the Laurenskerk on July 1st. This concert refers to Semey's Danish roots, where folklore, classical music, and Lutheran church traditions merge. The guitarist has always been interested in traditional Northern European spiritual music. On the one hand it reminds him of his youth, on the other hand of the free spirit of jazz musicians such as John Coltrane, who also inspires him. "This is the most intensive project so far, for which I am still fine-tuning music. I am creating a different world of sound. I have never been able to express myself this way."
Danish folk tradition
The repertoire has come closer to the Danish folk tradition than Semey had previously thought. He delved more into the music books of his grandmother and mother and those songs found a place in this project quite naturally. The link with his roots is not strange, because as a child and teenager Semey was an outsider who received little acceptance from his environment. As a result, he never really got the opportunity to embrace his own traditions. Now he corrects that in his own way.
Sacred layers
The way of composing was also different for Midnight Mass than Semey was used to; instead of emphazing rhythm and heavy chord progressions, the focus is now on melody and harmony. The music asks for space and stillness. "I got closer to an approach like a singer- songwriter. It is a great journey to find my own voice in organ and choir music", he claims.
The repertoire also consists of several layers. For example, Semey literally names the Midnight Mass, which symbolizes the sublime and illuminating. He is inspired by the tranquil sounds and spiritual chorales of composer Arvo Pärt. "The night represents the dark world we live in, but when a new morning arrives there is light and hope again," explains Semey.
Cultural mix
The line-up is also striking and consists of international musicians. For example, the British Kit Downes (BBC Jazz Award, ECM Records, ed.) plays the organ. In addition, a four-piece choir of very different singers can be heard: Marta Arpini from Italy, Fuensanta Mendez from Mexico, Sanem Kalfa from Turkey and Liva Dumpe from Latvia. "These four singers all live in the Netherlands but have very different cultural backgrounds. And Kit creates a wonderful cosmic feeling of togetherness with his playing, which sometimes seems to be lost in the present state our world is in. Mix all those elements with my Danish folk roots and improvisation with an emphasis on emotional experience, and you get a unique concert", says Semey enthusiastically. He continues: "The collective power of music is strong and must be accessible to everyone. In a way, I take Scandinavian folk music out of its national connotations, creating a pure music form that is not necessarily linked to any country or language."
Melody Concert
Besides Midnight Mass, Semey presents another (free) lunch concert in the Laurenskerk on June 28th, together with Hayo Boerema, entitled Fifteen (Nordic) Melodies. Boerema has been the organist since 2005 titular of the church and a leading musician from the Rotterdam music scene who has several awards to his name. The fifteen melodies are based on five Danish traditional folk songs and ten melodies by the guitarist himself. Semey: "I hand over the melodies and we're going to improvise on them. Hayo doesn't know what to expect, what's mine and what the traditionals are. That keeps it exciting, where we place each melody in its own context. It may seem like a lot of material, but the concert must be interesting."
Billie Holiday
It is perhaps surprising that Teis Semey was not so much influenced by other guitarists, but rather by vocalists. Billie Holiday is his all-time favorite: "I am mainly influenced by vocalists and Billie Holiday is one of the most relevant jazz musicians ever to me. Her arrangements and pieces are still timeless, and I have studied them from an early age. Her music has tremendous depth. I would like to give a modern interpretation to her work, creating the most authentic expression possible." In addition to Semey, Benjamin Herman (sax), Alessandro Fongaro (bass) and Jimmi Hunting (drums) can be heard on Sunday, June 26th.
Creator
Many of Semey's projects programmed during NSRT are new. Although is quintet is not, it is just as much worth the visit, on July 2nd in LantarenVenster. "The chemistry with this group is so intense, direct and tight because we've been playing together for a while. This is therefore a different kind of concert compared to the other performances."
But except for experience there is no difference between a new group and a familiar band. Semey will play as it can be his last concert. "I want to give myself and the music completely. I don't want to waste a moment. I want to create as much as I can and reach as many people as possible." Semey clarifies that this means that one time he jumps around the stage and goes completely wild, and at the same time on a different project, he makes himself vulnerable and can be absorbed in pure stillness.
Lifestyle
"Living this life is a lifestyle. Sometimes it is madness with so many gigs, touring and writing and studying all the time. But it is worth it! This is the life I should lead, and I want to lead since I was seven years old." Teis Semey is very grateful that people take the effort to come to his concerts and that NSRT gives him the opportunity to profile himself as Artist in Focus. "Everyone can enjoy themselves from the comfort of their home, so I take it extremely seriously that I give people a great night. And for that I honestly push myself to the limit, because that's the way that works for me. I try to serve the music as honestly as possible."

Festival recommendations by Artist in Focus Teis Semey
Of course, Teis Semey is not the only artist on North Sea Round Town. According to the guitarist people don't have to choose. "Just come everywhere! Put on sandals or walking shoes and see as much concerts as you can. Please engage. And feel free to come to me afterwards and let me say what you think", he says. Still 375 concerts are a lot, so we asked Semey for some recommendations.
Perseli|Thursday, June 23rd | Conny Janssen Danst Studio 2 | 18.30 | Free, part of inJazz
Semey: "Perseli is already an urban legend, how Alistair Payne (trumpet) and José Soares (saxophone) had a band before knowing it. In countless sound checks I have witnessed them just starting to make the most incredible music on the spot. With singer Fuensanta Méndez in the mix, the band has finally taken shape. Perselí's sound and magic is undeniable."
Pietre|Thursday, June 23rd | Conny Janssen Danst Studio 1| 19.10 | Free, part of inJazz
Semey: "Pietre has a raw, humble and intensely committed approach to sound. This is a band that I've always wanted to hear but it hasn't existed in Netherlands until now. It is the quartet of base player Alessandro Fongaro, that he brought together during the second lockdown in 2021. Alessandro embodies as a musician a lot of what really nurtures him as a listener. It is for me a quintessential band that brings something new and vitally important to the Dutch scene. An overflowing aggressive, humble and complete capitulation to the momentum, with less reverb and more attitude than you'd normally hear. Love it."
Thomas Pol|Friday, June 24th, 13.45 | Thursday, June 30rd, 20.30| Batavierhuis x NSRT x inJazz|
Semey: "I had the honor of playing with Thomas sometimes, and while being intensely skillful and all, he's really such an amazingly creative and warm person. His solo project really took me somewhere new when I heard in Tivoli. I was so impressed with his creativity and depth, playfulness and the approachable aspect of his performance while managing to steer away from cliches at the same time."
Marta Arpini Pocket Orchestra| Saturday, July 2nd| 21.00 |de Doelen
Semey; "Marta have been a musical companion to me for many years, and her insistence on her own way in music is confronting and inspiring to me. Her openness has led to me also being more open and discovering of a whole scene of music I would have missed. Not only an incredible singer, but an amazing song writer. Her music has that extra thing, has magic, and is heartbreaking and heartwarming at the same time. Don't miss it."
Jazzfietsen| Sunday, July the 3rd | 11.00-16.00 | Startingpoint LantarenVenster
Semey: "I think a part of listening to music is about places. I remember sitting on a train and listening to music, or in a park, and even though it's an album and live, those moments are colored and recorded in my brain with the music that was there. And live music is like that too, and I think it's a valuable thing to make people discover Rotterdam through music and art. I also know Marjolijn Masselink who is co-organizing it and she is an incredible being that really, really cares about pairing the magic of the city with the magic of music. I recommend going for a ride on the 3rd of July for some music."
For more details and the full program visit the North Sea Round Town website.
Last modified: June 22, 2022