The Jazz industry is no stranger to mental health concerns and in fact, the creative industry, as a collective, has been rife with a whole range of artists struggling with their mental health throughout its history along with the misunderstandings, lack of support and stigma attached to it.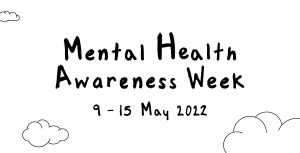 This week is Mental Health Awareness Week championed by the Mental Health Foundation. Each year they focus on a different theme, with this year's theme 'tackling loneliness':
'Together we can tackle loneliness: For Mental Health Awareness Week this year, we're raising awareness of the impact of loneliness on our mental wellbeing and the practical steps we can take to address it.  Loneliness is affecting more and more of us in the UK and has had a huge impact on our physical and mental health during the pandemic. Our connection to other people and our community is fundamental to protecting our mental health and we need to find better ways of tackling the epidemic of loneliness. We can all play a part in this.'
One of the missions of Women in Jazz Media organisation, is to create a healthy and supportive environment for women who work in Jazz and mental health issues are therefore one of the key areas for development. Keeping in mind that the Mental Health Foundation has announced "loneliness" as the theme of Mental Health Awareness Week 2022, which will run from Monday 9 May to Sunday 15 May, we are starting to make our contribution in conjunction with this important event.
In April and May 2022, Fiona Ross met with team members Fiona Mactaggart, founder of the Scottish Jazz Space, as well as previously working for the NHS, and singer, improviser and educator Diana Torti, to discuss how WiJM can best support mental health and wellbeing in the jazz industry world-wide.  This article is a brief summary of this conversation and is an introduction to the mental health and wellbeing-specific work of WiJM to come that we wanted to share with you Mental Health Awareness week.
We believe it is important to strive for a creative sector which is healthy, safe and with no significant barriers. Two levels of work by WiJM are foreseen:
A practically oriented, quick response to help women in the jazz sector who feel isolated and unsupported. We plan to write articles, and conduct interviews with women working in the jazz industry who have had experiences they are willing to share. There may be issues that regularly arise, that turn out to be in fact experienced by many people, regardless of gender. This initiative will hopefully help them feel a little less isolated, and instead feel part of a community.
A long-term project aiming at building up and developing an alternative discourse regarding mental health issues in the creative arts sector, in particular in the jazz industry.
Our discussion was quite wide-ranging and in-depth. We agreed that there is a level of vulnerability specific to working in the creative industry. This is to do with several issues including our more exposed 'internal world', emotions and identity during the creative process. In effect we feel 'naked' when we create and perhaps even more so when we perform in front of an audience.
Other issues relate to often unavoidable lifestyles, two examples being the frequent requirement to work late in the evening, and not being able to take a sick day off when we are ill should there be a gig booked. We noted that our profession is generally inexperienced in raising money in the business world or in using business models, which may have a negative impact on how others perceive us and our job.
We thought about the widespread view of Artists as people who follow a 'bohemian' way of life and shared our common view that it would be helpful if this false perception can be transformed into a more positive image of Artists.  We are in fact highly trained, hard-working professionals, healthy, with the vast majority having no all drug or alcohol difficulties!
We believe it is necessary to propose both the image of musicians who have had "bad" experiences, but also that of musicians who have had many positive experiences. So, over time we will present a series of diversified initiatives to raise public awareness on this delicate aspect of the profession of musicians and those 'behind the scenes', with a particular focus on women. We also hope to be able to make an effective and coherent contribution which can support those women who find themselves experiencing mental health and related difficulties and offer them ideas and suggestions.
We have several team members that are trained Mental Health first aiders and we hope to have more soon. We hope all of this will constitute a constructive contribution to the jazz community and help all of those affected feel less alone. We must at least try.
Article written by Diana Torti and Fiona Mactaggart
Some useful resources:
Last modified: May 9, 2022