British Jazz Saxophonist Hannah Horton is continuing to create a significant buzz as a rising star in the UK Jazz scene even more so since her saxophone artistry was recognised when she became the first UK female Henri Selmer of Paris jazz artist to endorse their instruments. Selmer instruments are world-renowned for their quality and regarded by many as the best saxophone to play and Hannah joins John Coltrane, Stan Getz, Louis Armstrong and Benny Goodman as Henri Selmer of Paris ambassadors. Quite the line up.
All photography by Tatiana Gorilovsky, nominee for Jazz Journalists Association photo of the year award 2021.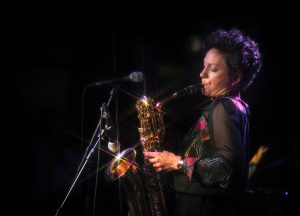 Hannah has performed with many great jazz artists including Ian Shaw, Amy Winehouse, John Etheridge, Tina May, Georgia Mancio, Polly Gibbons, Natalie Williams, Esther Bennett and Irene Serra; and at venues including Ronnie Scott's, Pizza Express Dean St, The 606, The Pheasantry, Love Supreme Jazz Festival, Royal Festival Hall and The Barbican. Her new album Inside Out has received incredible reviews and sell out performances, so I thought it was high time I caught up with Hannah to have a chat with her about her past year.
It has recently been announced that you are endorsed by the mighty Selmer, which is wonderful. Can you tell us how that came about and what it means to you?
I've always loved Selmer saxes and about 6 years ago I finally found the sax that would give me the tone and freedom I'd been searching for. Mr Gold is my new soulmate. He's a vintage 1965 Mark VI tenor sax and, despite all his clunking and a few dents, he's amazing. I often joke that John Coltrane (one the best jazz sax players to have lived) must have missed this one when he chose his Mark VI from the same year! He did have many different saxes though, not just from that year!  To have the number one maker of saxes recognise my artistry means so much. It's a dream come true.  Selmer got in touch toward the end of 2021. We had a few conversations and then they offered me to become an ambassador. I feel extremely honoured to be their first UK female jazz artist and to join John Coltrane, Stan Getz, Louis Armstrong and Benny Goodman as ambassadors.
My two all-time favourite sax players are Stan Getz and John Coltrane – both amazing players and hugely inspiring to me. I love the way Getz interprets melodies, his unique tone and the way he improvises, plus the way he collaborated with musicians during performances. He used some alternative fingerings of notes to get around turning issues and for timbre. His flexibility over the whole range of the sax is amazing. He plays melodic lines yet makes them rhythmical and interesting. He is a real influence on me.
John Coltrane is simply phenomenal! The energy, soul and emotion he emits is just captivating. He explored different styles of playing with his band throughout his lifetime and he really is, to me, a true master of his art. I take a lot of inspiration from the emotion and bare soul he emits in some of his pieces. He was also so creative, like in, for example, My Favourite Things, which I totally love. Coltrane has a track recorded to evoke and even soothe whatever mood you, as a listener, are feeling. Chick Corea, Keith Jarrett and my wonderful teacher, Mark Lockheart, have been huge inspirations for me too, but I think this answer will be way too long if I gush about them too…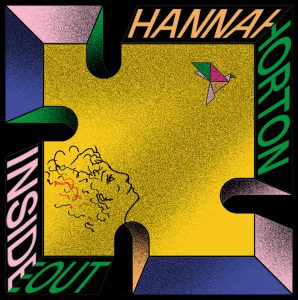 Your recent album Inside Out has been received incredibly well and you have been performing to sellout crowds across the UK. Can you tell us a little bit about the inspiration behind the album?
Thank you. I feel very lucky for Inside Out to have been received as well as it has. It's a scary time when you release your music to the world. I got such a high, recording the album in the studio during lockdown with my quartet –  John Crawford on piano, Rob Statham on bass and Nic France on drums – and then to have my wonderful friend and all-time amazing human, Ian Shaw, write lyrics to two of my originals and sing on the album too. In 'Breathing Out', we ended up with a choir of Ian's and a sax section of Hannah's! Inside Out is an album of five originals, an arrangement of 'Feed the Birds' from Mary Poppins, and my version of a Morris dance called the 'Horn Dance'. There are also three standards I hold close to my heart.
It's an album that shows my inside feelings on the outside. I've had a few major life events recently which inspired and shaped my originals and the album. Inside Out has become an album which shows us that, throughout life, we grow; we as humans build resilience; and how time teaches us confidence, inner strength and acceptance. The emotions from those recent events – me getting divorced and my dad losing his fight with cancer – both at the time, and when reflecting on them afterwards, helped shape the album. Inside Out is about dealing with, growing and accepting these emotions and how I am navigating them.
Ian's lyrics to 'Frozen Light' are about me and my dad. I was blown away when Ian and I met to chat about the melody, and he showed me the lyrics for the first time. They are simply perfect. My other originals are inspired by big memories or feelings I have had from growing up to now. I love going to Morris Dance meets and the melodies the Morris men play. I am constantly in awe and grounded by the nature around me – I have been since a child.
You play, alto, tenor and baritone sax and Ian Shaw said that you 'makes the big beast of a baritone sax sound like an angel' Can you explain a little bit about your approach to each different sax? Do you have a preference?
This is a really interesting question to me. It all depends on the song, emotion and how I feel as to which sax I prefer. My two favourite saxes to play are the Tenor and Baritone. I love the lower registers. I see them as different characters a lot of the time. My tenor I see as more serious and grown up; whereas my baritone I see as more mischievous and fun. I'm experimenting with mixing up how I see them at the moment which was why I played 'Frozen Light' on the baritone. It's a serious, melancholy song so starting with upper register on both vocal and baritone sax was a new and interesting approach for me. I love to play melodically and lyrically on both. I hadn't questioned this until critics and audience started to comment on how dexterously and intricately, I play both the tenor and baritone. All those Marcel Mule sax studies I did on the baritone for fun have definitely paid off! Both instruments are my inner voice speaking out with melody, showing how I'm feeling and my emotions.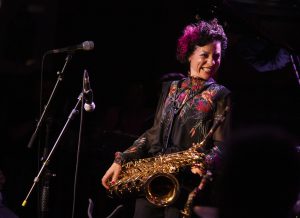 You love the countryside and often refer to it in your social media posts. Inside Out references reflection and resilience. How important is the fresh air and countryside – that space – for you as an artist?
I am a total country bumpkin! I really need to spend time out in the countryside to feel grounded and in control. I love being outside in the fresh air and sunshine. It just makes me feel so 'Hannah'. Ever since I can remember, I've always loved listening to the birds, trying to spot them and watch as the plants and flowers grow from springtime. The worst times of year for me are late autumn and winter when it feels like everything is dying and the birds sing way less. I am one of those annoying people who can tell many birds from their song and I'm not a bad on crops and garden plants either! Cycling outside in the countryside, gardening when I get a chance and taking a few moments just to sit and be in the in the outside is the perfect tonic for me. I guess it's my kind of meditation. My neighbours think I'm nuts as I cycle around 20 miles, 3 times a week whatever the weather. I battle in the storms and snow too! Although it's tough at the time, I feel so much better after it. It gives me energy, strength and grounding.
You transform your home into a venue once a month for your 'Jazz at the Cottage' live streams events. Can you tell us a little bit about the inspiration behind these and some of your guests?
Jazz at the Cottage started as a bit of fun in the second lockdown as my close friends were encouraging me to try it and to play to them online. It's grown from there and now takes over my cottage once a month on a Sunday evening from 7:30 to 8:30pm. I had no idea how much stuff and setting up it would end up needing! Then there's the switching up of the set etc. too. I've been really touched by audience's feedback which has pushed me to keep it going. Technology and live streaming can be super stressful when things go don't work as they should close to when we are due to go live! I often have the fab Louis Thorne on guitar. We go with a theme or just get a lovely Sunday evening set together. Jazz lovers buy tickets (available from my website) and tune in from all over the world, which I still find amazing. I just wouldn't have thought of trying to livestream pre-pandemic and I've connected with so many people world-wide through it.
I've had a few lovely guests – starting off with my friend and jazz vocalist, Esther Bennett and also including you, Fiona Ross! That was a super-fun gig playing your originals, even if my black kitten did manage to get on to the set – Finzi for has FOMO! I have a few more guests in the pipeline for this summer too…  watch this space.
I have heard you say you quite enjoy the social media element of your work, unlike many jazz musicians. How do you approach your promotional work?
I wasn't into social media at all, probably more out of naivety than anything else. Then I got thinking more about it and spoke to lots of fellow jazz musicians. I did an F-List Zoom with Harriet JW which made me see it in a more positive way. Now I quite enjoy designing posts for social media and popping up stories with clips of me playing and things that inspire me. It's a funny beast though, social media! I've developed a style and aesthetic that I feel is very true to me. Maybe it doesn't appeal to everyone, but as long as it's authentic, I feel that's all I can be and do as an independent artist. Sometimes it baffles me, though, that a clip of me taken on my phone noodling at home in my cottage, simply practicing, gets more views than a clip with studio sound… but hey… if I can go with the flow and stay true to myself I think that's OK.
You also run the incredible J Steps initiative and teach – how do you manage to juggle everything and stay focussed?
I 100% love music and I think that this love and passion is what drives me and helps keep my momentum. I am generally always working whether that be practicing / rehearsing / composing / mentoring or teaching. It does get tiring, but I love it and wouldn't want it any other way. Perhaps it's conducive to my OCD tendencies! Alongside me an artist I am super passionate about young musicians learning to play in the best way possible with proper technique, focus, musicianship etc. from the start. I love seeing what they achieve. Many have come gone on to conservatoire and junior colleges. I am so proud of them and I feel privileged to have helped them on their musical journeys.
J Steps are just amazing. I found it tough being the only of one or two female young jazzers in a group and it actually put me off playing and improvising as a teenager. J Steps addresses this, and they are awesome. They are so eager to learn and play and are so generous to one another. They have a beautiful homogenous sound and I look forward to every session and gig we do.
If it's OK, please may I say a huge thanks to Kate Llewellyn at Saffron Centre for Young Musicians for listening to my mad idea a few years back and for helping make J Step what it is today. Also, to Women in Jazz Media who gave J Steps their first ever gig at the London Jazz Festival 2021.
What are your next plans – where can we see you perform?
I'm really excited about the rest of 2022 and I'm starting to think about my next album too. I have some lovely live dates coming up as part of my Inside Out album tour. Jazz at the Cottage is set to continue too. 23rd April is my next tour date in my local venue – Haverhill Arts Centre, Suffolk. I'm so excited as Ian Shaw will be joining me: he wrote the lyrics to two of my originals on the album and sang them too. 6th May the tour goes to Chichester Jazz Club. 10th May is my next big London date at the wonderful 606 Club. The 606, holds a very special place in my heart as that's where I launched the album in September last year. I'm so excited Steve has asked me to return. Come along! Further ahead, I'm super excited about opening the final evening of the Scarborough Jazz Festival on 25th September.  For all my performance dates and news, check out hannahhorton.com and I'm @hannahhortonsax on all socials.
Last modified: April 19, 2022