It is no secret to those who know me, that Hiromi is a huge inspiration to me and having the opportunity to interview her about her new album, was an incredible honour and an invaluable chance to gain an insight into her processes and to talk about her new album.
Hiromi's new album 'Silver Lining Suite' written for piano, two violins and cello is the first time she has recorded in Japan and with this instrumentation. Although I didn't really want to explore lockdown too much, it is hugely relevant to this album and as Hiromi is an artist who truly thrives from performing, I was very curious to see how she adapted to the situation.
I was doing a bunch of shows at Blue Note Tokyo last year because I started this series called 'Save Live Music'. Most of the musicians who play there are international musicians and they had cancellations for almost four whole months where nobody could travel, so they had to remain closed and since my tour cancelled. I was like what can I do, you know, to just keep the club going and open and then we came up with this idea of doing a show and from August to September in 2020 I did hold 16 day and 32 shows solo. We then my second run started in December, so like another four months and after that I wanted to do something else, to play in a different format. But all the musicians I played with in the past, lived overseas, so they couldn't travel again, so I had to really think hard – who do I want to play with? What kind of instrumentation? Suddenly I remembered the time that I played with a symphonic orchestra in 2015 and I played that with the new Japan Philharmonic. I thought of the concertmaster the violin player and he was very open to many kinds of different music and the vision he had towards music was really close to mine. He was really curious about improvisation and he was open to it. I called him in is it and said I'm thinking about doing something with strings, probably piano and string quartet and know something that kind of struck me and he said that's a great idea you and I'd love to be part of it. Ok, so I'm going to start writing music for it and that's how it started!
I have seen Hiromi perform live many times and her energy is truly electrifying. The music and emotions that she releases during her performances, is astounding. I asked her what she did with this extraordinary musical energy during the lockdown.
I mean my life changed completely and because I used to just go around the globe, like five times a year so I had to find the way to release my energy somehow. I have so much energy for performing. I was just thinking, what can I do under this situation, what are the options? And of course, the only thing I could do was practice and write, writing music and I really enjoyed it. I mean I always enjoy writing but for the first time I felt like writing is saving my life because I could release my energy and I could feel that at least I'm creating something new, something born right now.It was just so worrying this brand-new situation, because you don't even know what you're fighting against and you really feel isolated. Suddenly your life's taken so it's it was really difficult, but I felt like whenever I was writing something, when I was creating something, I felt like I wasn't defeated.
I had read somewhere there she keeps a composition notebook with her at all times and has in fact has been writing down her compositions in a notebook for a long time:
I first started writing when I was six years old and I always had passion for writing music. Sometimes it's just like melody, sometimes it's just a groove it's just what comes to me that very day.
Fascinated by Hiromi's compositional notebooks, I asked her if she could talk a little bit about her writing process.
It depends on the musicians so for example when I play a duet, I try to leave as much space as I can because of the nature of a duet as I think it should be like 50/50. But for example, for this album, because I was playing with a whole group of classical musicians, I wrote all the parts for them. Even for when I'm improvising – how they accompany – I wrote every single note for them. But I asked them that even though it's written, I want you to improvise with how you play. There is no dynamics written for my improvisation part, for example, because I never know how my journey takes me, so I just go with the flow and that's not really what you do in classical music. I might start really loud and then really soft and you have to accompany like that. So just listen and just come with me just like a rollercoaster. That's how I explained to them and I think they did beautifully.
Hiromi is not wrong. The new album is stunning. But this was of no surprise to me, but I did wonder if she ever feels overwhelmed. She is a significant role model to so many, not just because of her technical brilliance as a composer and a pianist, but her sense of self and her artistry that clearly demonstrates someone who is happy in her skin and knows who she is and what she wants. I asked if she ever feels pressure.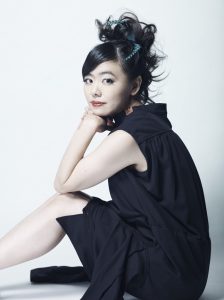 No, I enjoy challenges. I just know and always feel that the time and energy that you use for creating something or building something is never spoiled, it's never wasted. The more you spend time on something, the more the challenges come but the challenges are always something that makes me just keep going as an artist. So, I enjoy bumping into things that I can't play. I enjoy listening to amazing musicians who just wow me and there are so many musicians that are so inspiring and it really just pushes me to go in the right direction.
I was initially drawn into Hiromi's music for its originality – I had never heard anything like it. The combination of simplicity and complexity with almost inhumane technical expertise and raw emotion and joy is something I had not experienced.
Sometimes students ask me, how can you be original, how can you not sound like someone? I often talk about how babies start to talk, you know because baby's first learn language from their parents, from the people who are around them at the time right? So, it starts from borrowed words in the beginning. You learn from listening. When you grow up you meet friends and you meet different groups of people and then you learn new language, a new way to speak. I mean sometimes, parents might not be happy about how you speak and that's exactly how it should be with music. I believe the more you speak and the more you learn…talk to people who are more experienced, educated and you get more confident about yourself and you can just speak – you know, be yourself, free – and then that's when you become yourself. So, I think everybody can be unique. So first you start with something borrowed but you just keep playing that again and again and again then it will be yours someday. That's how I see things.
There were so many questions I could have asked Hiromi, but I allowed myself to approach this interview differently to all my other interviews because I really just wanted to share a moment with her, her process – who she is. Hiromi's first piano teacher used to write on the first page of every new music book 'spend a life full of dreams' and to end my interview I simply asked her, what her dreams are now.
My dream is being a better musician but being better means more experienced, being a better human being. I want to experience more things. I want to understand about others more, you know? Every year I feel I'm growing up, every day I learn something, I'm inspired by something. I want to be better musician and of course there is so much to do technically but like life you know? Being a musician is living life for me, so I just want to keep experiencing it, as a human being and as a musician and hopefully become better.
This article was first published in the Women in Jazz Media Dec 2021 magazine
Last modified: March 31, 2022