The London-based saxophonist Camilla George was dubbed "The Golden Girl of Jazz" by The Evening Standard, after the release of her debut album "Isang" in 2016. This one with her first quartet recalls giants like Sonny Rollins, Charles Lloyd, Charlie Parker, Stan Getz (with shades of bossa nova vocals), and Dizzy Gillespie (with nods to his "Salt Peanuts"); clearly her debut is steeped in the honored tradition with mainly straight-ahead jazz tracks, and not a hint of her birthplace, except that "isang" means "journey" in Ibibio, which is her native language of Nigeria. But such changes would come.
After all, George was brought to the UK as an infant and raised in London, starting to play the saxophone already as a child, eventually earning her Masters in "Jazz Performance" at Trinity College in 2012. By 2009, she had already joined the award-winning group Jazz Jamaica, and so she was playing Ronnie Scott's, as a rising star getting established on the London scene before her graduation.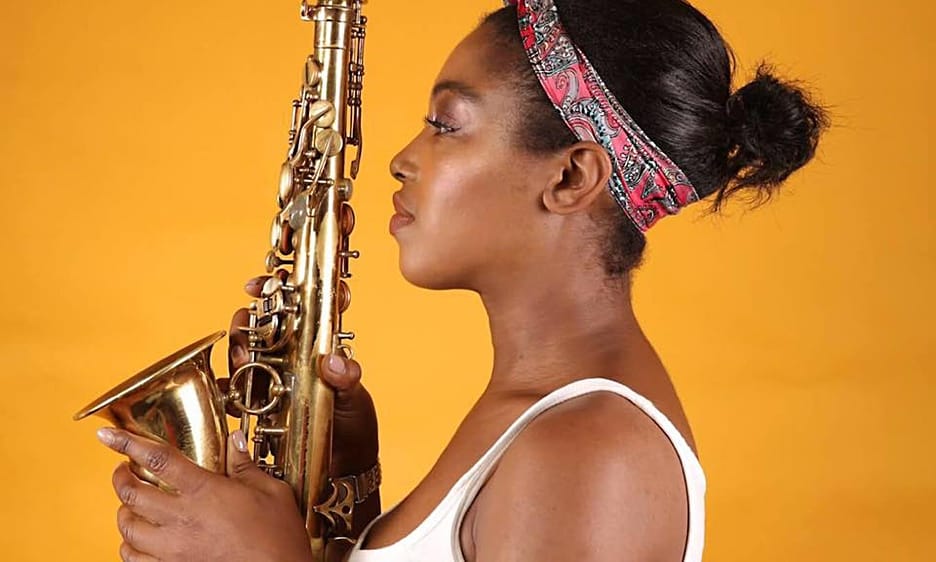 Her next album as a leader, "The People Could Fly" (2018) has a sound more in touch with London's reputation as a vibrant and diverse jazz community, especially for the younger generations. This album deftly fuses the African influences (Afro-jazz, afro-beat and high-life), while exploring issues in African history and colonialism through folk tales based on slavery and passed on for generations. This album also brings into the band newer players including the remarkable young guitarist Shirley Tetteh.
Camilla George's band by late 2020 has become her most refined and also her most formidable for several reasons. Mainly the leader has pushed herself and her band to its highest horizons by mixing the line-up, while still including Teteh on guitar, she brought in a hip-hop heavyweight, Daru Jones on drums, included with Daniel Casimir on acoustic and electric bass, and Al MacSween on keyboards.
This group has been highlighted since they are captured on a YouTube livestream concert series, The Return Sessions at Ronnie Scott's Jazz Club recorded August 30, 2020 in a nearly empty club (sans the crew) but for a global virtual audience as they played it during a Covid-lockdown and Notting Hill Carnival.
These are the players on her upcoming third studio album "Ibibio," which is a tribute to her tribe, the Ibibio, in the south eastern coast of Nigeria. This one features more guests like Daru Jones, the hip-hop drummer from Philadelphia, the Birmingham-based rapper, Lady Sanity, and Kadialy Kouyate on kora.
Camilla George's quartet at this point includes Daniel Casmir on double-bass, Sarah Tandy on piano, Rod Youngs on drums and Shirley Tetteh on guitar. They are featured in a 2021 streamed performance for digital Jazzahead! (unable to be there in person due to the ongoing health restrictions). For this one, there is a looser and funkier sound than ever, and the yearning to have a live audience is palpable. And each time Tetteh steps in for her solo, they achieve a mindbending blend of traditional rhythmic hard bop meets a slowed-down afro-jazz under the influence of King Sunny Ade's joyful Juju music.
This group has been ready to roar for a live audience beyond the UK, for almost two years. So the Camilla George Band has a short tour in the Czech Republic in April 2022 to finally get things going.
Sunday, April 10th – early evening – Jazzinec International Music Festival, Trutnov, Czech Republic
Sunday, April 10th – later evening show – Jazz Dock, Prague, Czech Republic
Last modified: March 28, 2022