'Strawberry Fields' is the latest release from German trumpeter Rudiger Bauldaf. This recording is the follow up to the 2017 release, also on Mons Records, titled 'Jackson Trip' where Rudiger took the music of the Jacksons to task. Looking at the title of this album you don't a "Crystal Ball" to know that with the album Rudiger has focused his attention on the Beatles.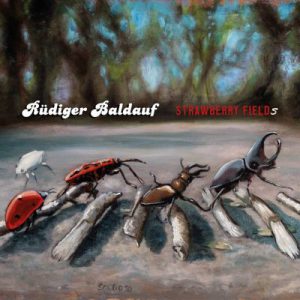 In Germany, Rudiger needs little introduction, he is well know as one of the most versatile trumpetists currently on the German scene and probably best known as trumpeter with the RTL Saturday Night Show band. In addition to leading his own projects Rudiger is also a regular guest musician in most German radio big bands and in particular with the WDR Big Band.
Before we take a look at the music I think it's worth noting that over the years almost all of the Beatles repertoire has become cannon fodder for musicians across many genres to explore, and why not, these compositions perfectly suited for it. The question is what to do with it and on this album Bauldaf provides us with his vision. In listening to the recording it's clear that Rudiger did not take the approach to reimaging the music in a pure jazz setting but instead to pay tribute to the compositions envisioning the music as it may have been recorded today. In the press release that accompanied the release it states that he "… presents exactly the right mix of humility and new ideas" and I believe this hit's the nail on the head.
The music included on the album is eclectic in nature and crosses a number of genre boundaries, yet know matter where the music goes you can hear that it's viewed through Rudiger's own unique lens. Joining Baldauf on the recording are Thomas Heinz (drums), Marius Goldhammer (bass) and Christian Frentzen (keyboards). Rounding out the line up are a number of guests including renowned German pop vocalist Max Mutzke, guitarist Bruno Müller and newcomer Jakob Manz on saxophone.
The album kicks off with funk version of "we can work it out" with Baldauf taking the lead yet at the same time leaving plenty of room for the keyboards and drums to solo. Max Mutzke makes his first appearance on "Come Together" that is given a full on rock treatment. The second track featuring Mutzke is John Lennon's classic "Imagine" and is the perfect closing track for the album. The vocal performance here is spectacular and the melodic interplay with Baldauf's muted trumpet is the perfect complement.
My personal highlights on this recording are the funk version of Eleanor Rigby that almost verges on a New Orleans 2nd line feel and the blues tinged take on Norwegian Wood.
While some of our more traditional readers may dispute whether or not this album could be classified as a true jazz album, I would have to disagree with them. Jazz is a fluid form, always has been, and I often remind myself of the a statement my father once made, he said "It doesn't matter where jazz goes as long as it takes the tradition with it." With this he was not speaking of style, for him, the tradition he was referring to was improvisation and believe me, when we look at this recording the tradition in this sense is fully front and center.
I truly enjoyed this album from top to tail and I'm sure it will prove highly popular for a wide audience. Given that fact that it hit number one on the Apple Music "Jazz Szene: Deutschland" and the JPC Jazz Charts says it all. Highly recommended.
If you would like to stream or purchase this album click here.
Track Listing:
1: We Can Work It Out | 2: Back In The U.S.S.R. | 3: Blackbird | 4: Come Together | 5: Penny Lane | 6: Something | 7: Eight Days A Week | 8: Norwegian Wood | 9: Hey Bulldog | 10: Eleanor Rigby | 11: Strawberry Fields Forever | 12: Imagine.
Line-Up:
Rüdiger Baldauf – trumpet, flugelhorn, piccolo trumpet | Christian Frentzen – piano, wurlitzer, organ, synth. | Marius Goldhammer – bass | Thomas Heinz – drums | Guest: Max Mutzke – vocals on 4 & 12
Release Date: 8 December 2020
Format: CD | Digital
Label: Mons Records


New Release Spotify Playlist
The Jazz In Europe New Release playlist features tracks from the new releases featured on Jazz In Europe. Updated weekly, this playlist is the perfect place to discover new music from the leading jazz musicians currently on the scene. We hope you enjoy this selection.
The best way to keep up to date with all the latest releases is to follow us on Spotify. Just click the button below.
Last modified: July 13, 2021