Ubuntu Music recently announced the signing of UK jazz guitarist, Nigel Price, for the release of his next Organ Trio album titled, "Wes Reimagined". Featuring a stellar line-up of Ross Stanley (Hammond organ), Joel Barford (drums), and guest appreances by Vasilis Xenopoulos (sax), Tony Kofi (sax), Snowboy (percussion) and the Phonographic Effect Strings conducted by Callum Au the album pays tribute to one of Price's main influencers.
With a career spanning more than 25 years, the award-winning jazz guitarist has become widely acknowledged as one of the hardest working musicians in the business. Starting his professional career in his early 20s, Nigel toured Europe with various reggae and funk bands before settling on a solo guitar career and turning his attention to jazz. Citing early influences as Wes Montgomery, Joe Pass, John McLaughlin and the Mahavishnu Orchestra, Nigel honed his craft by attending gigs and sitting in with the players of the time.
Price has played on more than 50 albums including seven as a leader, spent 10 years with acid jazz outfit The Filthy Six, was a member of James Taylor's band, JTQ, for three years (with whom he recorded five albums) and performed with the legendary David Axelrod as well as appearing on Van Morrison's recent album, Keep Me Singing.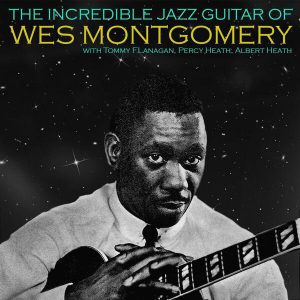 When speaking of Wes Reimagined, his upcoming release, Price explains, "I make no secret of the fact that I'm a big Wes Montgomery fan. Who isn't? I've found his compositions to be great vehicles, especially used in the organ trio format. I couldn't wish to have a better or more exciting team than Ross Stanley and Joel Barford to help me convey this material. We have some fantastic guests too: long-time collaborator Vasilis Xenopoulos on tenor saxophone, the wonderful Tony Kofi on alto and the legend that is Snowboy on percussion on five of the tracks.
"This album is a collection of the great man's tunes, played in the same spirit but with a little look at what might have been. Some decisions as to what 'feel' a piece will be in are made very quickly, sometimes on the day of a recording session. I got to thinking that there was every chance that many of these tunes could have easily come out sounding very different if Wes had just been in an alternative frame of mind on the day."
"Hey, I haven't tried to reinvent the wheel in any way – it's just a kind of 'what if?' So, 'Leila' moves from a cool 'west coast' vibe to an out and out burner, 'Far Wes' to a waltz and ''Road Song' from a bossa to a grooving shuffle. I also think that Wes's had an honest, direct and melodic style influenced a lot of the funk, soul, boogaloo and earthy groove music that was to come shortly after his passing. I have no doubt that he would have been at the forefront of that movement. Therefore, I've intertwined some of these later styles with Wes's music."
"I also wanted, to acknowledge the later period of Wes's recordings so I commissioned the utterly incredible trombonist/arranger Callum Au to write three string quartet arrangements and transform some pieces into larger productions. I wasn't quite prepared for the depth and beauty of Callum's incredible writing, not to mention the wonderful playing from the Phonograph Effect strings.
"We've been incredibly lucky to have been able to tour this material in late 2020, (a real achievement!) and it's proved to be very popular with audiences all across the UK. What started out as a little daydream has become an exciting body of work of which I am very proud. I must say it turned out even better than I imagined." In October last year Nigel and the band featured on this album performed a streaming concert live at Ronnie Scott's. To get a taste of what's to come you can see this concert below.
In terms of his newly formed relationship with Ubuntu Music, Nigel continues, "Well, I'm kind of known for wanting to 'go it alone' and I mostly have done exactly that over the years but I've become increasingly aware of a huge, positive presence within the UK jazz scene. That presence is Ubuntu Music. It's clear that the boss, Martin Hummel, thrives on his startling ability to cheerfully, efficiently and above all optimistically 'take care of business'. Looking at the roster of Ubuntu artists it is clear that I am amongst friends and, for perhaps the first time in my life, I am more than pleased to be handing the business side of things over to an organisation that I trust, leaving me more time to actually concentrate on the music.
Now, where did I put my guitar…?"
For those waiting to get there hands on the album you'll need to be somewhat patient. The album is set for worldwide release on June the 4th and will be available as CD, Vinyl LP and of course available on all the usual digital streaming suspects.
More information on Nigel and this up-coming release can be found on the Ubuntu Music website.
Last modified: February 3, 2021