To Dutch and German Jazz aficionados Fay Claassen needs no introduction. Born in Nijmegen Fay is without doubt one of the Netherlands best know jazz vocalists and recipient of multiple Edison awards (known as the Dutch Grammys) as well as the prestigious German "Preis der Deutschen Schallplattenkritik", a "Golden Record Award" and the "Chet Baker Award".
Fay has always been known for her wide repertoire choice and and her ability to fearlessly go where most would not dare. This recording titled "Close to you" is Fays latest release and once again is confirmation of this. "Close to You" was released earlier in 2020 follows her 2018 release "Dutch Songbook", recorded with the WDR Big Band, that also reached into a treasure trove of material rarely touched by jazz artists.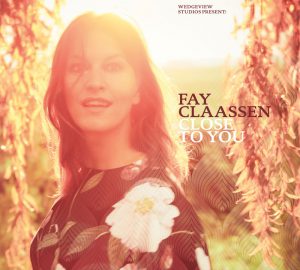 "Close to You" (Wedgeview Music) features eleven spectacular arrangements of well known pop gems, largely from the late 1960's and early 1970's, including among others compositions by Lennon & McCartney classic "The Fool on the Hill", Blood, Sweat & Tears "Spinning Wheel" and of course the title track, Burt Bacharach and Hal David's "Close to You". Recorded at Wedge View Studios in the Netherlands the album features a large line-up of musicians including standard rhythm section comprising of Roeland Jacobs (Piano), Frans van Geest (Bass), Marcel Serierse (Drums) and Daniel de Moraes (Guitar). Strings, Woodwinds were conducted by Alexandrea Arrieche and most tracks feature guest performances from Hermine Durloo, Benjamin Herman, Antonio Serrano, Lo van Gorp, Teus Nobel, Peter Tiehuis and Karel Boehlee.
The album features spectacular arrangements by Roeland Jacobs that elevate these classic songs to a new level while at the same time paying full respect to the original. The musical performances throughout the album are excellent yet, in my opinion, it is Claassen's vocal performances on this album that make this set a true winner.
Opening with Lennon & McCartney's "The Fool on the Hill" the scene is set. Couched in an easy Bossa Nova feel with the occasional odd meter bar this track immediately grabs your attention and leaving the listener wanting more. Christopher Cross's 1980 hit "Sailing" follows and while the arrangement does not diverge a great deal from the original it presents one of the finest vocal performances on the album. In particular I liked the treatment given to Bonnie Raitt's "I can't Make You Love Me". This track is the most contemporary of the repertoire presented on the album and Jacobs arrangement underscores this. I particularly enjoyed the opening straight eighth string motif with Peter Tiehuis' introduction to the melody, a great way to open without giving away the farm!
"At Seventeen", originally made famous by Janis Ian, is in my opinion one of the many highlights on this album. The combination of Fay's vocal reading of the piece together with the Latin flavored arrangement and the contribution by Spanish Harmonica player Antonio Serrano converge to take this folk classic to a whole new level.
The album closes with, what in my mind is the true highlight of the album, "The First Time I saw your Face". This song, originally written by Ewan MacColl for folk singer Peggy Seeger and of course best known for the 1972 release by Roberta Flack, has been one of my favorite songs for many years. Claassen's performance on this album defies superlatives', pure story telling at it's best.
I would have to admit, based purely on the track list, this would not be an album that would normally end up on my playlist. Yet, after listening, once again I was reminded never to judge an album from preconceived notions. This album exudes class from the first note to the last. As stated above, the arrangements are spectacular as are the performances. The sonic quality of the recording is direct and balanced beautifully giving great clarity to the often complex layering.
What I particularly enjoyed with this album is its pure honesty, there are no science projects here, just great material – beautifully arranged and featuring world class vocal performances. I can't recommend this album highly enough.
Line-Up:
Roeland Jacobs (Piano) | Frans van Geest (Bass) | Marcel Serierse (Drums) | Daniel de Moraes (Guitar) | Rene Ten Cate (Vibes – Track 1)
Special Guests: Hermine Durloo (Harmonica) | Benjamin Herman (Alto Sax) | Antonio Serrano (Harmonica) | Lo van Gorp (Additional Vocals) | Teus Nobel (Trumpet) | Peter Tiehuis (Guitar) | Karel Boehlee (Piano – Track 8).
Strings: From the Radio Philharmonic Orchestra (The Netherlands)
Woodwinds: Remco de Landmeter (Flute) | Alard Roberts (French Horn) | Dorine Schoon (Oboe)
Track Listing:
The Fool On The Hill Feat: Hermine Deurloo | 2. Sailing | 3. If You Leave Me Now | 4. Close To You 5. Got To Get You Into My Life | 6. One Day I'll Fly Away Feat: Hermine Deurloo | 7. I Can't Make You Love Me Feat: Peter Tiehuis | 8. Killing Me Softly Feat: Lo Van Gorp & Teus Nobel | 9. Spinning Wheel Feat: Benjamin Herman | 10. At Seventeen Feat: Antonio Serrano | 11. The First Time Ever I Saw Your Face.
Release Date: January 2020
Format: CD | Digital
Label: Wedgeview Music
Last modified: March 2, 2021