On the 4th of September bassist, Gary Peacock passed away in New York aged 85. During his long and distinguished career, Peacock's legacy of work had ensured him a legendary position in the history of the genre. Recently bassist Gene Perla contacted us with the request to publish a short piece remembering Gary. Naturally, we were more than happy to oblige. Over to Gene – Ed


Monumental listening experiences were Gary's participation in Spiritual Unity and Trio 64. When the jazz music bug hit me in 1962, I entered Berklee with what became the delusion of becoming Bill Evans #2. Upon hearing Charlie Haden on The Shape of Jazz to Come, I switched to double-bass at age 24. The desire was there, and now with only one note at a time to deal with, I experienced, very quickly, my path to NYC and the inclusion at the top end of a fantastically emerging, creative music scene.
My first encounter with Gary occurred on a Boston street corner where I was introduced to him by a good friend, Chris Hills, a great musician. Gary had given up music and was living with the Kushi family which immersed him in the macrobiotic diet, an eating plan that I later strictly followed for 7 years. He had sold his German factory plywood instrument, with a spruce top, to Chris.
Subsequently, Gary moved to Japan to study acupressure, and upon my 1970 arrival in Tokyo, on tour with Sarah Vaughan, he visited me at our hotel. Entering my room, he asked how I was and told him that I was currently suffering from yet another, regularly occurring migraine. He told me to turn around whereupon he began touching my upper shoulders and neck and within a short manipulation, the headache disappeared. It wasn't until I took up the macro diet that I was able to eliminate those discomforts. It's been decades since I've had a recurrence.
In 1973, my girlfriend and I flew to San Francisco, pulled my moth-balled car out of its storage garage, and drove to Portland, Oregon to meet Chris who sold Gary's bass to me. Time went on and I dropped out of playing for over 18 years. The next visit from Gary occurred because he hooked up with Keith & Jack and asked if he could buy the Framus back from me. I declined. He asked to come to my home to see it. I knew he wanted to talk me into it. He showed up, played it a bit, my tongue hit the floor… he again asked me to sell it whereupon I suggested he take it as I wasn't playing any bass those days. He demurred because he didn't want to be in an active situation and receive a call from me wanting it back. There's more to the story, but it'll come in time.
Through the following years, I'd phone him on his birthday, but the last few years he didn't respond. I sensed he was having physical issues.
I once asked how he devised his sensational flurries. Via a ton of physical practice? At that time, his technique comprised of lying down horizontally on his back, clearing his mind and waiting for a phrase to materialize. He then envisioned himself fingering the phrase very slowly until he found the best path and then increased the tempo to the desired speed. He'd then get up, pull the bass to him and play it flawlessly. I tried it… it works.
I'm so sad that he's gone. He was a fierce pioneer and pacesetter, and along with Scott LaFaro, led the way for so many others to follow.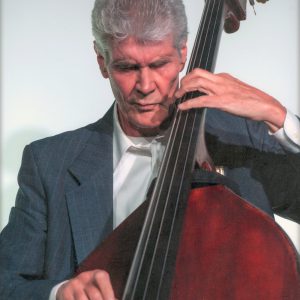 Gene Perla has been important to jazz not only as a bassist but as the owner of two record labels. Perla studied as a pianist at the Berklee College of Music and the Boston Conservatory of Music. He eventually switched to bass and picked up notable experience with Woody Herman's Orchestra (1969-70), the Thad Jones-Mel Lewis Orchestra, Sarah Vaughan, Elvin Jones (1971-73) and Sonny Rollins. In the mid-1970s Perla formed the PM (Perla Music) label and a little later also ran Plug; among the musicians that he recorded were Dave Liebman, Elvin Jones, Steve Grossman, Pat LaBarbera and (for Plug) Jerry Bergonzi among others. Perla formed the group Stone Alliance (which also included Grossman and percussionist Don Alias) in 1975 and has remained quite active as both a bassist and as a jazz educator up to the present time
Last modified: October 1, 2020