I have been away for a while, dear readers, and, for that, I apologize. I have missed writing for you, but in these difficult times of Covid, one has to diversify and almost turn into a chameleon… I have had to do so myself, but here I am, back again to tell you about some amazing music.
As I write this, the September air is well and truly arrived and its scent fills my heart with hope and a distinctive positivity.
My most avid readers will know me well, so when I present you with the following three great albums, don't get too distracted by the fact that they are not all "brand new", but let them instead entice you because they are ALL stunning creations.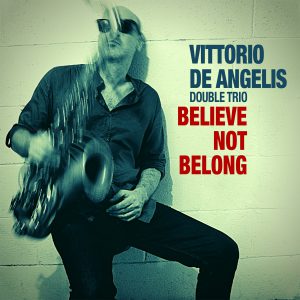 To start with Naples born and Rome resident, Vittorio De Angelis Double Trio with its "Believe not Belong" recorded on Creusarte Records. De Angelis has composed and arranged all the seven pieces on the album, and, let me tell you, what an album!
All tracks are smooth, slick and beautifully written, the band gels so well that from the moment the music starts, your foot will start tapping the floor and your head will start nodding. It is an immediate rhythm and instant capturing. With talents like Domenico Sanna on piano rhodes as well Seby Burgio on würlitzer piano, the notes flow with a clear emphasis on the creativity of the whole band. I love, in particular, Takuya Kuroda's trumpet playing on "Roy's Mood" and "Strike". So clever and sharp, he is pivotal in the making of the album, one that stays in your mind for a while even after it has finished playing.
De Angelis is a clever saxophonist and flutist, very active on the Italian music scene, a Steve Grossman pupil, he has also attended seminars with Lee Könitz, Benny Golson, Jerry Bergonzi and Rosario Giuliani. I respect De Angelis' creative spirit and I look forward to his next album!
Line-up: Vittorio De Angelis – Tenor sax, flute; Domenico Sanna – piano rhodes, synth, synth bass; Seby Burgio – acoustic, rhodes and würlitzer piano, rhodes bass piano; Massimo Di Cristofaro – drums; Roberto Giaquinto – drums; Feferico Scettri – drums; Takuya Kuroda – trumpet; Francesco Fratini – trumpet; Aldo Capasso – bass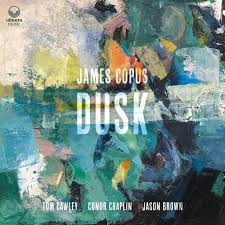 The next album is one I have been playing quite a few times now and is a recent release on Ubuntu Music, a label that has gone from strength to strength. With executive producer, Martin Hummel,  James Copus  "Dusk" is 39 minutes of pure bliss. From "Early Hours" to "Outro" (first and last tracks on the album), I find it a great work throughout.
Copus, a trumpet player whom I have had the pleasure to meet in person and watch play live as well, has incredible stamina, he does not shout his talent, he simply writes notes that will produce remarkable tracks and in those lies his perfection.
He also has three great musicians on the album, namely, Tom Cawley, fabulously wild on piano and synth, Conor Chaplin on double bass and Jason Brown on drums.
My favourite track is "Early Hours", it is also the longest on the album, a thoroughly flowing 8 minutes and 3 seconds. It is a piece that made me think of Autumn, of its colours and its scents. It just works so well! The title track "Dusk" is also a beauty where Copus delights us with his singing as well making it quite mesmeric to listen to.
Line-up: James Copus – trumpet, flugelhorn and voice; Tom Cawley – piano and synth; Cono Chaplin – double bass; Jason Brown – drums. And now for the surprise in this pack of 3 gems.
"In the autumn of 1968, a sixteen-year-old boy named Danny Scher had a dream. He wanted to bring the jazz pianist Thelonious Monk and his quartet to play a benefit concert at his high school in Palo Alto, California to raise funds for his school and to help bring about racial unity in his community. Armed with little more than a telephone, posters, a persuasive pitch, an impressive knowledge of jazz and an iron-willed determination, Scher not only made it happen but temporarily united a divided city". (extract from: "Thelonious Monk – The Life and Times of an American Original" by Robin D. G. Kelley)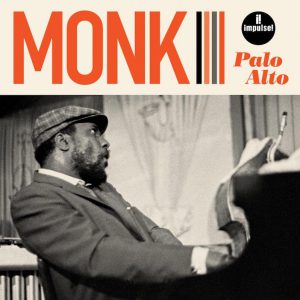 The previously unheard and unreleased High School recording was released in its entirety at the end of July this year on Impulse Records. And what a brilliant recording it is!
As a Monk fan, can you forgive my complete bias for this album? Monk is Monk, an utter genius, a piano master, a magician of the notes. Whichever way I describe him, he is and always will be a God to me.
For any of you, new readers to JazzinEurope, if you are just getting to know Monk, I absolutely recommend this album.
"Palo Alto" is not just brilliant because it is Monk's, but because it has a historical and political indelible imprint, the touch that only Monk could give to a composition that brought people together thanks to his music!
"Ruby, My Dear" or "Blue Monk" or even "Epistrophy" (written by Monk and Kenneth Clarke) are just a few examples of how these pieces are vital to our jazz growth.
What a genius release by Impulse. Beautifully packaged with a booklet and a mini-poster about the gig, "Palo Alto" deserves special praise.
Monk's touring band, namely, Monk on piano with Charlie Rouse on tenor sax, Larry Gales on bass and Ben Riley on drums make this the great album that it has become.
Listen to this album, over and over, enjoy it and then again. I don't have a favourite track, I simply love them all. I am, after all, a total devotee!
The jazz constellation has a special star in Monk, it shines brightly ad infinitum for all generations to come.
Writer: Erminia Yardley
Photo Credits:  Alex Iby
Last modified: September 26, 2020