Welcome to our lunchtime lockdown series. Here at Jazz in Europe, we wanted to take some time and speak to artists in the Jazz industry, all across the world, about how life is during this unexpected and challenging moment in time. As you all know, gigs and events have been cancelled everywhere and for many musicians, this is their only income. However, everyone is pulling together to support each other and as dark, as the time may seem, it has also become a time for inspiration. We are all in this together and perhaps by sharing experiences, we will realise we are not alone and can overcome these challenges – and what better way to do this, than through Jazz.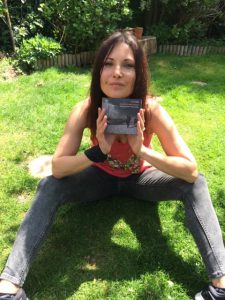 Jo Harrop is a UK based vocalist who has been captivating audiences with her beautiful velvety vocals for the last few years. Jo has worked the festival circuit, headlining the Scarborough Jazz festival and the Burton and Agnes Jazz festival and is a regular at London's 606 club, Pizza Express in Soho and The Sage in Gateshead. She has just released a stunning new album with Jamie McCredie, receiving understandably excellent reviews with the Guardian saying 'This is a little gem of an album: simple, modest and, perfect'. It really is.
You are based in the UK – how is life for you at the moment?
I'm from the North East but have been based in London for a long time now. Life is very different to how I usually experience it – I am never still, always on trains going from one gig to the next and socializing with people in clubs and studios, so the quiet life at home was a shock at first, and then I began to appreciate the headspace and reflect upon where I was going. I realised that although it felt good to be busy, that I was perhaps chasing my tail a lot and not quite getting to where I wanted to be.
No live gigs or studio work at the moment for most people, so what are you doing musically?
I miss the live singing – that is a huge part of me, but I started out co-writing and singing my own songs before I entered the jazz world, and I have been craving that,  so this quieter time has given me an opportunity to write, and to begin work on a new album. I don't feel I can practice as an instrumentalist can, as I always got my inspiration and ideas when I was out on stage with other players, in the moment – there is something soulless about singing into a computer at home.
Any particular challenges?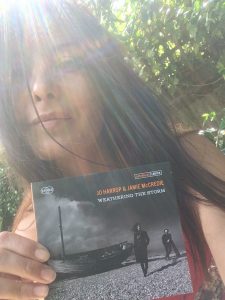 Yes – I was a little excited to have so much time to myself to create, but shortly after lockdown when the schools closed, I became a full-time mother, homeschooling 5 days a week, entertaining two energetic & easily bored boys under the age of 9, who usually have lots of sports clubs and activities… I was watching two little nesting birds in the back garden the other day, constantly in and out of the nesting box trying to feed their chicks, who were relentlessly chirping from sun up to sundown, and I thought, 'I know how you feel my little feathered friends' haha … so instead of sitting creating every day like a lot of musicians, I am usually hanging around at a skate park between obtuse angles and metaphors & fitting in a bit of songwriting here and there!! And just missing people… the gigs and live music!
Any positives you have personally found during this time?
Well, Jamie McCredie & I released our duets album which was a huge positive. We had decided to call it 'Weathering The Storm' last year for mainly personal reasons and some worldly, but who could have predicted 2020? We had a release date for May 22nd and together with the record label, Lateralize decided to go ahead. This could have backfired, but instead, I think people responded really positively to the album. Maybe they needed something that was just simple & honest & quiet. The reaction so far has been amazing and something we could only wish for, some comments have taken me by surprise they have been so heartfelt – I think because everyone just gets it – they seem to have come along with us on the journey, and that's what we wanted to achieve.
Like I said before, the quiet moments have been very positive. Time to think, space to breathe. My mornings were always a struggle before keeping such late hours, and now I get up and exercise, have a few hours before everyone else gets up in the house and just think – put some ideas together, walk my dogs, the calm before the storm. I am very blessed and lucky to have my immediate family around me, but my Mum has been stuck on her own in the Northeast, and I know just how lonely people have felt, so my heart really does go out to those who have been isolating and suffered any loss or illness.
The best way for everyone to support you?
People have been so supportive. If you can please keep coming to gigs when they are allowed to happen again, buy the music, spread the word and keep coming back for more – what more can I ask of people? I have always believed in the power of music, how much it is needed to lift peoples spirits, to guide and to heal… it's like a glue that holds us all together!
Any words of wisdom for people stuck at home?
Keep busy! Play music & stay connected! This time will pass!

Artist website: Jo Harrop
Artist Social Media: Facebook – Instagram – Buy Jo's music
Senior writer: Fiona Ross
Photo Credits:  John Lyons & Jo Harrop selfie 1 & 2
Last modified: July 14, 2020