Welcome to our lunchtime lockdown series. Here at Jazz in Europe, we wanted to take some time and speak to artists in the Jazz industry, all across the world, about how life is during this unexpected and challenging moment in time. As you all know, gigs and events have been cancelled everywhere and for many musicians, this is their only income. However, everyone is pulling together to support each other and as dark as the time may seem, it has also become a time for inspiration. We are all in this together and perhaps by sharing experiences, we will realise we are not alone and can overcome these challenges – and what better way to do this, than through Jazz.
This is my 50th article for Jazz in Europe and it is not only a huge pleasure to have Snow Owl as the subject matter but incredibly poignant. I interviewed Snow Owl – also known as Juan S. Garcia-Herreros – when I was just starting out my work as a Jazz journalist and he was and still is an inspiration. He helped me understand the importance and the power of words and how we all have a role to play in how and importantly why we use them.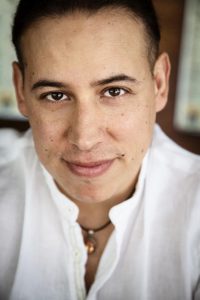 Born in Colombia and now a resident of Austria, Latin Grammy-nominated Snow Owl has played the world's largest arenas, worked with multiple Grammy-winning artists, Oscar-winning composers and won a significant number of awards. He also works as a film director and his work has been selected for many international film festivals including Cannes. He was recently voted best bassist in the world by Bass Player and Bass Guitar magazine.
Based in Vienna, Snow Owl spends a large amount of time touring across the world with the World of Hans Zimmer. Having also been voted best bassist in the world just recently, the last six months or so have been more hectic than usual. So, it is no surprise that when I asked him how life is in Vienna at the moment, he simply said 'peaceful'.
FR: Thank you so much for joining us for this lunchtime lockdown series. With no live gigs or studio work at the moment for most people, what are you doing musically?
SO: I'm composing soundtracks, recording remote sessions and practising all the things which I've always wanted to further develop.
I have seen an incredible amount of work in the last few months from Snow Owl, too much to mention here but I will highlight a couple. A recent release for Air-Edel of his composition 'One Shall Stand' was part of their response to the pandemic to work collectively that could support and benefit a musical charity. 'The twenty-five tracks range in style and instrumentation and consist of both pre-existing, unreleased tracks and new works composed specifically for the albums, but each carries a message of hope, love and optimism' Links are below if you would like to explore this further. I would also like to highlight a wonderful article in the Rolling Stone 'the Snow Owl flies silently to the top of the music' which he, understandably feels was a great achievement.
FR: Any particular challenges at the moment for you?
SO: Your limit is your strength.
I have put the following question to of all my lunchtime lockdown interviewees so far, but I must admit for Snow Owl, it seemed like a silly question because he is one of the most inspirational people I know. He always looks for and sees the positives everywhere – ways to grow, develop and be a better version of yourself.
FR: Any positives you have personally found during this time?
SO: I find positives in any situation because we are surrounded by a huge wave of opportunity right now, which not many have yet discovered.
I have noticed on social media, Snow Owl has spent the last month posting simple but reflective statements, some of which, I would like to share with you as I feel it gives an insight into his mindset, especially during this time:
Pursue excellence
Follow the principles
Forget not the face of your fathers
See the line
In Silence, Secrets await you
Ease is a greater threat to progress than hardship
FR: What is the best way for everyone to support you at the moment?
SO: The same as always, please follow me on social media, purchase my work, share my videos and posts.
FR: And finally, any words of wisdom for people stuck at home?
SO: If home is a place where you feel stuck, it's not a home.
Huge thank you to Snow Owl for participating in our lunchtime lockdown series.
Artist website and social media platforms: Snow Owl – Instagram – Facebook – Totem Warriors – Twitter – Youtube
Senior writer: Fiona Ross
Photo Credits: Dita Vollmond & Santosh Khalsa
Last modified: May 28, 2020