As well as an artist in his own right, the superb Spanish multi-instrumentalist Joan Chamorro, is the founder and director of the incredible Sant Andreu Jazz Band, a Jazz youth band based in Barcelona. But this is no ordinary youth band. The band have toured the world, playing festivals and events to packed out houses, recorded many albums and given birth to some stars, such as Andrea Motis. Having dedicated himself to the band for the past 14 years, it is very clear that the magic behind the band is Joan. The work he does is exciting, inspirational, innovative and he is exactly what the world needs right now.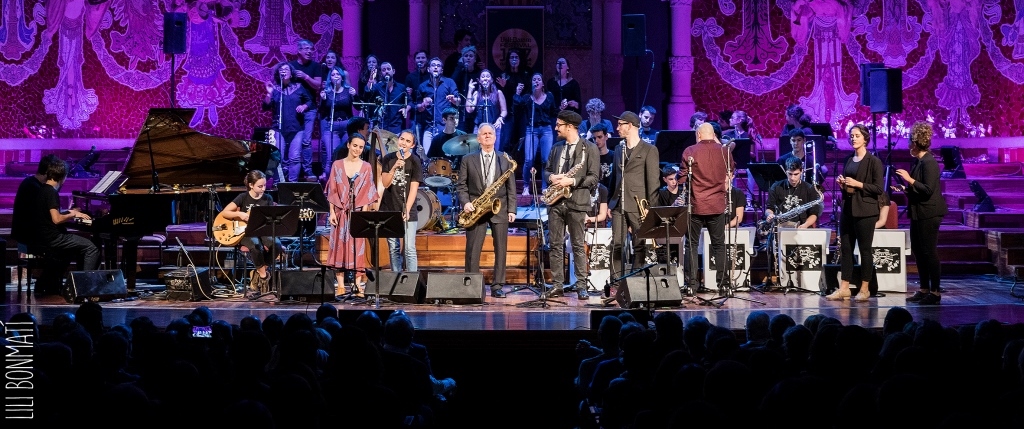 I was first introduced to Joan Chamorro by Maxine Gordon last year, at a gig at Duc de Lombard in Paris. I was there to see the incredible Andrea Motis, who at the time, I had not heard of, and Joan was the bassist for the gig. When he walked through the audience to get onto the stage, his energy and smile literally lit up the room. I did not know who it was or why he was shining, but from that moment, I was fascinated. When you meet one of those beautiful people, you just get a sense of something quite magical that you can't quite put your finger on, but it is something. When you watch his videos, you will see what I mean. His love and passion for music literally sparkle through every bone in his body. It is infectious in the best possible way.
I asked him about how the band started and why he does what he does.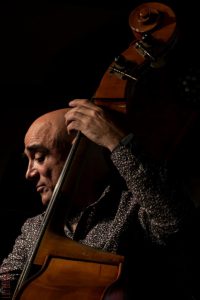 JC: The Sant Andreu jazz band started at a municipal music school in 2006. In 2012 the project grew a lot and we had to leave the School. Since that year, we are now a totally independent project. We do not receive any kind of help and the musicians who are members of the project (more than 60 young people between the ages of 6 and 22 have already passed) do not pay anything for the classes, or for the recordings, trips or anything. We can continue with everything we do because we have concerts that allow us to continue doing what we do (new arrangements, inviting international musicians, recordings, videos, my small salary, etc etc)
My passion is music and life in general. I like to believe that things can be done differently, with enthusiasm and with a lot of love. Of course, with a lot of work and dedication. Seeing how young boys and girls fall in love with this music and dedicate their time to it, achieving the result they achieve, it fills me with happiness and gives me the energy to continue working tirelessly on it.
You will see through his videos and any live performances you are fortunate to go to, that Joan's energy, passion and the sheer joy of working with these young musicians is in his blood. It is such a beautiful thing to watch and impossible to explain in words. I asked him how he stays so energetic and fresh.
JC: I recorded my first album when I was 22 years old (I started playing when I was 18, a little late, but it is what it is) I remember it with enormous happiness and great satisfaction. On that first album, I played on a big band and the main soloist was the great Catalan pianist Tete Montoliu. For me, it was a dream. Well, every time I record an album (I've already had more than 80 or 90) or I do a concert, etc. it's like that first time. The illusion is the same, if not more. That always keeps me very excited to do what I do, and if there are problems, there are, I am not going to deceive myself. I solve them with joy and optimism and valuing the good things over the not so good ones.
Jazz is not often associated with children and I had for a long time, not especially enjoyed seeing young people perform Jazz. I always thought they were lacking something, maturity I guess, and always questioned whether they really understood Jazz as a concept – until I saw this band. Their love for Jazz and their craft is so very clear. I asked Joan why he thinks Jazz is so appealing for young people?
JC: Jazz is music with a lot of rhythms. The swing is something that makes the feet move. In fact, part of the origin of jazz is to make people dance. Duke Ellington, Count Basie, etc. Many of the Disney movies have swing music in their scores. It's a matter of giving them a chance to like it. They have to listen and touch it. A little later, when they are 10 years old, the fears of being able to improvise, of being able to create, of being able to do something different, of being themselves, every day a little more… That is an incredible motivation for them. Being able to express an opinion, being able to be yourself, through music … I think that is very important and it is one more motivation to dedicate time and improve.
Joan is a truly inspired educator whose teaching methodology focuses on the elements that you can clearly see through his playing and that of the band – listening, belief, being in the moment and positive energy. Things that are sometimes lacking in today's traditional Jazz educational environments but even more challenging for young people of such varied ages – the youngest band members are 6/7. I asked Joan about these challenges and his teaching philosophy.
JC: I think I have found a balance between demand and rigour, with the kind and loving treatment. The best tool to teach is optimism and joy. I am interested that young people are happy with what they do and that they live the present as something unique. Feeling that we are musicians from the first moment. That each new song learned, that each new musician discovered, that each new solo, are the motivation that leads us to continue wanting to improve. Improve to enjoy more of what we are doing and share it with other colleagues, and also, later with the public. I find myself in the opposite of the Whiplash movie. It has nothing to do with me. On the contrary. Much more incredible things can be achieved through love than through violence. But teachers have to feel that this is possible. We are the ones who have to lead by example. The important thing is the way, not the goal. That is my work philosophy. And of course, absolutely believing that people so young can fall in love with this music called Jazz. If I manage to transmit some of the passion I feel for this music, it is sure, they will evolve very quickly. They are children and as such, if they like and are passionate about something, they will make it their own.

I discussed with Joan how his own experiences affected his teaching methods and he asked me to read a few articles about him. He said I would 'find something important related to my life. An important reason for how I feel, how I teach and how I live' One article gave me a heartbreakingly significant insight into Joan's love and passion for life through music. Sadly, twenty years ago, his son Nicholas died of cancer when he was only three years old. The pain of such a thing is incomprehensible. In the article, Joan talks about the things his son taught him:
'he taught me something as important as the only thing we have is the present, that the future may cease to exist at any time…he made me appreciate how nice it is to get up in the morning and say thank you to the sun, or the rain. Or the fact of breathing. Or the fact of making others happy simply by being kind and generous. I believe that this teaching, which is so important to me, has been very important in this process of all these years. Be generous, dreamer, try to be kind and respectful and above all know that what matters most is the present. That's what I try to teach, through music'
True artistry is often linked to a deep, unspoken sadness or heartbreak that somehow transforms into beauty, into magic. Joan's son is his magic.
JC: I have many moments in my life that indicate to me which paths are more correct or not, so that, finally, the music ends up becoming something beautiful and to learn and give the best of us. I have been creating work systems, including musical language books, with new ways of teaching the rudiments of music and also more advanced things. It is based on the voice, as the main instrument. I rely on singing and listening to much music from the beginning, from the first day. And, above all, the first years, it is very important, so that young musicians get caught with what. I propose to them, to play many beautiful melodies, that they can sing and memorize. The first two years I do not care at all that they do not read or write music. I just want them to sing and play from memory. That they do not need sheet music (the coding of the language will come gradually)
I have many anecdotes of situations that have made me change the way I work.
There is one very, very important thing to think about that not all students are created equal, and that all have their flowering times, like plants and flowers. If we wait for everyone to respond the same at the same moment, we are entering great mistakes. I think that is very important. I have had great surprises with students who did not show great "abilities" or genius at the beginning, but over time, some before and others after, they have become great musicians, with their own personality, etc. etc.
I was about to quit teaching once. But I remember the exact moment of seeing the light and thinking: how is it possible that something as wonderful as music is, does not appeal to most, if not more, like a game? And I thought, maybe it is that we who are doing things wrong are teachers. It was then that I decided to change and do things differently. Much more natural and fun, almost without books and begin to encourage them to listen to more music and also to find more motivating music for them, even asking them what they wanted to play.
The work Joan does cannot be underestimated. The Jazz industry owes him huge gratitude for sharing this important music and what it stands for. He has had many students that have since established their own solo careers – Andrea Motis, Rita Payes, Eva Fernández etc – but when I asked him about this, although, of course, he said he is very proud of this, he was very quick to point out the lessons Jazz teaches.
JC: That is not my greatest success nor my greatest pride. All the musicians who come out of the Sant Andreu jazz band are working very well, and they are occupying the national jazz scene with success (less than the singers, I insist) and all the little ones that have been growing musically to a level that will be seen in the coming years. That for me is as or more important than the individual success of Andrea or Rita or etc. Because I think that teachers not only work for those who are the "best", but that we work to make everyone "good". For me, to be successful in this world of jazz music is simply to be able to dedicate yourself to it and live from it. Or even simpler. Getting young people, even if they do not dedicate themselves professionally, always keep that love for jazz that was instilled in them as children. That really makes me proud and makes me happier.
The bands filmed performances on YouTube are incredibly successful, and some have millions of views. They tell a very important story.
JC: I believe that a great part of the success comes from seeing such young people, playing and singing with excellence, with authenticity, with joy, with a very varied repertoire, with vocal jazz, but also instrumental, from Dixie (especially in the early days of la Sant Andreu jazz band) a bebop, hard bop, boss nova, gospel, etc …
There are people from all over the world who follow us and who know all the names of the musicians and their careers. Elsa, to give an example, started at 6 years old and now, at 15, she is playing wonderfully well. Andrea (Motis) started at 9/10 years old, in her first home videos and to witness the evolution of her career I think it is something beautiful. I think we give off the illusion and exercise positivity and, in this world, is very much needed. Many people write me messages of thanks, not only for the music but also for what the project shows, a project with very young people who become a reference for other young people. That is what they tell me, and it is what I feel.
As well as the band, Joan has worked with an enviable portfolio of musicians (Randy Brecker, Slide Hamilton, Steve Wonder etc) and is, of course, an artist in his own right. Although he often plays the double bass, his first instrument is the baritone, I spoke to him about his own projects and plans – and his students are always there.
JC: Now a CD tribute to the great baritonist Lars Gullin will be released, with original arrangements and several of my students also play. Maybe in the coming years, I will do more things where I will have a better chance of expressing myself with my saxophones and clarinets … but it doesn't worry me at all. Whatever it has to be, it will be. The Sant Andreu jazz band has obviously become important to me, and yes, it is like my family. But I am aware that everything has a beginning and an end. I am very happy doing what I do with this project, but, as I say to them: we have to have the centre inside. If for whatever reason, the project ended, I would dedicate myself to continue doing what I do, listen to music, continue discovering new soloists, studying to be able to enjoy more of my way of playing and enjoy the thousand beautiful things that are on offer every time the day starts. As simple as that.
Music website: Sant Andreu Jazz Band
Find Joan Chamorro on FaceBook  or Instagram
Senior writer: Fiona Ross
Photo Credits: LiLi Bonmati
YouTube Video(s): Joan Chamorro
Last modified: April 26, 2020