Welcome to our lunchtime lockdown series. Here at Jazz in Europe, we wanted to take some time and speak to artists in the Jazz industry, all across the world, about how life is during this unexpected and challenging moment in time.
As you all know, gigs and events have been cancelled everywhere and for many musicians, this is their only income. However, everyone is pulling together to support each other and as dark as the time may seem, it has also become a time for inspiration. We are all in this together and perhaps by sharing experiences, we will realise we are not alone and can overcome these challenges – and what better way to do this, than through Jazz.
Simone Gubbiotti is a fantastic Italian guitarist and composer based in Perugia, Italy, with an incredible story Having started his life in sports and being a professional footballer, he ended up homeless and wrote his first album in his car, with his dog. He has recently been touring across Europe and the US with his trio 'The Underdogs receiving wonderful reviews. All About Jazz said 'he doesn't play like an artist that needs to make his way in the world but like one that has made it reflecting on the world through his music'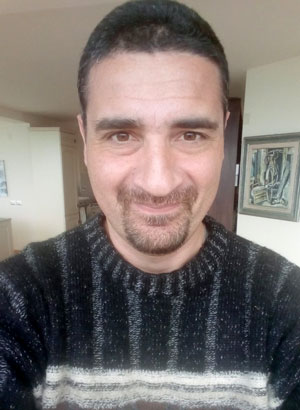 Welcome Simone and thank you for joining us. You are at home in Italy which has been hit very hard through all of this. But Italy has also been inspiring people all over social media with videos of people singing and making music across balconies, such a wonderful thing. How is it for you over there?
My life actually is identical to the rest of the world. Staying home and staying safe. I try to be in touch with the people I love in different parts of our planet. I have to say that I am pretty lucky living in the country; I have some space outside and I can spend time in the garden with my dogs. Also, even if my region at the moment is increasing the cases, I am in a small city with different dynamics if compared to a big city. I'm reflecting a lot these days. Probably we have to remodel our style of life, it's a mix of feelings but I wish the this crisis will teach us many things.
Simone has a wonderful dog called Wayne (named after Wayne Shorter) who has supported him through many difficult times. I imagine pets can be a great comfort while we are forced to stay at home.
Simone, You had been touring quite extensively lately, but now, no gigs, so what are you doing musically?
Well, I try to practice as much as I can, even though it can be tough because at the moment nobody as any idea about the future and when we can come back to play live. I write new music. Recently I composed some new songs including different odd meters and I am focusing on the bass lines. This month the last license of my albums (Resilience specifically) has expired and I decided not renew any of them with the distributor so I am actually in the process to distributed the albums digitally again. And I am trying to be more active on the social media with more professional content.
Any particular challenges and positives you have personally found during this time that you would like share?
A challenge is to be far from some people I love. We are facing something totally new at the moment and it's not new just because the virus looks like a war. We are also dealing with restrictions of our personal freedom and being Italian and consequentially European, I see the failure of a model called United Europe. We will face economical changes, we already are experiencing this. I think that the positive aspect could be represented by the people. I really…really hope in the capacity to recover our humanity beyond the economical interests. We can change the system and the paradigm creating new methods. We are to stay close to each other. I am very positive that a lot of people will change their life after this probably generating more happiness.
Best way for everyone to support you?
At the moment you can support me buying my new digital album "The secret session" feat. Davide Liberti on Bandcamp releases
You can also support me by following me on my social accounts or subscribing to my Youtube channel. Play the videos, spread the voice and follow. Feel free to get in touch with me with messages, comments. It's important to stay close to each other.
Many people are giving lessons on Skype but I decided not to doing that, with respect most people are fighting a different battle right now. In someways, a musician is not necessary at the moment but if somebody can't afford to spend money for Jazz lessons in these hard times I will be glad to offer some free tutoring. Just email me though the website or contact me via my social media accounts.
Free lessons? That's such a lovely thing to offer. Any words of wisdom for people stuck at home?
Honestly not, except to think with your own head.
Huge thanks to Simone for joining us – please do click on the links below to support.
Website | Facebook | Twitter | Youtube | Instagram
You can support Simone by purchasing his music direct. Just click the button below and grab his album via Bandcamp.

Senior writer: Fiona Ross
Featured Image by Lorenzo Pappi, Selfie by Simone Gubbiotti.
Last modified: May 24, 2020