August 29, 2020, will mark the centennial of one of jazz's most iconic figures, Charlie Parker. The celebration gets off to a jubilantly swinging start with an alto saxophone summit bringing together three of modern jazz's most acclaimed voices: Vincent Herring, Bobby Watson and Gary Bartz. Along with a superb rhythm section, the three distinctive altoists pay tribute to Parker's legacy in the most apt fashion for this ground-breaking pioneer: by carrying his innovations forward in their own utterly singular styles.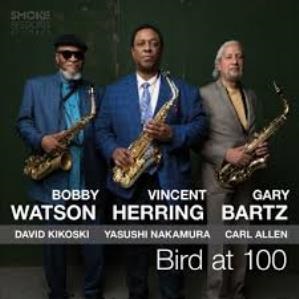 Due out November 29 via Smoke Sessions Records, the soul-stirring Bird at 100 traces a direct lineage from Parker's birthplace in Kansas City to the stage of Smoke Jazz & Supper Club, where these three influential acolytes look back from the vantage point of jazz in 2019, with a combination of reverence, respect and adventure. The program offers a buoyant mix of classic Parker tunes, familiar standards once recorded by Bird (and the generations since) and new compositions written in honour of the master.
Separated by roughly a decade apiece, Bartz, Watson and Herring represent three distinct points along that line linking Bird's transformative approach through the evolution of music in his wake. Bartz was born just as Parker was making his mark in New York City, and thus grew up in a musical world indelibly marked by his unmistakable sound. Watson came into the world less than two years before Parker left it, mentored by first-generation bop giants like Art Blakey. And Herring was part of a movement that reimagined bebop for a wholly new generation while maintaining a link with the source through such greats as Nat Adderley and Freddie Hubbard.
The three are ably backed on Bird at 100 by a rhythm section that has deeply imbibed the entire sweep of that history: pianist David Kikoski, bassist Yasushi Nakamura, and drummer Carl Allen. All three are regular collaborators with Herring, thus bringing well-established chemistry to this all-star outing.
"The influence of Charlie Parker is a constant thread that runs through all of us," says Herring, who brainstormed the date. "It's amazing how much Charlie Parker has touched so many different people in their pursuit of music. We certainly take in other influences as well, and of course, we all hope to put our stamp on it, but Bird is always there through his vocabulary and his way of interpreting of the music."
Bartz feels the link to Parker in a direct way, he says. "I started playing [during] the era of bebop Bird changed the whole landscape of the music with his virtuosity, his harmonic knowledge, and his musicality. To me, he's like the modern-day Bach."
For Watson, a fellow Kansas City native, Parker represents a laundry list of admirable qualities: "Triumph over adversity. Spontaneity. Creativity. Individualism. Originality." Through this project, he continues, he aims to "try to extend his legacy in my own way. People like Bird, Duke Ellington and Monk all loved to hear people put different spins and interpret their music through their own voice. So I wanted to add my voice on the saxophone and add some different spins on his classic compositions and song forms."
'While all three profess their lifelong love of Charlie Parker, they also form a mutual admiration society for one another. "It was fascinating to hear the three different sounds of the alto," Bartz says. "If you're playing and it's coming from your inside, then you won't sound like anybody else. [Vincent and Bobby] each have their individual sound and concept of how the alto should sound."
Watson declares the weekend's performances full of "complete and utter joy and respect. And fun – maybe not in that order. Maybe fun first [laughs]." For Herring, the most important message he hopes to convey through the music on Bird at 100 is one of deep respect for the artistry of Charlie Parker – something that can be lost in the more sensationalistic details often depicted in depictions of the troubled saxophonist.
"I want people to think of the music and not the distorted picture that's often painted of Charlie Parker," Herring says. "Here it is his 100th birthday and we're still celebrating and studying and being inspired by his music. There are a lot of great players but few innovators. Bird was a real innovator."
"Bird at 100" was recorded live at Smoke Jazz Club, NYC on August 30 & 31 and September 1, 2019; mastered to ½" analogue tape using a Studer mastering deck, and produced by Paul Stache and Damon Smith.
Release Date: 29 November 2019
Format: CD | Digital
Label: Smoke Sessions


New Release Spotify Playlist
The Jazz In Europe New Release playlist features tracks from the new releases featured on Jazz In Europe. Updated weekly, this playlist is the perfect place to discover new music from the leading jazz musicians currently on the scene. We hope you enjoy this selection.
The best way to keep up to date with all the latest releases is to follow us on Spotify. Just click the button below.
Last modified: December 19, 2019