Whether it's the hassles and hurdles that arise for a musician touring the world, the run-of-the-mill mishaps that inevitably disrupt daily life, or the barrage of bad news constantly clamoring for attention; Bria Skonberg succinctly captures the hectic tenor of our times in the title of her latest album, Nothing Never Happens. The trumpeter and vocalist found her own escape in order to craft a new set of originals and artfully chosen covers that spans the emotional and stylistic spectrum.
Due out November 1, Nothing Never Happens invites listeners to join Skonberg in diverting attention from the overload of social media, breaking news, political bickering and negative energy, with a stunning album that at times channels the ubiquitous anger and hopelessness that confronts us all in the modern media landscape, but at others manages to drown out that white noise and shine a light on the serene and the celebratory.
The album showcases Skonberg's working band of recent years – pianist Mathis Picard, bassist Devin Starks and drummer Darrian Douglas – along with guest appearances by saxophonist Patrick Bartley, Hammond B3 master Jon Cowherd, and guitar great Doug Wamble. The project was helmed by GRAMMY® Award-winning producer Eli Wolf, shining a spotlight on Skonberg's compelling songwriting, smoky vocals and blistering trumpet playing along with the scintillating chemistry of the ensemble.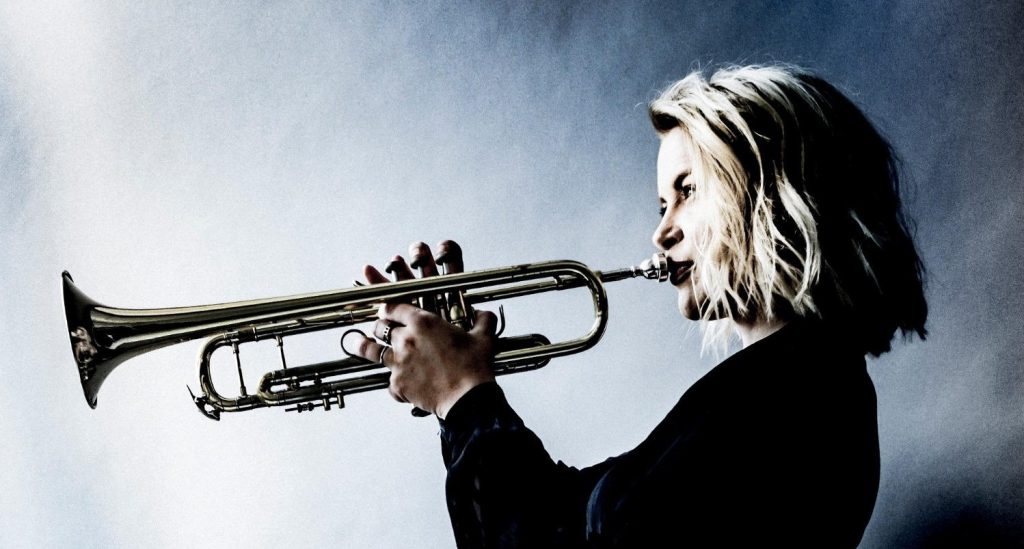 In calling the album Nothing Never Happens, Skonberg captures the chief obstacle to its own creation. "My favorite way to write music is just to sit at a piano, be quiet and wait for things to surface," she says, hinting at the struggle to find those peaceful moments in which to compose. "I needed to get out and find a space to process the overload of information and feelings because of what's been going on in the world in the last few years."
Of course, it also helps to commune with sympathetic listeners, and Skonberg also enjoyed a unique opportunity to workshop her new music through a monthly residency at Joe's Pub in New York City, an eclectic venue where audiences were not necessarily jazz aficionados. "It's a venue where you can do whatever you want," she says. "I was looking to get some more grit into my sound on this album. That's a big part of my personality that hasn't been as represented on my recordings in the last couple of years."
The breadth of emotions and styles on Nothing Never Happens mirrors Skonberg's career to date, which boasts an impressive range of accomplishments and accolades. In the last year alone, she sang the music of Aretha Franklin alongside Michelle Williams of Destiny's Child, played with U2 at the iconic Apollo, sat in with the Dave Matthews Band, was a featured guest with Jon Batiste, performed as part of The Monterey Jazz Festival on Tour, and sang the National Anthem at Madison Square Garden for a NY Rangers game. The 2017 Juno Award Winner for Best Vocal Jazz Album and 2018 Juno nominee has garnered over 7 million streams on Spotify, made the Top 5 on Billboard jazz charts, and was voted #2 Rising Star by DownBeat Magazine.
Release Date: 1 November 2019
Format: CD | Digital
Label: Self Release



New Release Spotify Playlist
The Jazz In Europe New Release playlist features tracks from the new releases featured on Jazz In Europe. Updated weekly, this playlist is the perfect place to discover new music from the leading jazz musicians currently on the scene. We hope you enjoy this selection.
The best way to keep up to date with all the latest releases is to follow us on Spotify. Just click the button below.
Last modified: March 23, 2020