Following the breadth of 2015's live album Paradigm Shift, bassist Michael Janisch launches new project Worlds Collide with a band featuring saxophonist John O'Gallagher, trumpeter Jason Palmer, guitarist Rez Abbasi and drummer Clarence Penn. Recorded in Abbey Road's legendary Studio 3, and engineered/mastered by Tyler McDiarmid, it also includes guest saxophonist George Crowley, keyboardist John Escreet and drummer/percussionist Andrew Bain.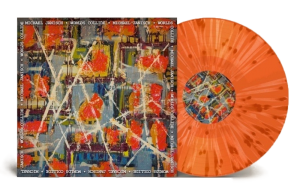 Tirelessly active as a solo artist, session player, composer, producer and record label owner across the British, US and European scenes, Janisch recalls the beginnings of this creative shift in direction. "At the 2017 EFG London Jazz Festival, a triple bill of Whirlwind bands was showcased by Serious at Rich Mix, where I was thrilled to premiere a sequence of new music that I'd been writing. The original tour (mainly in the UK) featured this core band who had all come over from New York; but excitingly, as a project recording, it now provides a springboard for me to develop and perform these and upcoming compositions with other line-ups, including the next phase with fellow London-based artists. The influence of living in the capital, over the past fifteen years, has crept into my musical being, so I see this new era as a big transition."
The twofold title 'Worlds Collide' primarily speaks of the variety in Janisch's six engaging tracks. Each is quite different to its neighbour because this is a collection of individual pieces written over a period of time, often personal in their inspiration, driven purely out of his mindset and experiences in those moments. But he also sees it as analogous to what is going on in the wider world right now, especially the continual toxicity of social disclosure driven by tribalist views from differing positions on the political spectrum."
With Worlds Collide Janisch has glimpsed a new horizon for himself and, with inimitable verve, is going for it.
Release Date: 6 September 2019
Format: CD | Vinyl | Digital
Label: Whirlwind Recordings



You can sample Worlds Collide at the following venues.
24 September 2019: Blue Arrow, Glasgow.
25 September 2019: The Jazz Bar, Edinburgh.
26 September 2019: East Side Jazz Club, Birmingham.
27 September 2019: Kings Place, London (Official Album Launch)
Last modified: March 23, 2020