The World Wide Competition Jazz World Photo 2019, 6th edition, is open to submissions until the 31 st of January 2019.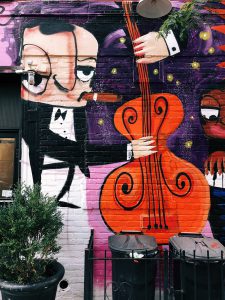 The competition welcomes both professionals and amateurs with photographs on the themes of jazz, blues, world music, etc., and photos must have been taken exclusively during the year 2018. Each contestant may only submit one photo into the competition.
From among all of the submissions, a jury will select the 30 best photos, which will be shown in a travelling exhibition of Jazz World Photo 2019. The winners will be announced and prizes awarded on March 23 rd, 2019 at the 21 st Annual Jazzinec International Music Festival in Trutnov, Czech Republic. The author of the winning photograph also becomes a member of the jury for the next year.
The Jazzinec festival itself, now in its 21 st year in Trutnov, kicks off on February 7th with a concert by the French jazz trumpeter, Erik Truffaz with local guest, David Kollar, who is a leading Czech rock singer.
Previous First Prize Award winner Didier Jallais from France, whose profession is a dental surgeon, explains his story on the competition's website: "Back in 2014, I entered the Jazz World Photo Competition with a picture of Sonny Rollins taken at the Marciac Jazz Festival. To my great surprise, I was awarded the First Prize! And subsequently, this honour allowed my photography work to be appreciated and welcomed at numerous festivals and by some marvellous artists, including Jazz in Marciac!" This year, he says that he is submitting a photo of the accordion player Vincent Peirani.
Markus Lackinger, another previous winner is an amateur, self-taught photographer from Salzburg, Austria. He says "I started listening to jazz at the age of 15 and, at about the same time, I began to discover my interest in photography." Since 1982, Lackinger has been volunteering at "Jazz in Theatre" in Salzburg, which was the predecessor of today's Jazzit Music Club, and he says that he began more actively pursuing concert photography at the Jazzit from 2002, "to capture the countless magical moments in pictures." He won the prize with a photo of saxophonist Joe McPhee.
The complete rules for submitting your best jazz photograph can be found at the organization's website, Jazz World Photo
Senior writer: Tony Ozuna
Photo credits: Rich Smith, Jon Tyson, Didier Jallais, Anna Rezulak, and Markus Lackinger.
Last modified: January 31, 2019