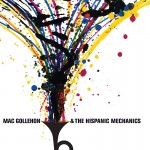 Mac Gollehon was born in North Carolina and played blues guitar until around aged 10 his father, the trumpet player Joe Gollehon , got him playing a trumpet.
At 13, Mac met bandleader and cornet player Merle Evans who had come out of retirement briefly. This had a profound influence on Mac. By 18 he was at Berklee in Boston and working small bars and strip joints when not studying. In Boston he made a couple of recordings and focused on jazz. He traveled playing with Buddy Morrow and later Buddy Rich. In 1979 he moved to NYC to focus more on jazz and played many clubs. Through boxing and tutoring a fellow boxer on trumpet, he met the great Miles Davis who gave him the nickname 'chops'. He got recordings with Nile Rodgers, Bernard Edwards, Arif Mardin, Patrick Adams, Ray Maldonado and many more, notably a solo on Bowie's 'Let's Dance'. He has played with Woody Shaw, victor Lewis and Lester Bowie. His recording history is impressive. In this album, he brings all his experience to bear – and also has some fun.
The opener is 'No More Drama' which is a bit of a mis-label as what follows is a track about as full of drama as you can get. Multi-layered, timpanic percussion and extraordinary trumpet playing from Mac make for a diverse assault on the ears with a lovely, Latin feel, driven by the never ceasing beat. Lovely.
'Amor Tragico' begins with vocals progressing quickly from slow, anger to cheeky, up-beat irritation. Again, great trumpet work dictates the feel and in this number, the rhythm. There is a terrific trumpet solo two thirds of the way in. 'Exito Obsucridad' is an interesting number, deeply dippy and rhythmic it is easy to think this is going to be another extended Latin-beat exposition – until the trumpet comes in with some exquisite high notes and an amazing solo section. This is the vehicle track of the album and Mac makes the most of the opportunity afforded by the excellent arrangements, interspersing trumpet between guitar, beats and devilish percussion which builds and builds, over which the trumpet rises again and again. 'Dale Jamon' begins with trumpet high notes and a sharp vocal and this is how we go. A multi-layered, textured number with a lot rumbling around under the horn section, over which the trumpet soars again and again. Beautiful. 'Il Aceite' is different, starting with bass and percussion, joined by the trumpet and worked up to a beaty, well worked number. 'Elegancia' is more like a big band number and has some pretty unclear vocals in the background most of the time, which detract from the purity of sounds going on above. 'Obscuridad' introduces an easy, laid back theme – lots of wah wah's and again, those unclear vocals. 'Amor Tragico (remix) is interesting with an impressively held vocal note at the start. The rest is a truly great listen – clear, space between the notes and some intrinsic vocals which are used as a tool to emphasise the beat and rhythm. David Ben Jack – the mixer- has done this proud and made full use of the temptation to disco-up the middle section – great stuff. ' No More Drama Drama (Touchy feemix) is different – a complete taking apart of the original and slotting it back together in almost recognisable format – the final track ' If Time Allows' opens with a gorgeous trumpet solo which continues, builds and develops a theme over some weirdly odd and unusual percussion. I wanted to hear more but it was only 5.40 long. In this track you get a distinct sense of Mac being completely at home, improvising his way around the theme – a delight to hear.
What can you say about the playing of a trumpet player of such note? Mac has a distinctive growl and airiness to many of his longer notes, a moniker if you like, which gives his a distinctive sound – you either don't like it or you find it engaging and quirky – I am in the latter camp. There is also a distinctive Davis quality about his high notes – you can tell his excellent schooling and yet he is also supremely original in his approach. He brings with him all manner of musical influences. I am not sure if three remixes on the album is such a good idea but maybe I want to hear more original pieces. Musically this is a good album although it can be hard to know what you are buying because Mac brings so many musical styles to the mix. Maybe that is a good thing. It is funk, it is disco, it is decisively Latin – with more than a touch of hard jazz – it is good.
Members/Instruments:
Vocals: Mac Gollehon, Tomás Doncker on Elegancia, TinaTorres, Miguel
Valdez, Josh David
Trumpet & Trombone: Mac Gollehon
Percussion: Miguel Valdez, Baba Don, Ronnie Roc
Bass: Mike Griot
Guitars: Tomás Doncker
DJ: Afrikan Sciences (Eric Porter)
Label: True Groove May 2016
Expected release date 20 May 2016 – Pre-order at Amazon
Last modified: July 15, 2018