Sex, drugs and jazz: here is the life of an eccentrically-clothed desperado and his iconic albums and near-death experiences, split between New York and Europe, flirting with pop culture, rocking the Taj Mahal, transitioning from free jazz to become one of ECM's best musicians – in short, the life of Tomasz Stańko.
Tomasz Stańko is by far the most accomplished Polish jazz musician. Throughout his incredible career he has recorded cult albums, been present for years in the top ten of Downbeat's annual critics poll, and despite being an active musician for over 50 years, he shows no sign of slowing down any time soon. In spite of being the jazz giant of our times, he also has an incredibly interesting and controversial personality.
A unique virtuoso or an anti-virtuoso?
Jazz trumpet is a specialisation usually associated with dazzling solos of inhumanly skilled virtuosos. Meanwhile. Stańko has done everything artistically possible to be the opposite of that. Instead of playing higher and faster, he devoted his life to creating a distinctive, raw sound and an intricate way of improvising – lyrical and romantic, but full of internal tension.
"What I basically do all the time is improvising. I hate fighting but I am often forced to. I know everybody is, because rivalry is what gives humanity its foundation and I don't want to be judgemental about it. Sometimes it seems that it justifies our existence. We are, because rivalry causes natural selection; we become faster, better. When I have no choice, I take my hatchet and fucking beat up everybody around but I don't like it. I prefer to step aside, to go around instead of attacking frontally. I use coincidence. When something blocks my path I start improvising on how to skirt it round and I usually find the solution that I would have never came up with if I had fought. Just like using my own mistakes.

"Improvisation is all about making a mistake and not even trying to correct it because you know it's already too late. If you were a composer, you would correct it but as an improviser you can only justify it!

Sometimes I wonder: why do people appreciate me so much despite all of my limitations. And then I find out that this is why. People love pure virtuosity; you see how Chick Corea or Leszek Możdżer (the most popular jazz Polish piano virtuoso – ed. note) are applauded but people also love when somebody is above that. They go crazy about Thelonious Monk, who didn't know much about piano technique. There is greatness and power in infirmity."
Just like Thelonious, Stańko managed to reforge his lack of insanely fast fingers into a dominance of musicality, creativity, musical personality and originality.
The life of a devil
An important part of Tomasz Stańko's artistic image is his openness about his past drugs experiences and chaotic, near-death, psychotic experiences. Moreover, to anti-drugs activists' despair, Stańko often refers to his narcotic experiences as periods of high creativity and successfully dealing with his personal problems.
"Right now, I am a much better person than I had been before I started using. No doubt. I'm stronger. I have just precisely cut off all this useless hypersensitivity. How? As a result of using poisons. But it's not about using poisons; what makes you strong is giving them up."
And he knows what he is talking about:
"I was fucked up non-stop. I felt it coming and then I started drinking and using. Madness was upon me. I would stuff loose blocks of hashish, cigarettes, amphetamines, pills, a hip-flask into my pockets. I used to put on a headscarf, wrap it around my head and put a Peruvian hat on the top, just like Peruvian women do. That's what I was saying: I'm a Peruvian lady! Than I could do everything, I could go on a bender for weeks… I had no brakes. It was obvious for me that I was entering an insane land, where nothing is like it is normally, where the laws are different and I didn't give a shit that I didn't know those different laws. "
In 1992, after years of extreme drug and alcohol abuse, Stańko decided to get clean once and for all. And so he did.
"It was obvious. I never thought of being high as my natural state, I thought more like: 'I'm young so I I'm on dope, but one day I'm gonna grow up'. And it worked out. I decided that this was the time that hard times were coming, that I would never be able to come back from a tour and be wasted for two months, like I could during communist times. You didn't work much under that system, everybody was a hippie."
Luckily for Stańko, his turnaround was complete and successful.
"Right know my being clean is the source of my greatest satisfaction, even greater than artistic achievements."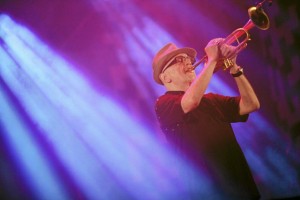 What is Stańko's music made of?
Tomasz Stańko's contemporary music therefore has few components. First of all this are his aforementioned repulsion for instrumental showing-off, and his restless character pushing him towards extreme experiences in music and life. There is, however, one more thing that has influenced him a lot. One of Stańko's first professional engagements was playing in a band which left their mark on the history of European jazz: the Krzysztof Komeda Quintet. Its leader was the father of Polish modern, as well as Polański's favourite film score creator. Stańko managed to develop a mutual, almost-telepathic understanding between him and his older genius colleague and learned things about music which he has been making use of ever since.
As a soloist of Komeda's, Quintet Stańko recorded indisputably the most important album of Polish Jazz – Astigmatic. The lyrical romanticism and the cult of simple catchy motives, omnipresent on this record, have become a permanent part of Stańko's later works and contributed to the foundations of Stańko's style: lyricism, reserve, a gritty sound and surprising turnarounds.
To read more about Tomasz Stanko's music and a run down of his albums as a leader  go to Culture.pl
Last modified: July 15, 2018