Text Peter Beije | photo's Eddy Westveer
Jazz Middelheim in Antwerp attracted 19,000 visitors during the  four days. That number is in line with previous years. The festival in the Belgian city offers not only high quality music and a friendly atmosphere, it 's also known as one of the best festivals in Europe. While Jazz Middelheim is definitely a family affair it's serious business too.
Day One
A True artist
Artist in Residence for this edition of the festival is Vijay Iyer. The New Yorker brought a sextet to the stage for his first appearance. The pianist and composer is one of the diamonds of the younger generation, a lot of talent, technique, musicality and the willingness to do experiment on stage. Performing is an art and Vijay Iyer is a true artist.
Strong woman
Trumpet player Dave Douglas (also from NYC) played a fine concert with his quintet. Powerful to describe the concert in one word. And very powerful if two words were allowed. Bass player Linda Oh was the strong woman between four men. Her playing was superb, both as a stronghold in the rhythm section and as a soloist.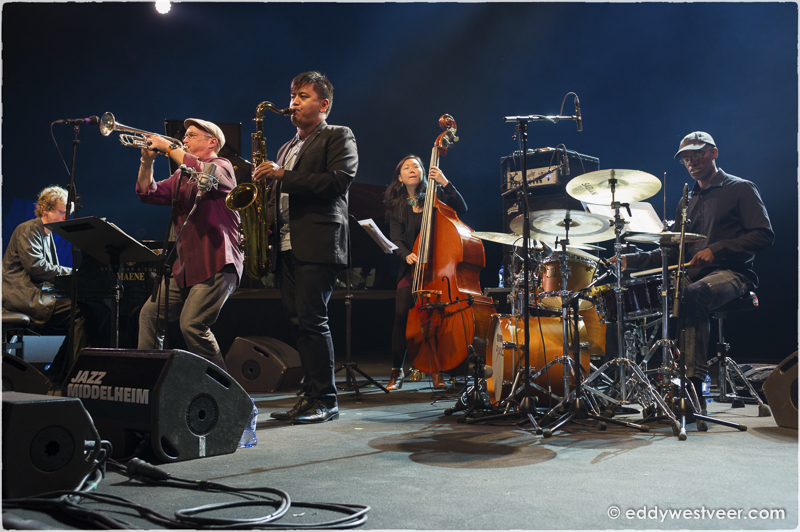 Expedition
Herbie Hancock and Wayne Shorter played the closing concert. The two are amongst the few legends that are still playing at top level. More than just a performance, they took the audience on an expedition exploring their own rich musical backgrounds and beyond, It was an adventurous one and an half hour set. Wayne Shorter on soprano saxophone and Herbie Hancock on piano and electronics were 'Out of there comfort zone', to quote the organizers of Jazz Middelheim.Day Two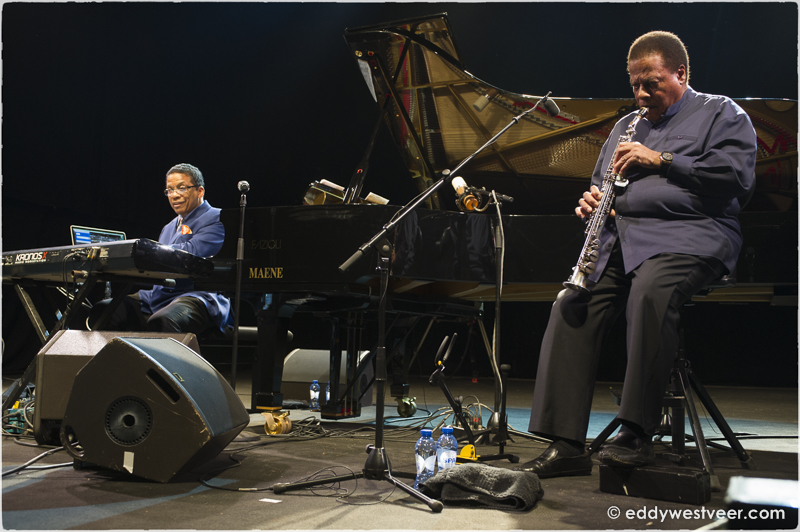 Bruno Vansina Orchestra
The Bruno Vansina Orchestra has a lot of potential, consisting of talented young musicians, this concert was the second in their existence. The seventeen musicians played with a lot of energy and conviction. Vansina includes a lot of Caribbean rhythms in his compositions and the addition of Oboe and bassoon creates a unique sound.. This talented Belgian band is a promise for the future.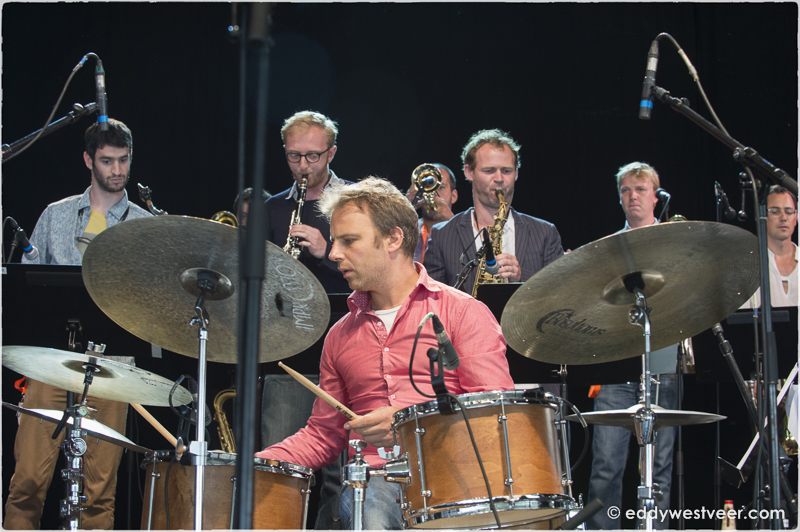 Happy fans
Phronesis is a trio, but has the energy of a sextet. The concert by bassist Jasper Hoiby, pianist Ivo Neame and drummer Anton Eger made thousands of fans very happy.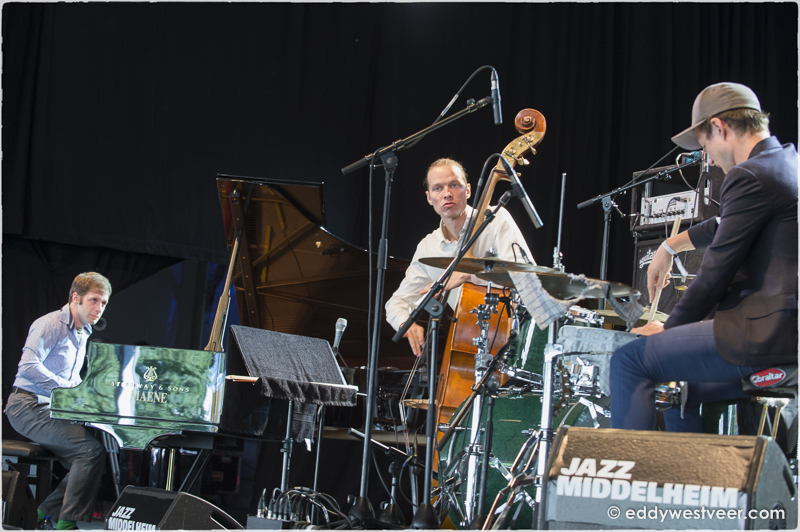 Oasis
The concert of Stacey Kent was an oasis of tranquility in an otherwise hectic musical day, with lots of Brazilian style music.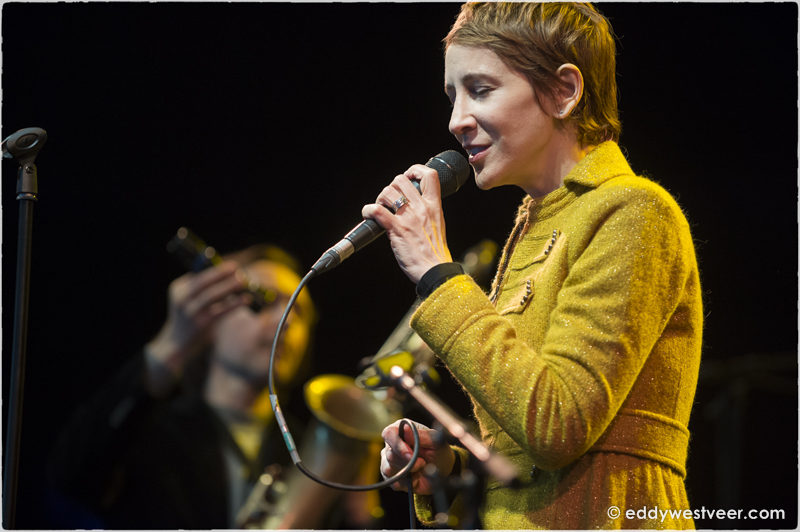 Dance
Avishai Cohen Trio with Strings was billed to be the highlight of the second day of the festival and that's exactly what it was. A mix of jazz and classical music were the ingredients of an enchanting concert with sparkling and ingenious solos by the master bassist himself. The audience asked after the program of trio and strings for more and was served at notice. Avishai Cohen played and sang three songs, after which the trio gave a mini concert. It ended with most listeners on their feet and dancing. That's also jazz in 2014!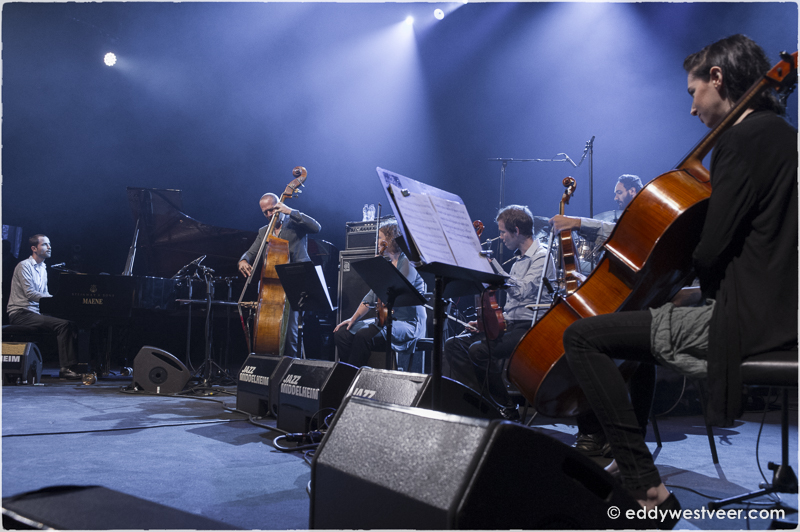 Watch out for the day 3 & 4 round-up nest week.
Last modified: July 15, 2018