Maciek Pysz is an artist that has been on my radar form some time now. Originally from Poland Maciek moved to London in 2003 and quickly established himself as one of the rising stars of the UK jazz scene. His first full release as a leader "Insight" (33 Jazz Records) was released in 2013 and featured a trio setting together with drummer Asaf Sirkis and bassist Yuri Goloubev. His current release "A Journey" (Dot Time Records) features the same trio with the addition of Italian Bandoneon player and ECM recording artist Daniele di Bonaventura.
A Journey is a collection of eleven original compositions from the hand of Maciek along with Ralf Towner's "Innocente". The first thing that struck me when listening to this album is the impeccable production and sonic quality, not at all surprising seeing the album was recorded by Stefano Amerio at Artesuono studio in Italy. For those unaware, Stefano Amerio is the sound engineer responsible for many of the classic ECM productions.
On first listen one can say without doubt this album is firmly rooted in the European jazz tradition. Maciek's compositions are poetic, impressionistic and paint a beautiful series of soundscapes reminiscent of the early works of Pat Metheny and Al DiMeola. That said, Maciek has developed a unique sound and compositional style that becomes clearer the more you delve into this album.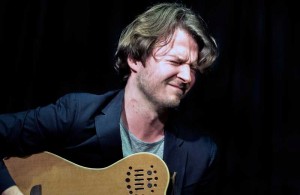 This album has many highlights, in fact, to many to mention however in my opinion the stand out tracks are the ethereal "Story of a Story" with its haunting melody and conversational quality and "Undeniable" with its constantly changing moods and hypnotic 12/8 grove.
Daniele di Bonaventura's contribution adds an extra dimension to this album. The bandoneon blends seamlessly throughout adding an extra melodic aspect while also providing extra harmonic and rhythmic interest. Of note is the counterpoint between guitar and bandoneon on "Innocente"
I also should state that no review of this album would be considered complete without praising the contribution of Asaf Sirkis, drums and bassist Yuri Goloubev. These two form the perfect sparing partners for Maciek and Daniele acting not only as a strong rhythm section but more as full participants in the conversation, this band together seems to breath as one.
With "A Journey" Maciek Pysz has produced an album deserving of the highest praise. Highly recommended.
Line-Up:
Maciek Pysz, Guitar | Yuri Goloubev, Bass | Asaf Sirkis, Drums | Daniele Di Bnaventura, Piano and Bandoneon
Track Listing
1. Fresh Look, 2. Water Streets, 3. I Saw You Again, 4. Story Of a Story, 5. Paris, 6. Innocente, 7. Undeniable, 8. Until Next Time, 9. Always On The Move, 10. Peacefully Waiting, 11. Desert, 12. Coming Home
Dot Time Records: DT9044
Buy on Amazon | Download on iTunes
Last modified: July 15, 2018