The Bliss Quintet are among the fresh faces in Norwegian jazz, embodying the vibrancy and innovation synonymous with a new generation of musicians. The band has been heralded as one of the most exciting young bands on the Norwegian jazz scene having made quite an impact with their debut album, "Dramaqueen," in 2022. Since then, their music, a fusion of contemporary European jazz, Nordic lyricism, and free, raw energy has resonated across Europe and Scandinavia, marking their presence on both local and international stages and earning them two awards in the 7-Virtual Jazz Competition.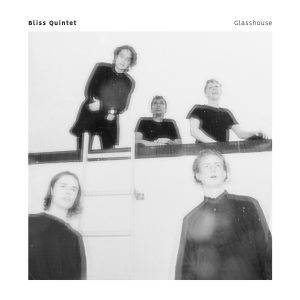 Their recently released second album, "Glasshouse," on Norwegian based label Jazzland Records, stands as a testament to their evolving artistry. With eight original compositions contributed by each band member, the album encapsulates the collective creativity that seems to be pulsating within Bliss Quintet. At the heart of their sound lies a distinctive focus on skillful interaction, seamlessly blending elements of free jazz while adhering to a structured framework. On first listen it becomes clear that Bliss Quintet is not merely a collection of players but a true collective ensemble. The band shows a level of maturity that belies their young age and this can be seen in both their playing and compositions. Their collective approach to music is unmistakable, showcasing a remarkable level of communication among the players.
Opening with "Reminiscin'," the mood is set with a moody ballad featuring an impressive unison trumpet and sax intro. The intonation and tonal range are commendable, and Oscar Andreas Haug delivers a superb trumpet solo, showcasing a high level of skill. Transitioning to "Ida," the band takes a different route, offering a multi-layered, complex rhythmic feel. The tight interplay between trumpet and sax, coupled with the overdrive effect on the Fender Rhodes, adds excellent harmonic tension to this distinctive track.
In "Episode," an excellent solo bass intro takes center stage, exploiting the full potential of the acoustic fretless bass. The track exudes a sense of frenzy, especially in the unison passages, providing a dynamic contrast. "Skuggabaldur" tempers the intensity but builds gradually, maintaining seamless blending between trumpet and sax. Zakarias Meyer Overli delivers an excellent solo, reminiscent of the "Young Lions" era from the early 1990s.
"Harmlos" introduces an ethereal feel, conjuring Nordic images and offering a touch of modern classical influence. Despite its 5/4 time signature, the track feels like a waltz, albeit with a lopsided charm. The title track, "Glasshouse," stands out as a unique piece with a long opening section that forebodes what follows. The intriguing journey from a dark and mesmerizing space to a lighter atmosphere makes it a true highlight on the album.
The set continues with "Downside", a Coltrane-esque sax feature with an exceptional odd-meter groove, highlighting the way the group have incorporated the essence of the tradition yet manage to give it their own unique flavour. Closing with "Adjosang," the album concludes on a highly moody note with a beautiful piano intro. The simplicity of the melody leaves the listener in a state of rest, effectively summarizing the diverse musical experiences encountered throughout the album. "Glasshouse" is a thoughtfully crafted album, showcasing the bands ability to navigate various elements of the language of contempory jazz with skill and imagination and present this in thier own unique voice.
Undoubtedly, there's a distinctive and noteworthy quality permeating throughout "Glasshouse," solidifying Bliss Quintet's position at the forefront of contemporary jazz. This album is highly recommended, encapsulating the band's prowess in a captivating exploration of nuanced musical landscapes.
Track Listing:
1. Reminiscin' | 2. Ida | 3. Episode | 4. Skuggabaldur | 5. Harmløs | 6. Glasshouse | 7. Downside | 8. Adjøsang
Line-Up:
Oscar Andreas Haug, trumpet | Zakarias Meyer Øverli, saxophone | Benjamín Gísli Einarsson, piano | Gard Kronborg, bass | Rino Sivathas, drums
Release Date: 29 September 2023
Format: CD | LP | Streaming
Label: Jazzland Records
You can buy the album below on Bandcamp.

Last modified: November 14, 2023