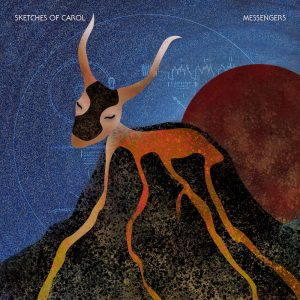 Since Sun Ra landed on Planet Earth, more and more jazz artists brought their love for space and sci-fi themes into their compositions, enriching them with new explorative sounds and moving beyond the reaches of genre. This is what Sketches of Carol does with her new release 'Messengers'. Paying tribute to the sound worlds and effects of Ridley Scott's 'Blade Runner' and the 1980's Star Wars trilogy, 'Messengers' emerges from the love for science fiction that Sketches of Carol shares with her father. But there's more.
The main inspiration of this creation is NASA'S Golden Record, the gold-plated disk produced by JPL containing audio that was intended to portray the diversity of life and culture on Earth to space farers. Behind this intergalactic new creation that is 'Messengers' – and behind Sketches of Carol – there's no rich ensemble or full "Arkestra". There's 'only' one person who's been around the UK and European music scenes for more than 15 years. Her name is Sylvia Schmidt.
Schmidt is a German vocalist from the three-country corner of Saxony where East German, Czech and Polish traditions meet to form the distinctive heritage of Lower Silesia. She moved to London in 2008 to dive into the UK jazz scene. Mastering her musical, vocal, and improvisational skills, it didn't take her long to establish herself as a versatile, contemporary performer. Specialising predominantly in original and avant-garde musical projects, but also expanding her curiosity throughout different genres – most recently Kitchman / Schmidt, a collaborative duo with London-based guitarist James Kitchman that explores Appalachian folk music – Schmidt has worked with highly regarded musicians and bands such as Mimika Orchestra, Johnathan Chung's Glasshopper and Don't Problem – just to name but a few. She has performed in some of London's finest venues such as the Southbank Centre and Union Chapel, Pizza Express Jazz Club, The Spice of Life and Vortex Jazz Club as well as Jazz festivals in the UK and Ireland (including Edinburgh and the EFG London Jazz Festival).
"Quietly rebellious", with a 'fearless approach' and 'unique style' "(Kevin Burke, Songlines Magazine), over the years Schmidt has immersed herself in performing in such a unique and eclectic way, including in styles besides jazz , that it's not that easy to confine her in one genre (…but, on the other hand, isn't this beautiful?)..and the arrival of 'Sketches of Carol' is evidence of this. 'Messengers', is Sketches of Carol's first solo release, where she finally shares with us what she has to say, in her way, through intuitive writing that comes from a very emotional place.
The EP (whose release is supported by Help Musicians) is the first of four planned releases from the German-born artist, who takes inspiration from the magical quality of the fairy tales that she grew up reading as a child blended with the rich cultural tapestry of London's jazz and improviser scene. Let's find out more.
GSLS: Who is Carol? Where do Carol and Sylvia meet?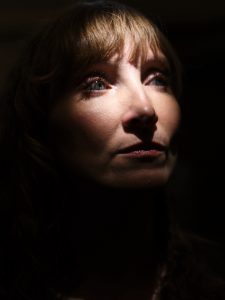 SS: 'Carol' is a symbol rather than a real person. The name is drawn from a film by Todd Haynes of the same title. It stars Cate Blanchett and Rooney Mara in the leading roles and portrays the love story of two women and their struggles in 1950s America. I found the writing and portrayal of the characters in combination with the stylish cinematography and choice of music really heart-wrenching. After first watching the film I went on to improvise a melody straight into my phone.
Fast forward a year or so, lockdown, boredom, but also suddenly some time to breath into my creativity: I kept revisiting the melody, finding that its emotional weight did not seem to vanish. (That is my measure whether a piece of writing might also resonate with others). I decided to send it to my dear friend, Maria Chiara Argirò, a pianist, composer, and producer. She returned the piece framed by a stunning piano improvisation. From then on, we exchanged a few more of these musical 'sketches' adding bits and transforming them.
Returning to 'Carol', I found the loving and supportive relationship the characters held for one-another in the film striking. And while this was a love story, it reminded me of the many positive loving relationships I have with other womxn in my UK artist network. Womxn who make active efforts to encourage and uphold each other. These are artists who do not envy, but invite, who, once they have made some gains, try to elevate others to the same level. I am quite passionate about this. Long story short, the exchange of creative sketches and the symbol of 'Carol' together seemed to express well the way I like to share my life and work with others.
GSLS: Comparing with your previous compositions and projects, you describe this one as the 'most pure, raw form of creative being', stating that it's defined by an instinctive improvisatory approach. Can you tell us more of how 'Messengers' took its shape? How much of the music is written and how much was improvised?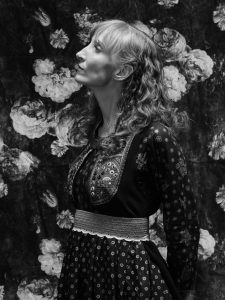 SS: With 'Messengers', the words are what came first, and indeed, they were created in a stream-of-consciousness style of writing. My friend and fellow artist Maddalena Ghezzi was visiting me for a writing session. As is usually the case, she was bubbling with interesting ideas and stories. (Check out her imaginative work at: https://www.maddalenaghezzi.com/) One of them was about NASA's golden record, that was sent into space in the 70s to introduce the idea of planet earth and its inhabitants to any by-passing species. We were fascinated by this concept, that some people sat down to choose what they thought is representative of our natural and human world. Little capsules of film and music, and documentary style visuals of animals, the noises they make etc. We sat down to each describe some capsules of our own and I ended up penning the entirety of Messengers' lyrics in about 20 minutes. Thanks Maddi! Shortly after this, I created the intro to Messengers, half improvising, half working out the vocal harmonies on the piano. A few weeks later followed a home recording session, where I formed the lulling vocal loop borrowing from the intro and improvised the melody in two chunks. I rerecorded some of the parts after to improve their sound quality, but the melody and harmonies were never revised.
GSLS:Starting from your admiration for the sounds in 'Blade Runner' and 'Star Wars' and running into fairy tales and folklore, can you tell us a little more about the stories behind the music?
SS: My childhood obsession with fairy tales has very much shaped my appreciation of a 'good story', whether that is as a listener or the narrator. As a performer, I see it as my job to connect with the people in front of me, to invite them into the world I have created and to take them along with me through the story. My love of sci-fi comes from my dad. We used to watch a lot of films with him when we were kids, from 'Blade Runner' and 'Dune' to 'Close Encounters of the third kind' and 'Army of the twelve monkeys'. All of those films used to frighten me a bit as a teenager, but I was so drawn into the stories that I simply had to know what happens. While I can't recall every detail of some of those movies, what has clearly sat with me is their mood. These dark rainy visions of 'the future' driven by the fashion and architectural imagination of the 80's. They are stark, yet beautiful. And the sound worlds are filled with experimental synths and inventive noise effects. So, in a more direct way, sci-fi movies of the 80's have influenced the dark droning undertones of Messengers EP, that, set in contrast to my high frequency vocals, open up a vast sense of space. If you have a moment to indulge, have a listen to the entirety of Messengers EP and you will find yourself diving in and out of that
GSLS: Your music is not just about reaching unexplored sounds, but it has the deeper intent to touch heavy subjects, from environmental preservation and migrant rights to shared grief and community…
SS: My current EP, while focusing on the beauty of our home planet, intrinsically highlights what is at stake if humans fail to sufficiently curb global warming. But rather than drowning ourselves in dooms-day-talk, I find the way David Attenborough approaches the subject more helpful. He loves mother nature and has such a talent to highlight its features, all the while subtlety planting ideas of 'how things could be done better'. It is a positive and motivational way to tackle the problem that allows us to unite and progressively move forward.
GSLS: A solo project can be a daring choice to jump into. After years of collaborations, what led you to just want to express yourself as a soloist?
SS: Oooff! Amen, sister! For a long time, I have felt that I have something to share that could be meaningful to others, too. But I was captured by my own fears, by the judgement of that teacher and this colleague, that kept echoing through my mind. I went to study music in order to improve my craft in composition and arranging. Wile this was very useful, being in an environment of constant judgement and comparison only fuelled that initial anxiety. Don't get me wrong, though. I don't think I am in any way special. The classic imposter syndrome and toxic comparison is omnipresent.
I have enjoyed being part of many interesting and in some cases, visionary, projects – trying to pick apart what it is my colleagues wanted to express and helping them carve that into being. But the difference between a good side-woman and a solo artist is, that as the latter, you gotta face the fear and do it anyway. Sounds easy, right? It's not. It has taken me about 20 years observing how other artists succeed, doing a bunch of therapy, and learning to accept myself as I am. And interestingly, it helped to have our daughter. Although parenthood makes you more time poor, it really focuses your attention for the essential. And really, if you have managed to give birth to a whole other human being, releasing some music suddenly doesn't seem that much of a big deal anymore. So, if any of you out there feel the creative drive, no matter how old you are or what you do to earn your living, just go for it! And if you have a question, feel free to reach out.
GSLS: What's on Carol's agenda now and what shall we expect from her in the future?
SS: If you haven't seen it yet, there is a brand-new music video out, that the brilliant director Cadhla Kennedy Ko created for Messengers EP. In the longer term, I am super excited to share my next single with you all in spring 2024, and with our little girl starting nursery, I am hoping to get this vocal lead music live on stage. Meanwhile, if you would like to catch me live, I will be playing with my jazz quartet on Sunday December 10th for Good Evening Arts at The Albert in New Cross, SE London.
Photography by Ravi Chandarana
To purchase 'Messengers' click here
Last modified: November 3, 2023