To continue coverage of the stunning Barbara Thompson Memorial Concert on 2nd June 2023 at Union Chapel, London, I would like to introduce the youngest performer of the evening, the granddaughter of Barbara Thompson, twelve year old Isabelle Hiseman.
Having been asked to perform for this event myself, I felt the greatest honour to be able to pay tribute to and celebrate the life and music of the late saxophonist, composer and band leader Barbara Thompson MBE. The concert was put together by Barbara's daughter, singer/songwriter Ana Gracey, who also performed throughout the evening. There is a wonderful connection between Ana and both her musical parents (drummer Jon Hiseman being her late father). Ana produced the concert in such a way that both her parents were included as part of the evening, with members of Barbara's band Paraphernalia performing on stage together with a hugely emotional video performance of the band with Barbara and Jon. Ana also unveiled her stunning new track and video 'Fairweather' which features her mum on soprano saxophone. So, the family musicality clearly continues. I was looking forward to meeting the rest of the family and to hearing Isabelle's performance.
I arrived at the stunning Union Chapel early afternoon as sound checks were taking place. As I walked in, I was immediately captivated by the beautiful, haunting sound of an alto saxophone echoing around the chapel. It was quite a moment! My eyes fell upon a young girl on stage  performing beautifully, from the heart. I was quite taken aback by this young performer creating such an accomplished sound.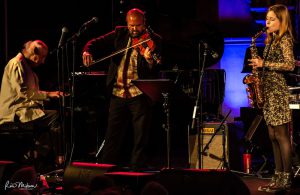 Later in the evening, Isabelle performed one of her grandmother's compositions 'The Fanaid Grove' alongside Paraphernalia band members Peter Lemer on keys and Billy Thompson on violin. The performance was faultless and beautifully heartfelt. The audience was captivated as this young performer appeared to take everything in her stride. I was blown away by Isabelle's confidence on stage and for me, it was a very special, emotional highlight of the evening.
Being part of such a star-studded lineup of musicians, everyone wanting to perform their very best to do Barbara justice, instilled a natural feeling of responsibility within the performers. I can only imagine how daunting this must have been for a saxophonist of such a young age, having never performed for this kind and size of event before and all in honour of her grandmother. A pretty big deal for anyone. Having chatted briefly with Isabelle (Izzy) after the concert and also with her lovely parents Marcus and Beatrice, I wanted to find out more about Izzy, her music, her family, what inspires her and whether she was as calm as she appeared!
Kim – Tell me about your grandmother, your memories of her and anything special you did together.
Izzy – "My dad's side of the family would always have Christmas dinners at the Ridgway, where my grandparents used to live. I remember one Christmas finding my gran in her study composing some music. I recall her sitting with her saxophone and letting me have a puff! Try as I might, I could not make a sound. It was a tender, loving moment between us and I will never forget it."
Kim – What age did you start playing the saxophone and why did you choose that as your instrument?
Izzy – "I started playing the saxophone at the age of eight. I remember hearing about my gran, Barbara. Being inspired by her I jumped at the opportunity of saxophone lessons at my primary school."
Kim – Do you play any other instruments?
Izzy – "I play the piano, take singing lessons and group drumming lessons at school."
Kim – Did your grandmother ever hear you play? Did you ever play together?
Izzy – "Sadly, we never played the saxophone together, but I remember playing my recorder in front of her one Christmas dinner! Unfortunately, I never saw her live in concert, but I often listen to her band Paraphernalia on Apple Music and watch her performances on YouTube."
Kim – What do you like about the saxophone and how do you feel when you play?
Izzy – "I like many things about the saxophone. The range of notes and pitches the instrument can produce is incredible, and I like making use of that quality when playing. I enjoy playing because it gives me a chance to wind down after what can be a long day, allowing me to express my emotions through sound."
Kim – Do you have any favourite pieces of music that you especially enjoy listening to or like to play?
Izzy – "My favourite piece is 'Fanaid Grove'. It is such a beautiful piece to play, and I love how Gran makes it such a standout piece. However, I enjoy that you can play it in any way you like, instead of there being a set format and dynamics! For the Memorial concert I played my own interpretation of it."
Kim – When I heard you playing at the Memorial Concert, I was taken aback by your beautiful performance. You looked very confident on stage. How were you feeling?
Izzy – "I was very nervous before the concert, as this was my first solo performance in front of such a big crowd of people. Despite this, I really wanted to express how much I loved my Gran and felt inspired by her music career. During my performance I felt very happy and didn't even notice the crowd!"
Kim – Tell me about any other performances / events you have been part of.
Izzy – "I have been part of three soirées at my new school as part of a wind band. I am also part of a drumming group and a junior choir! At my primary school I performed in multiple saxophone duets and trios. However, the Memorial Concert was my first proper concert in front of the public!"
Kim – What word (or words) best describe your experience being part of such a special night paying tribute to your grandmother?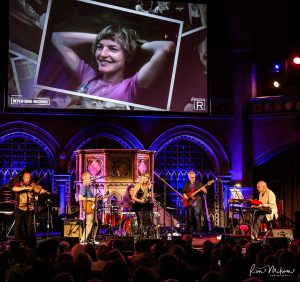 Izzy – "It was so INSPIRING to meet so many musicians that admired her. They worked so well on stage together, but of course missed my grandma on the sax. Many of the musicians feel like family and I was very happy to see them again. It was a MAGICAL night full of passion and dedication to my gran."
Kim – What are your ambitions for the future and do you think music will always be part of your life?
Izzy – "I am not sure what I want to be in the future and haven't fully decided but I do know music will be a huge part of my life. The saxophone will be with me forever, and I will never stop playing."
Kim – What other hobbies do you enjoy?
Izzy – "I enjoy playing tennis, running, reading, acting and playing the piano."
Kim – If you could meet one famous person from the past or present, who would it be and why?
Izzy – "There are so many inspiring, clever people out there, who never stop fighting for what they believe in, and have achieved brilliant things. I would like to meet Malala Yousafzai. She fought for women's rights and education and has survived and persevered through many obstacles!"
It was such a pleasure to meet Izzy, to chat with her, to hear her play and to share a wonderful evening with her together with her family and the united 'family' of musicians. It feels even more special now knowing how important the performance was to Izzy, and how incredibly proud her family must be. It seems fitting to leave the final words to Izzy, to sum up the incredible inspiration of Barbara Thompson and to celebrate how the family musical flame continues to burn very brightly indeed:
"My gran was an amazing woman, who I hope will continue to inspire young girls like me to play the saxophone. She made her own way despite many obstacles and was never afraid to be proud of her ability. I would love people to follow the brilliant legacy she left in the world of music."
All photography by Ron Milsom unless otherwise stated.
This article was first published in the July 2023 Women in Jazz Media Magazine
Last modified: October 30, 2023