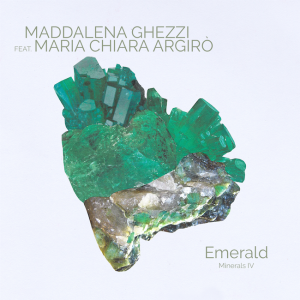 Maddalena Ghezzi, Milan-born and now London-based singer, composer, and improviser, has once again explored the depths of her artistry to create a glimmering 'Emerald' in her musical series, Minerals. This is the fourth release of the series, featuring pianist, synth player, composer and producer, Maria Chiara Argiró.
'Emerald' was preceded by 3 captivating releases: 'Amethyst', 'Halite', and 'Opal'. These works were all moulded around the styles of Ghezzi's different collaborators and based on contrasting recording spaces. Each EP aims to capture the diversity of each musician's sonic language and approach. The series also looks to develop Ghezzi's own musical practice, exploring the use of her voice alongside various art forms and musical genres.
'It's a personal and emotional journey to challenge my perspectives. I'm exchanging energies and experiences within my community… looking through different lenses to interpret reality.'
Maddalena Ghezzi has been writing a diary documenting each step in the series and the beauty in each collaboration. She is set to release an anthology of writings when the Minerals project is concluded. Furthermore, on Thursday 19th October, 'Emerald' was taken to the stage of the Vortex Jazz Club, with Maria Chiara Argiró and Anything Pointless.
'Emerald' is made up of three tracks:
land briefly
on the outside
of the flower
The titles make up: 'land briefly on the outside of the flower', a phrase from The Book of Delights by poet Ross Gay. 'land briefly' is an ethereal and elegant composition, which immediately takes you into a space other than your own. Ghezzi's experimentation with the voice and spoken word, paired with Argiró's prominent and commanding synth lines, is enchanting. The way this track pulls together reflects its outset; the only track with lyrics, which were written on a plane at sunset, as Ghezzi was enveloped by tones of yellow and orange.
'on the outside' continues this introspective atmosphere, becoming more synth and electronically led with a distinctive motif and pulsing drum lines. Ghezzi and Argiró paint an image from the outside of Earth, of a world like ours but without the veil of the patriarchy. In this world, women are free to compose and be unapologetic in their musicality. This track is accompanied by an animated collage video by art collective, Libri Finti Clandestini and photographer and filmmaker Tanguy Bombonera. The last track on the EP 'of the flower' is an amalgamation of bending synths and vocals, that embody the tranquil breeze on a summer's day. This relaxed mood portrays a 'let me be' type of feminism; a call for a world which allows women to flourish freely and lead the lives they wish to lead.
Ghezzi's creation of what she calls a 'sci-fi feminist EP' imagines a world without barriers for women everywhere. Both Ghezzi and Argiró have channelled their artistry into a very special collection of tracks, a meaningful addition to the Minerals series.
Emerald was home-recorded
Production: Maria Chiara Argirò
Mix: Maria Chiara Argirò, Mauro Polito
Master: Mauro Polito
Last modified: October 24, 2023