In the realm of British jazz and rock, few figures loom as large and influential as the electrifying guitarist, composer, and bandleader John McLaughlin. With a career spanning decades, marked by groundbreaking innovations and a trail of genre-defying music, McLaughlin's name is synonymous with virtuosity and boundary-pushing artistry. Grammy award-winner McLaughlin, who gained recognition as Miles Davis's guitarist of choice on iconic albums such as "In a Silent Way," "A Tribute to Jack Johnson," "Bitches Brew," and "Live-Evil," has consistently enthralled audiences with his fearless approach to music.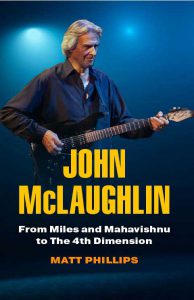 Now, in a riveting new book, author Matt Phillips takes readers on an immersive journey through the entirety of John McLaughlin's illustrious career. Drawing on extensive research and interviews with key collaborators, Phillips offers an unprecedented look into McLaughlin's musical evolution. From his formative years in the London pop scene to his forays into the European avant-garde, from his groundbreaking work with jazz legends Miles Davis and Tony Williams to his electrifying fusion experiments with The Mahavishnu Orchestra and Shakti, McLaughlin's musical odyssey unfolds in vivid detail.
What sets this book apart is its comprehensive coverage of McLaughlin's output from 1980 to 2020, a period that witnessed the artist's continued growth and evolution. Through Phillips's meticulous storytelling, readers will gain fresh insights into McLaughlin's diverse collaborations with luminaries like Chick Corea, Sting, Herbie Hancock, Wayne Shorter, Carlos Santana, and Jeff Beck. The book also delves into McLaughlin's immensely popular acoustic ventures, featuring partnerships with Paco De Lucia, Larry Coryell, and Al Di Meola, as well as his dynamic 4th Dimension band.
The book is not just a narrative; it's a visual feast, with never-before-seen photographs, including the stunning cover image by one of the UK, finest jazz photographers, William Ellis. King Crimson founder Robert Fripp contributes an introductory note, adding another layer of depth to this musical exploration.
Matt Phillips, the author of this compelling journey into John McLaughlin's world, is no stranger to the world of jazz and music writing. His contributions to respected publications like Classic Pop, Record Collector, and Jazzwise have earned him accolades, including the Jazzwise Write Stuff Award for new jazz writing. With a background as Universal Music's jazz catalog manager and Jazz FM's web editor, Phillips brings a wealth of knowledge and passion for the subject matter. His expertise extends to writing liner notes for numerous DVDs and CDs, featuring the works of legends like Miles Davis, Tony Williams, Billy Cobham, and Maynard Ferguson.
Phillips's previous books, including the bestselling "Level 42: Every Album, Every Song," showcase his dedication to exploring and celebrating the world of music. As the founder of movingtheriver.com and soundsofsurprise.com, he continues to share his passion for music and its rich history with a global audience.
Intriguing and insightful, Matt Phillips's book promises to be a must-read for jazz and rock enthusiasts, offering a rare glimpse into the life and career of a true musical icon. From McLaughlin's early days in London to his latest endeavors, this book captures the essence of an artist who has consistently pushed the boundaries of music, leaving an indelible mark on the world of jazz and beyond.
John McLaughlin: From Miles and Mahavishnu to The 4th Dimension is published by Rowman and Littlefield and now available in all of the usual online book stores. You can order the book direct from the publisher here.
John McLaughlin: From Miles and Mahavishnu to The 4th Dimension
ISBN: 978-1-5381-7094-6
Format: Hardback • 280 pages

Last modified: September 25, 2023