Today New York based trumpeter Itamar Borochov prepares to drop his latest masterpiece, 'Arba' ('Four' in Hebrew). This release marks Borochov's fourth album as a leader and his first collaboration with for Dave Douglas' Greenleaf Music label.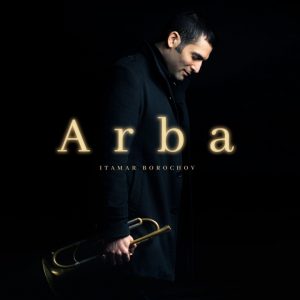 In 'Arba,' Borochov tantalizingly blends his soulful trumpet skills with his earthy, expressive singing voice, creating a harmonious fusion of Jazz and Middle Eastern Magic. Notably, this album showcases Borochov's mastery of a custom Monette quarter-tone trumpet with four valves, offering a unique sonic experience.
Drawing inspiration from the mesmerizing maqamat scale system and traditional music of the Middle East and North Africa, Borochov paints a musical tapestry that reflects his rich cultural heritage, including his upbringing in Jaffa near Tel Aviv, where he frequented a Sephardic synagogue.
Teaming up with Borochov in this vibrant musical exploration are the exceptionally talented pianist Rob Clearfield, bassist Rick Rosato, and drummer Jay Sawyer. This quartet, handpicked by Borochov, shares his deep emotional connection to music, and their synergy is palpable in every note.
Borochov's journey from the Mediterranean-infused sounds of his childhood to the bustling streets of New York, influenced by the teachings of Barry Harris and the shared truths of oral traditions, comes to life in 'Arba.' The album encapsulates the essence of his life path, as he states, "a musical language that originates from the stirring Middle Eastern sounds which have surrounded me since my childhood by the Mediterranean and traces my journey to the energy-infused streets of New York."
'Arba' also marks the third collaboration between Borochov and drummer Jay Sawyer, as well as the second appearance of pianist Rob Clearfield. Borochov's deep appreciation for their musicality is evident, describing them as having "pure hearts" and noting the special connection they share in their musical interpretation.
Introducing a new member to the quartet, Rick Rosato, who Borochov has known since their New School days. According to Borochov, Rosato brings something "very special" to the group, emphasizing the powerful role the bass plays in the ensemble's dynamic.
One standout track on the album, "Ya Sahbi," features Borochov's heartfelt singing alongside his trumpet. The lyrics, "Take your glasses off, my friend, take your glasses off," form a poignant one-line poem. In contrast, "Wabisabi" and "Who Shall Grant Me Flight" are instrumental pieces that showcase Borochov's ability to convey profound emotions through wordless melodies.
Borochov's commitment to preserving the trumpet's legacy, from Louis Armstrong to Wynton Marsalis, shines through in his searing lines and warm, airy tone. He effortlessly marries the jazz tradition with Middle Eastern modes, as exemplified in "Bayat Blues," a piece rooted in the maqam bayat scale.
Speaking about his music, Borochov eloquently states, "A song has no genre…I'm trying to write something you can view from all these angles, with the song at the center."
Beyond his work in jazz, Borochov continues to push musical boundaries as the featured soloist on Shanan Estreicher's 'All You Shining Stars' (2023) and as the composer of the captivating 'Emergence Suite.' His multifaceted talents have also been showcased as a co-founder, arranger, and co-producer of Yemen Blues, an acclaimed world music group with four stellar albums to their name.
Available today on Greenleaf Music, Itamar Borochov's 'Arba' promises to be a musical masterpiece that leaves a lasting impression.
More Information can be found at the Greenleaf Music website.
Photos by Dave Stapleton
Last modified: September 8, 2023