Paying tribute to the legendary king of jazz, Dexter Gordon, the American jazz tenor saxophonist, composer, bandleader, and actor who left an untouchable legacy as part of the global Dexter Gordon Centennial Project.
"Jazz to me is a living music. It's a music that since its beginning has expressed the feelings, the dreams and hopes of the people." Dexter Gordon
Inspired by award winning author, historian and patron Maxine Gordon, Women in Jazz Media have teamed up with saxophonist and rising star Hannah Horton, vocalist Lily Dior, and award winning J Steps in partnership with the Dexter Gordon Society for what looks set to be a fantastic event at Haverhill Arts Centre on October 6th, celebrating the legendary Dexter Gordon as part of the The Dexter Gordon® Centennial Project #DEX100 programme of events.
Established to celebrate the 100th birth-year and anniversary of the life and legacy of late tenor saxophonist, composer, bandleader, and Academy Award nominated actor Dexter Gordon®, the centennial project is a division of The Dexter Gordon® Society, which exists to preserve Dexter Gordon®'s legacy through archival preservation, publication and digitization of historic works, educational projects, workshops, and cultural events.
J Steps are a jazz ensemble led by Hannah Horton for female and non binary improvising musicians and this will be their first performance since winning the Parliamentary Jazz Education Award. Performing on the night will be Kristen Barry, Zoe Biddulph, Annie  Qosja, Megan  Underwood, Tabby Dobson, Miriam Cooke, Amy Proudfoot, Amy Stone, Alice Hopewell, Millie Curtin  and Sunny Wirrmann
'J Steps is an example of what we can do to ensure the future of the music we love. Hannah Horton has created a visionary organization and the Dexter Gordon Centennial Project and The Dexter Gordon Society are pleased to support this work and the group. In 2022, I was honored by Women in Jazz Media in London and the tribute included a concert by J Steps. The music was remarkable and the student musicians were so pleased to be part of the event and were inspired and inspiring. Dexter Gordon was always looking to the future of Jazz. He knew the music would continue and grow and I am sure he would be delighted to be honored by J Steps. Thank you for the great work and "keep steppin'." Maxine Gordon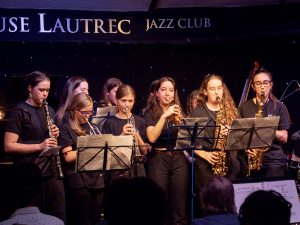 The players are grade 6 and above and are taught jazz harmony and improvisation, playing standards and originals. J Steps have previously performed at EFG London Jazz Festival and Saffron Hall foyer and you can hear Hannah Horton in conversation with J Steps in the recent Women in Jazz Media podcast here
Keen to bring international standard jazz music to Haverhill, Hannah Horton's new Swinging Cat Jazz Club brings A-list guests and up-coming artists, along with her highly acclaimed quartet which includes Tim Lapthorn on piano, Rob Statham on bass and Nic France on drums. For the #DEX100 event LILY DIOR will be joining as a guest.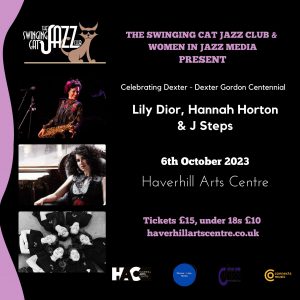 Recognised as one of Australia's finest singers, and as an expat Australian singer now settled in London, Lily Dior comes with an impressive and extensive cv having shared the stage with Oscar Castro Neves, Airto Moriera, Don Grusin, Dave Matthews, Jackie Orszaczky and more! HEr list is endless. She has performed at many of Australia's best venues and festivals including The Opera House Concert Hall, Adelaide Festival Theatre, Melbourne Concert Hall, Sydney Town Hall, Sydney Festival, and toured and performed in Australia, Japan, Shanghai, Hong Kong, New York, Italy and Sicily most recently for Catania Jazz Festival. Her debut album 'Invitation' received universal praise and put Lily firmly on the Australian music map. "Jazz and soul coexist in Lily Dior's repertoire, and in her vocal style… sassy, soulful, passionate and strong." Rhythms magazine
October 6th, Haverhill Arts Centre: Tickets here
Last modified: September 29, 2023