The energy in the room was eclectic. No, I wasn't present myself in the physical sense; I was one of the million people tuning in virtually to witness a historic win for jazz with Ezra Collective snatching the award for Mercury Prize with Free Now at the recent mercury Music Awards.  They were to be precise, the first jazz act to win the Mercury Prize in its 31-year history.
The prestigious £25,000 prize celebrates the best British or Irish album of the last 12 months.
East London born and bred brothers in arms, the members of the Ezra Collective leaped from their chairs in a fit of jubilant joy that can only be described as the most heartwarming and endearing authentic reaction from a winning musician. The room agreed- I've never heard so many members at an award ceremony support their fellow nominees like that. Dancing and jumping their way to the stage, the camera's panned in-between the audience and overhead to capture the undeniable support of this win. "Where I'm Meant to Be "was given 5 stars and has been described by The Observer's Kate Hutchinson as 'an exceptional album that centres joy and community, radiates positivity and youthful abandon, and could well be the one to cross over to the big league'.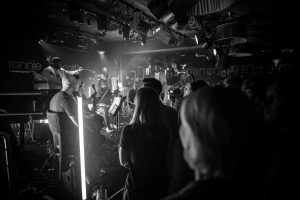 Perhaps it is that 'youthful abandon' coupled with a passionate determination to believe in music itself as a unifying tool that make Ezra Collective stand out as a quintet, and certainly defy anyone who claims that Jazz can't be appreciated or enjoyed by all. I will relate on a personal level and small sense of distant pride, as I remember witnessing two young talented brothers, James Molison on saxophone and Mark on guitar, as part of the Guildhall School of Music and Drama's 'impossibilities' concert series. Somehow, I knew that these guys were truly about the music. Imagine being in the same room with conservatoire musicians who more or less were settled in that already supported environment; I knew that their youthful confidence outdid anyone's there, and I can't help but feel very moved by what follows as one of the humblest speeches given by a musician.
Fast forward to the Mercury Prize awards: drummer Femi Koleosco thanked the organisations, schools, and people who helped them on their way.
'Most importantly really Ezra Collective represents something very special because we met in a youth club. This moment that we're celebrating right here is testimony to good, special people putting time and effort into young people to play music, do you hear what I'm saying? Right now, this is not just the result for Ezra Collective or UK Jazz but a special moment for every single organisation ploughing efforts and time into young people playing music…'
Music education is more than ever, vital, should we wish to ensure the future of music and support not just the younger generation, but sustain those who make music a career. This is the message of Ezra Collective, by default, signalling to the world, I should say, that music education quite simply is an education of life. They weren't just taught music, they were taught to believe in themselves, to pursue, to play their way into a family and now almost globalesuqe community.
So I say to you all:
Music ensues, so long as we give back to those that guided us. Thank you Ezra Collective.
You truly are, 'where you're meant to be '.
Photos taken by Monika S Jakubowska at Ronnie Scott's.
Last modified: September 13, 2023