To say that 2020 was a crazy year, some would say, could be seen as one the worlds greatest understatements, myself included. In the autumn of that year I remember an album hitting my desk that truly sparked my interest titled "ACTS". I had this one listed for review however, due to the strange machinations of that time, I never got around to "putting pen to paper".
However strangely, and perhaps subconsciously, something about that album must have stuck in my mind. Now almost three years later another album, titled "When I Am Dead, My Dearest", hit my desk. On first listen, I immediately thought, "where have I heard this voice before". And yes, it was that exact same voice that had lingered in my mind subconsciously since that fateful time in 2020. That voice belongs to the Slovenian vocalist Ana Cop.
As I started to musically digest "When I Am Dead, My Dearest" I realized that this is not your "cut and dried" conventional set, there's way more going on here, but what? It was difficult to put my finger on it and this made me more than curious provoking questions like, what is LILAMORS?, who is Ana Cop? and what the hell am I listening to?
Well, to answer that first question, LILAMORS is a new project by three old friends, vocalist Anna Cop, Berlin based pianist Thilo Seevers and Sound designer Jaka Arh. As a duo, Seevers and Cop produced that 2020 album titled ACTS, the very album I mentioned above that lingered in my mind. Having suffered the tragic loss of their mentor and friend Uli Rennert (who produced the ACTS album -ed) amidst the pandemic, Ana and Thilo encountered a new collaborator, sound artist Jaka Arh and with this LILAMORS was born.
Now for the second question, who is Ana Cop? Ana Cop is a Slovenian vocalist originally from Ljubljana and currently living in Basel, Switzerland. Having started her career as a classical pianist and studying musicology at the University of Ljubljana, Ana found her way to Austria where she studied jazz Vocals at University of Music and Performing Arts in Graz and later completed a Master's degree at the prestigious Jazzcampus school in Basel. If you check out the "about" page on Ana's website you'll see that it starts with the text "One thing that challenges musicians the most is finding their own voice in the deluge of all the musical influences and information this crazy world offers. Ana finds hers in a lyrical intimacy of a human voice." I have to agree, there's no doubt that Ana has found her own unique voice.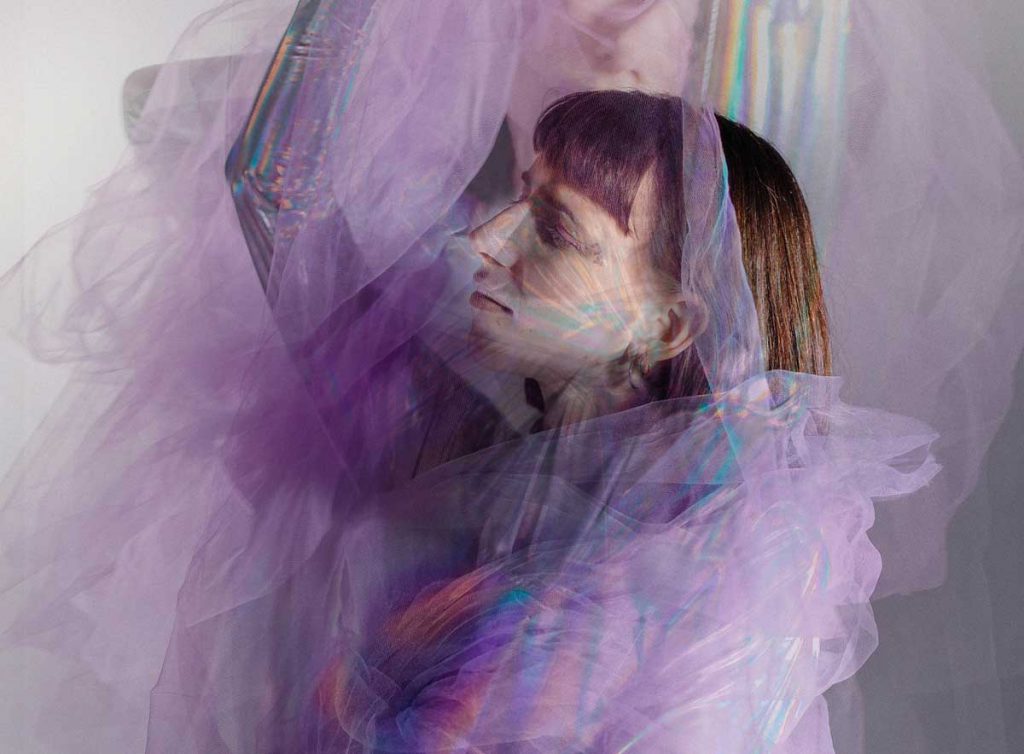 So on to the album at question here. "When I Am Dead, My Dearest" as you can gather from the albums title, and as is stated in the albums liner notes, deals with the "the topic of death – afterlife, in-life, and anything on the edge." As a side note, having also experienced grave loss during the pandemic perhaps goes someway to explain the emotional impact this album provoked on my psyche.
Normally when I review an album, I like to describe, to the best of my knowledge, what's going on musically and provided the reader with my thoughts and impressions. I'm not going to do that here, trying to put what is happening here musically into words would only be doing the album a disservice. However what I will say is that this album is totally captivating from start to finish.
From a lyrical perspective the album is moving, poetic and thought provoking. Musically it's experimental yet highly assessable, at times ethereal yet also edgy. However, above all this album does what all great art music should do,  transport the listener to another place, wherever that might be.
Along with a pre-release streaming link, I also received a press release that provided an insight into the musicians thoughts and I believe the best way to provide the reader with an indication as to what this album is about is to present some of these thoughts as quotes.
First up when speaking of the albums subject matter Ana wrote, "As musicians, Jaka, Thilo and I have all lived through major transformations in the recent years, partly because of the pandemic and the loss of loved ones that meant so much for us and so many other people. Coming from a traditional Jazz environment, we opened ourselves to incorporate both more ancient and more contemporary art forms into our music to create something new." The context of this quote was in reference to the albums opening track titled "Outro", in itself a nod to the bands sense of humor. However this quote, and specifically the reference to creating something new, is also highly applicable to the entire set. Anna rounded this quote out by saying "With 'Outro' we say goodbye to our own past and embrace what's to come." 
Speaking of tracks such as "And Now You're Gone", the title track "When I Am Dead, My Dearest" and two pieces that segue together titled "She dried her tears" and "Yet still she cries" respectively Ana wrote describing, as she put it, her "… mysterious and sometimes coded lyrics" on these tracks speak about "… a figure struggles for inner peace and direction in the disturbing surroundings of modern life… there, another character discusses perspectives on life and death. On another song we accompany a girl as she takes the final steps over the edge of this world. It's like we become friends with a crowd of hassling, wavering or broken characters while listening to this album. It draws us into a dream land." Continuing on she added, "The one who departs from this world, arrives at a different place, perhaps a parallel one, connected to us still." This last statement not only refers to lyrical fabric of the subject matter but also points to the deeper meaning conveyed on the album.
Tracks including 'Slow Traveller' and 'Dream Land' that the band describe as "Electro-musical tales" and suggest are a testimony to the innovative approach that the band takes, lead to and culminate in the closing song, 'Home'. Ana recalls speaking of the creation of this semi-improvised cinematic soundscape. "This piece really made us feel like we made it, and arrived at a new place, where we could settle."
The liner notes to the album closes by leaving open the question: "… Whether this album is about death after all, or rather about birth, rebirth or the re-imaginability of this world." And then concludes be offering the following final statement "We don't know. No-one does. Perhaps all we have are suggestions…"
In conclusion, with this recording LILAMORS have truly created a unique soundscape while maintaining an improvisational spirit that prevents the music from feeling to programmatic. "When I Am Dead, My Dearest", is a great album and I urge you to take the time to site and consume this album in it's entirety in one sitting. You won't be disappointed.
Last modified: September 4, 2023