With a large part of our readership being on the European continent, many may not be aware of Bar LunÀtico in Brooklyn, New York. However for our readers located across the pond and specifically in New York, Bar LunÀtico in Brooklyn, is not just a hidden gem but an important and essential venue for live music.
This unassuming venue has emerged as a pivotal hub for live music in the city, treasured by musicians who thrive in its intimate confines. It's an incubator, a sanctuary, and a platform that has nurtured countless bands and genres, featuring an eclectic array of artists like Tiga Jean Baptiste, Bill Frisell, Duduka Da Fonseca, Wayne Tucker, Madeleine Peyroux, Julius Rodriguez, Dan Weiss, and many more.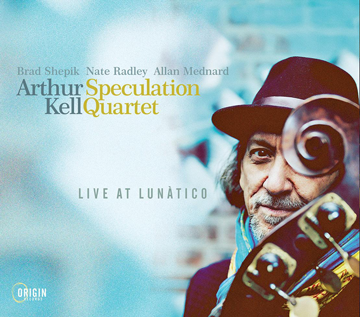 Arthur Kell, the bassist and composer, stands as one of the co-founders and owners of Bar LunÀtico. His upcoming release, "Speculation Quartet: Live at LunÀtico," slated for November 17, 2023, on Origin Records, signifies a homecoming for him. This project effectively merges his diverse musical journeys, bringing his artistry full circle. Kell's contributions to the vibrant Brooklyn music scene, largely through Bar LunÀtico, have informed and enriched his latest explorations.
Kell's musical journey traces back to his early days when he performed in the neighborhoods of Bedford–Stuyvesant, fondly known as Bed–Stuy, playing at local bars and all-night joints like Tiffany's and Brownie's. These formative experiences laid the groundwork for his enduring career.
"Speculation Quartet" features a stellar ensemble, including the revered guitarists Brad Shepik and Nate Radley, along with the rising star on drums, Allan Mednard. The album delves into the theme of navigating life's inherent uncertainties and embracing the potential they hold. Kell's compositions are deeply inspired by his extensive travels, notably a four-month solo journey from Dakar, Senegal, to the Indian Ocean. The album offers a blend of melody-based compositions, featuring explicit 12/8 cuts and subtle echoes of his work with bands like Spirits Rebellious and Arabic music groups.
Arthur Kell's illustrious career spans collaborations with influential bandleaders such as Thomas Chapin, Guillermo Klein, Paul Bollenback, Steve Cardenas, and many others. He's recorded alongside prominent drummers like Bernard Purdie and Matt Wilson. As a composer and bandleader, Kell has toured extensively across New York City, the U.S., and Europe, gracing renowned venues like the Jazz Standard and performing at esteemed festivals worldwide. His discography boasts five albums of original music on various labels, including Origin Arts, Fresh Sound Records, and Brooklyn Jazz Underground Records.
Before the album's official release in November, Arthur Kell will embark on a European tour, captivating audiences with his distinctive jazz stylings. He'll then return to his beloved Bar LunÀtico in November to present "Speculation Quartet: Live at LunÀtico" to his home crowd. You won't want to miss this captivating journey through Kell's mushttps://originarts.com/originrecords.phpical evolution.
More information can be found on Arthur's website and the of course the venues individual websites. More information on the album can be found at the Origin Records website.
Tour Dates:
October 3 – Jimmy Glass, Valencia, Spain
October 4 – Cockney London Club, Padova, Italy
October 5 – Aretoa, Bilbao, Spain
October 6 – Clarence Jazz Club, Malaga, Spain
October 7 – Donau 115, Berlin, Germany
October 8 & 9 – Funke, Copenhagen, Denmark
October 11 – Jazz Book, Bucharest, Romania
October 12 – Chamber Jazz at Transylvania University, Brasov, Romania
October 13 – TBA, Cluj-Napoca, Romania
October 14 – Jamboree, Barcelona, Spain
November 14 – Bar LunÀtico, Bed-Stuy, Brooklyn, NY
January 31 – Smalls, NYC
Last modified: September 21, 2023