Mária Reháková, the Slovak-born flautist, singer, and composer, is poised to unveil her debut album, "TOPOĽANA," accompanied by her London-based sextet. This remarkable musical journey is a captivating blend of folk and jazz influences, an introspective exploration of Mária's cross-cultural sojourn, merging two countries, two music genres, and two ways of life into a singular work of art. Scheduled for release on October 20, 2023, "TOPOĽANA," will be available on CD, LP, and across streaming platforms, promising to transport listeners to a realm where tradition and innovation converge.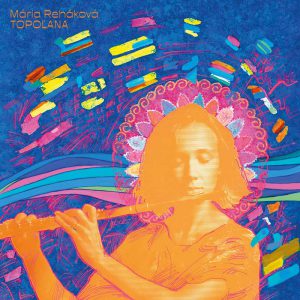 Mária Reháková's musical odyssey is as diverse as it is mesmerizing. Raised in the midst of the vibrant tapestry of Slovak folklore and classical music, she ventured to London to immerse herself in the world of jazz, creating a fascinating juxtaposition of musical worlds. Her formative years were characterized by singing and dancing with a Slovak folklore ensemble, a stark contrast to her later immersion in the vivacious realm of London jazz. Mária's musical prowess has taken her across Europe and the United States, where she has performed both as a solo artist and as a collaborator. A distinguished graduate of the Guildhall School of Music, she also held the prestigious flute chair in the National Youth Jazz Orchestra, a testament to her extraordinary talent, highlighted by her victory in the "JazzStartUp 2022" competition.
The album ""TOPOĽANA," recorded in 2022, draws its name from the Slovak term for "poplar tree," a symbol of solitude and resilience in Slovak poetry. "TOPOĽANA," the fictional female form of the word, encapsulates Mária's solitary experience in the bustling city of London, interweaving it with her unyielding passion for artistic exploration. Reflecting on her journey, Mária shares, "Moving to London was intense – a transition from tranquility, family, friends, and folklore to the vibrant, loud, and ceaselessly dynamic pace of London. Although I adapted, I couldn't help but feel two contrasting sides to my character, two identities in one, that over time merged within me, and are now reflected in this album. After all, life is a balance between the fast and the calm, the active and the serene, the loud and the quiet. May this music accompany you as you seek your equilibrium."
Mária's sextet, composed of accomplished London jazz musicians, creates an enchanting jazz folk fusion that is both genuine and innovative. Her compositions seamlessly marry the jazz techniques she honed in London with the melodious roots of Slovak folk music. However, her vision extends beyond the mere fusion of these genres; she aspires to cultivate a musical environment where each member's cultural and musical heritage shines through. The result is a harmonious tapestry of diverse backgrounds, echoing the ethos of unity and harmony that underpins the album.
"TOPOĽANA," extends its creative reach into the visual realm as well. Collaborating with a dress designer, graphic artist, and painter, the project boasts a visually striking identity that offers a contemporary interpretation of folk culture within a jazz context. Mária's father, Pavol Rehák, plays an integral role in this collaboration, contributing album artwork and six paintings that complement each track, imbuing the album with emotional depth. This personal collaboration with her father adds an intimate and profound layer to the project. Physical copies of the album include lyric-adorned painting cards, inviting listeners to engage with the music on multiple levels and forging a truly immersive experience.
As a prelude to the album's release, two singles have already graced our ears, accompanied by captivating music videos. The third single, "Dobrú noc, má milá / Goodnight, my love," is set to be unveiled on September 22, offering yet another glimpse into the enchanting world of "TOPOĽANA,"
Mária Reháková's "TOPOĽANA," promises to be a musical and visual feast, an exquisite celebration of the fusion of tradition and innovation, and a personal journey laid bare for all to experience. As the release date draws near, music enthusiasts and aficionados alike eagerly anticipate the opportunity to embark on this unique auditory adventure, guided by the masterful artistry of Mária Reháková and her London-based sextet. Stay tuned for what is bound to be an unforgettable musical revelation on October 20, 2023.
Line-Up:
Mária Reháková – flutes, vocals | Sam Knight – tenor saxophone, backing vocals | Gustavo Clayton Marucci – clarinets | Eddie Lee – piano | Peter Korman – double bass | Floyer Sydenham – drums, percussion (Track 7)
Guest Artists:
Kan Yanabe – percussion (2, 5, 7, 9, 10) | Carolina Alabau – backing vocals (6, 7, 9) | Project instrumental – string quartet (4, 6) | Charis Jenson – 1st violin | Harri Allan – 2nd violin | Tadasuke Iijima – viola | Kirsten Jenson – cello |Simon Šufliarsky – voiceover (6, 10)
Track Listing:
Červené  jabĺčko / Red apple – Part 1 (2:48) | Červené  jabĺčko / Red apple – Part 2 (5:46) | Intro – Dobrú noc, má milá / Goodnight, my love (1:12) | Dobrú noc, má milá / Goodnight, my love (6:23) | Dočkaj ma šuhajko / Wait for me in the valley green (6:53) | Pre?o sa tí ludia / Why, oh why (6:11) | Transformation Suite, Part 1 – Detstvo / Childhood (5:27) | Transformation Suite, Part 2 – Búrka / Storm (3:16) | Transformation Suite, Part 3 – Zbohom ostávajte / Farewell (3:57) | Moja nová ľudová / My new folk tune (5:33)
Last modified: September 13, 2023