Pianist Jean-Michel Pilc, Bassist François Moutin, and Drummer Ari Hoenig, seasoned musicians with a shared history dating back to their university days in France, have once again teamed up to deliver an exciting musical endeavor. Their latest album, "YOU Are The Song," marks the trio's triumphant return after a twelve-year hiatus. This collaboration, grounded in their profound connection and mutual understanding of the music, showcases their prowess in the piano trio genre within the jazz landscape.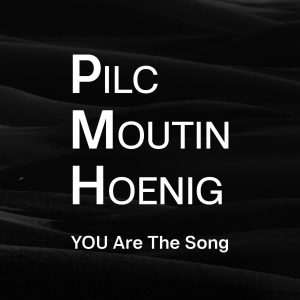 While the piano trio tradition has an illustrious history in jazz, the trio's innovative approach introduces a fresh perspective to this classic setting. Their unique blend of spontaneous compositions and reharmonized renditions of beloved standards demonstrates a commitment to both tradition and evolution. The trio's synergy allows for dynamic, captivating improvisation that captivates listeners and invites them to explore uncharted musical terrain.
Recorded live at Brooklyn's Big Orange Sheep studio on June 11, 2022, "YOU Are The Song" captures the essence of Pilc Moutin Hoenig's music in its purest form. The album, entirely devoid of overdubs and premeditated plans, features first takes that authentically embody the trio's live performance energy. This approach to recording mirrors the trio's philosophy of embracing the spontaneity and genuine emotion that emerge during their musical interactions.
With a foundation of trust and familiarity, Pilc, Moutin, and Hoenig have honed their ability to communicate musically, allowing each instrument to engage in a dialogue that shapes the direction of the music. The trio's connection is so profound that they find their music becoming a conduit for emotions and expressions that transcend words and rational thought.
One of the standout tracks, "Searing Congress," showcases the trio's innovative spirit. Composed on the spot by Pilc, the tune incorporates elements from various jazz standards, resulting in a unique and captivating composition. This willingness to explore new sonic landscapes while maintaining ties to tradition exemplifies the trio's approach to music-making.
The trio's journey dates back to their convergence in New York City in 1995, where their shared passion for music solidified their musical partnership. After initially recording and performing together, individual pursuits temporarily redirected their focus. However, their reconnection in 2011 for the album "Threedom" marked a renewed commitment to their collective creative exploration.
The decision to revisit the ensemble after more than a decade was fueled by the trio's musical rapport and the support of Justin Time Records. The label's understanding of the trio's improvisational approach and rhythmic dynamics made it a fitting platform for their comeback. "YOU Are The Song" captures the essence of Pilc Moutin Hoenig's musical connection, inviting listeners to immerse themselves in the trio's expressive journey.
In essence, "YOU Are The Song" isn't merely an album; it's an embodiment of the trio's musical identity and a testament to their unwavering dedication to the art form. Pilc, Moutin, and Hoenig invite audiences to embrace the music as an experience, to become part of the sonic narrative, and to discover the emotions and stories that music can convey. This album is a celebration of the shared language between the musicians and their audience, an invitation to join them on a captivating musical voyage.
"YOU Are The Song", available now on Justin Time Records, captures the unscripted magic that arises when three virtuoso musicians come together to create a musical conversation like no other.
Line-Up:
Jean-Michel Pilc, piano | François Moutin, bass | Ari Hoenig, drums
Track Listing:
Impressions | The Song is You | Straight No Chaser | Bemsha Swing | You Are the Song | Searing Congress | Dear Old Stockholm | Thin Air | After You've Gone | Alice in Wonderland / My Romance
Release Date: 23 May 2023
Format: CD | Streaming
Label: Justin Time Records
Last modified: August 17, 2023