Composer, pianist and producer Martin Kohlstedt is an artist who connects with audiences like no other. Achieving international acclaim with his previous five albums Tag, Nacht, Strom, Ströme and Flur, his new album Feld is a stunning piece of work. Crossing genre lines, he leads the way in using electronica production to intertwine analogue and acoustic conversations resulting in diverse and inspired soundscapes.
In the constant desire by some to place music in boxes, it is fascinating to see that across the world Martin's music has been defined in many ways. He is considered a pop artist in Germany, an electronic artist in Italy, contemporary classical artist in Russia and a Jazz artist in the UK. This connection he has with such a diverse range of audiences is a testament to his artistry – connectivity is key.
I was sadly unaware of Martin's work, and I am so grateful for the opportunity to explore this truly incredible artist. Starting with his new album Feld, I became engaged in an inspired journey through Martins work. Described as 'a living body, a movie with an immersive, captivating story' the album has 12 tracks, all of which have three letter names ( eg. DIN, ELZ, MYN) with each track sitting masterfully alone, with their own individual stories while fully connected to the album as a whole.
Born out of the impact of the pandemic, Martin describes this album as a new story 'The dawn of a new era – The new sounds I would like to share with you are not the beginning of a new chapter, they are the beginning of a completely new story'. The album comes with five stunning videos in a range of undisclosed locations, presenting questions that we as an audience can reflect on possible answers.
MK: With this new story I created a new me somehow and you see this guy, full of self-esteem running through nature but you never know where he is going, so it's a departure to the unknown. He is full of greatness. I created this character to be able to handle the situation of the world after the pandemic. All the uncertainty in society, for me was a big subject and you couldn't hide from it. But when you open your mind, everything comes to you and reacts with you and the new me was full of self-esteem and I wanted to try to trust in what was coming, ready to go and not introverted, hiding into the piano. I wanted to be expressive, and I wanted all the feelings to come out of me. When I started this album, I didn't know where to go, I had no inspiration but with this friction, I started to come closer and closer to this state of mind and then the flow, that floating process after the pandemic came back.
Martin had referred to the album in a previous interview as 'collecting arguments of musical conversations' and we talked about the role those arguments, that friction, had on the album and how they all connect.
MK: There is a development with each piece, and they are all kind of familiar with each other – they can be combined and then renewed. This has always been my approach to making music and on stage it's always about modular composing concepts, like a vocabulary, putting together words or new phrases and in the form of a discourse. I collect the pieces on an album and later bring them on stage to collide them somehow and then we see what happens out of the friction.
I always try to capture the intuition and that was the most important thing for me from the very beginning. But you need a very special and professional setup for this. You cannot go to a studio and ask somebody just to sit and wait for your intuition you know? So, I set out everything – everything was switched on for the whole day ready. Sometimes, the idea would come while I was having a picnic or during the night, it's like catching Pokémon. It's just there for a very short time and you need a special approach to catch it.
From the very beginning I start with one note, like a child, and then I add other layers and bring in pieces and then other pieces, more layers and with this friction, this uncertainty about finding something, being in the moment, it is like petrol for the whole thing. I start a 20/30-minute session on a loop and when it's a good loop, spit almost comes out of my mouth after a good 30 minutes! Afterwards, I go into the reflection process. 70% is the small idea and then the rest is the reflection process which is really trying to get the essence out of it.
There is a beautiful sense of innocence in Martin's music, reflective of the energy and questions young children have, seeking answers and knowing that although you may not find the answers at that moment, you will one day. Martin's unique compositional approach started when he was a young boy, around eleven years old and he references that inner questioning child when we explore his creative process for this album.
MK: I set up my piano at home and played the A key, just the A key, playing along with a big wall clock, a very long Big Ben type of wall clock. I just played two times the A key with every second. Not a very genius way but a very big meditative way and it was very good for me. So, I started to look for approaches, I just played one key and I would add other keys around this is one approach and wonder how I could improvise or how I get into my subconscious. There were moments where I was completely out of my control, and this is what I always wanted – the real freedom in doing music. Sometimes it's very childish, sometimes it's loud, sometimes quiet…
Martin started working on this album last summer during what he describes as 'the golden days of summer when the sun is going around like a clock' and we explored the way he finds the beauty in layering complexity with simplicity.
MK: I set up all my instruments and I watched a few things outside the window and started, without something to aim for, what ended up being the first piece of the album, LUV.  I started with a very easy melody that I wanted to make complex with all the layers of simplicity and this is always how my music works. I have a lot of layers which are from the first thought, thoughts of layering to a very big wave of something. So, I just started, and I only stopped when I was very hungry and my back hurts a little.  I caught LUV first and I really wanted to catch all these intuitive pieces. Sometimes with composing, you end up over preparing with certain expectations or there's the pressure on yourself and you feel can that in the music. I just curated the pieces, putting them together like Lego bricks. In the end it was a whole story, from beginning to end and I would say it was like a kind of an emancipation, the music freed itself. For me it was a very important process and I wanted to really be myself and be able to go on stage in an honest and authentic way.
All my pieces early in my life started at the piano, very honest but now there was like a pool of possibilities, of all possibilities and for the first time I had the feeling that I had all those arguments, this discourse we talked about earlier. I had the cliches, I had the loud tones, I had basses, the white noise, the piano…I had all these arguments that felt like characters on my shoulders you know? With this album, I felt brave enough to let them collide with each other.
Martin's authenticity and transparency is an integral part of this work and he opens the door to these discussions, this connection with his social media platforms which go way beyond promotion and in fact his posts give you a real insight into his mindset and his work. It is a mutual relationship, and he draws you in and in turn, you can almost find the answers together. I highly recommend you explore his TIK TOK page here and his You Tube channel where you can find performances on balconies, beaches, churches, his home, all of which allows us as a listener, to really deepen our engagement with his work.
Growing up in a place Martin describes as beautiful, romantic, and strange 'Disneyland for German teachers, almost too perfect', Martin was surrounded by beauty and conflict, with many writers, poets and artists living in the area along with concentration camps and Nazi buildings housed in beautiful forests and it is of no surprise that this environment created a significant creative hub. He describes his hometown as a very conservative part of Germany with an underlying sense of the need for freedom, almost in the DNA of the village:
MK: Everything has two stories; you have like a big shopping mall, but it used to be a bunker. All the bands were connected to freedom somehow, singing about birds and albatrosses and going over the borders you know? Sometimes I feel it in my blood, wanting to be free from all these outside influences… socialism has some good things, but the bad things are that you cannot be an individual and you are just part of a big machine. My opinion is that we're in a new time and you can feel it here.
There is so much to explore with Martin, not least of which is his passion for the environment and his 'The Forest' project. As the child of forester parents, Martin bought a piece of land in his hometown Breitenworbis and planted a small forest which has turned into such a beautiful community project which is even more special as it was because of his music that Martin was able to do this.
MK: It is 20 years old idea, but I didn't have the money to really realise it initially. Only 20% of all trees here are healthy and the forests are dying. There are bugs that are killing the whole forests at the moment, and we have big problems with it. After 2017 I started to actually earn money with music, for the first time and I wanted to directly give it back somehow and climate change has impacted faster than we expected, and we need to do something. It was really nice to have that reach as I was becoming more 'known' and people came to me, like 300 people came and planted trees with me and it was crazy how people were really with the project. So, I wanted to make more out of it, and I have three forests now and it's about 4000 trees at the moment.
To find out more about this project and support, please click here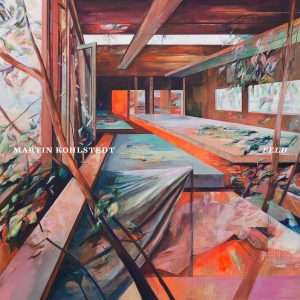 Martin has an extensive tour schedule playing in the UK, the Netherlands, Spain, Germany and more, and you can find all details here and I for one cannot wait to experience his music live. Martin is a truly wonderful artist, finding beauty in conflict and drawing us all in to question, to seek answers, to reflect and to hope.
Feld is available to purchase here
Last modified: August 14, 2023