Renowned artist George Benson, a ten-time Grammy Award winner and living legend, is thrilled to unveil his highly anticipated UK tour set for June and July 2024. The tour includes a captivating two-night engagement at London's iconic Royal Albert Hall on June 28th and 29th, 2024. So mark your calendars as ticket sales commence on Friday, August 18th, 2023, at 9:00 am.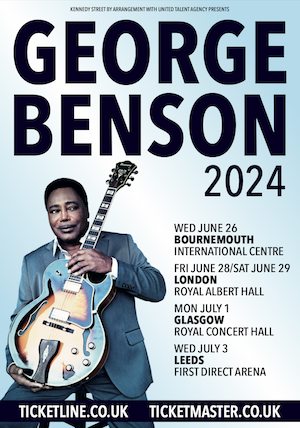 George Benson's illustrious musical journey, spanning various genres, has earned him a revered place in the industry. With a collection of ten Grammy Awards, including accolades for his iconic "Breezin'" album, Benson's virtuosity is undeniable. His evolution from blues to jazz, soul to R&B, is succinctly captured in his own words. As he aptly describes, he has transformed from a "blues cat to R&B-jazz cat," leaving an indelible mark on the world of music.
Prepare for a mesmerizing musical journey as George Benson, accompanied by his accomplished band, takes the stage. The live performances promise an unforgettable experience, highlighting Benson's masterful guitar prowess. The setlist will feature timeless classics from his extensive repertoire, including hits like "Give Me The Night," "Turn Your Love Around," and "In Your Eyes."
Adding to the excitement, George Benson's latest album, 'Weekend In London,' captures the electric atmosphere of his 2019 performance at the intimate Ronnie Scott's Jazz Club. The album showcases his extraordinary talent and serves as a testament to his enduring artistry. Notably, Benson was recently honored with the 2023 MJF Spirit award at the Montreal Jazz Festival.
Anticipation is high as Benson eagerly looks forward to reconnecting with his devoted UK fanbase. His words resonate with enthusiasm, "I'm thrilled to share my music once again with my amazing fans in the UK. See you all there!"
The opening act for this remarkable tour is none other than Melissa Errico, a Tony-nominated Broadway star known for her unforgettable performances. Beyond the bright lights of Broadway, Errico's captivating presence has graced stages across the globe. Her unique interpretations of classic tunes and original compositions have garnered a dedicated following. Keep an eye out for her upcoming studio album, 'Sondheim In The City,' set to be released in November 2023.
Don't miss this extraordinary tour with George Benson and Melissa Errico, as they create an unforgettable night of music and artistry. Secure your tickets starting August 18th through www.ticketline.co.uk or directly from the venues.
Tour Dates:
June 2024:
– 26th: Bournemouth International Centre
– 28th: London Royal Albert Hall
– 29th: London Royal Albert Hall
July 2024:
– 1st: Glasgow, Royal Concert Hall
– 3rd: Leeds First Direct Arena
Ticket Information:
Bournemouth & Glasgow: £70 / £60 / £48
Leeds: £70 / £59
London: £50 – £90 (Boxes at £115)
Tickets are available from www.ticketline.co.uk or from the venues direct
All shows will commence at 7:30 pm.
Last modified: August 17, 2023