Erik Truffaz's "rollin'" refers to the call of a film director, when it is time to get the camera's going. So the opening track is taken from a snippet, just a melody by Nino Rota from Fellini's "La Strada." It is a tragic circus song, as pointed out by Robert Arnaud in the liner notes to Truffaz's 2023 release on Blue Note Records. This album marks the return of Erik Truffaz to Blue Note, his first since his earliest offerings "The Dawn" (1998), "Bending New Corners" (1999) "The Mask" (2000), "Mantis" (2001), and "ReVisite" (2001).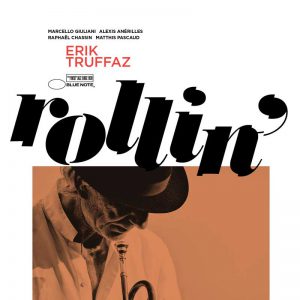 Between then and now, the Swiss-born Frenchman, Truffaz, has also recorded for EMI, Parlophone, and others, but more importantly he has established himself as a premier jazz trumpeter for the evolving contemporary European sound in the same league as Palle Mikkelborg, and Tomasz Stanko.
Track two on "rollin'" is "Route de nuit" by Michel Magne from the soundtrack to "Les Tontons Flingueurs," a quirky and jerky little tune, transformed, by Truffaz and company into jazz noir. Truffaz is joined by his long-time collaborator Marcelo Giuliani on bass and contra-bass; Alexis Anerilles on piano and keyboards; Raphael Chassin on drums; and Matthis Pascaud on guitar.
And there are guest vocalists, first appearing on track three, "One Silver Dollar," where Camelia Jordana channels the vocal magical lure of Marilyn Monroe from the film "River of No Return."
Track four is the "Theme for Fantomas" (another composition from Michel Magne), this one following more closely the original in its jazziest flavor of the mid 1960s French films with Jean Marais. Truffaz just smartens it up, or takes it onto a more sophisticated stroll with guitar and keyboard interjections.
Track five "Ascenseur pour l'echafaud" is the one that the group could not take as lightly as others. This one is by Miles Davis, taken from the film of the same name, or in English known as "Lift to the Scaffold." This song and the whole recording session for the film by Louis Malle can be considered as Miles at his loftiest or mellowest, or dreamiest, and all because he was under the spell of the leading actress Jeanne Moreau, when he recorded it in Paris, December 1957. Truffaz captures that midnight trance of love and wonder here—it was a beautiful moment that haunted Miles for the rest of his life.
Track six "Persuader's Theme" sounds like a surf tune of the 1960s, but of course, it is modern surf-jazz at parts slowed down then sped up with the guitarist's kick, recalling at points the breezy Bill Frisell, Jakub Bro, or Dick Dale. This one is a composition of John Barry's fully enhanced by Truffaz.
Track seven "La letter de Rosalie" is the other track that features vocals, and this one has Sandrine Bonnaire taken from the soundtrack to the film "Cesar et Rosalie." This is a love letter or note to the broken-hearted, to the end of a relationship and thus a slower sound of drama in melancholic tones.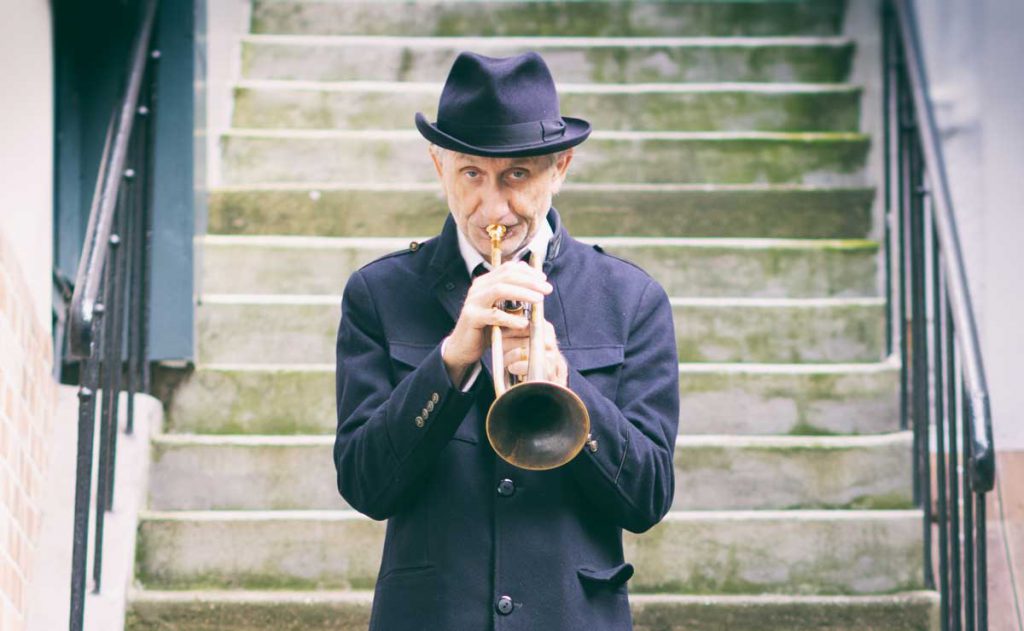 Track eight "Le Casse" is an Ennio Morricone composition from the 1971 film with the same name, and it had in the starring role Jean-Paul Belmondo. Truffaz's version makes the upbeat song a slower paced one for a truer film noir arrangement it could have or should have been. This is the longest song at five minutes and nineteen seconds, and yet it could go on and on with ease due to its hypnotic allure.
The closing track is "Quel temps fait-il a Paris?" taken from Jacques Tati's "Monsieur Hulot's Holiday." In its original version, the tune by Alain Romans is a 50s lounge jazz, i.e. music for lounging around on the French Riviera. And so, Truffaz stays truest to the original on this one. It is a jazzy-lite sound of the summer or the end of summer on a beach, ideally in the south of France; it's also a sound for the good old times, or for a recollection of the magical music of the cinema for our own inspiration.
Line-Up:
Erik Truffaz, Trumpet | Marcello Giuliani, Bass | Raphaël Chassin, Drums | Alexis Anérilles, piáno, Fender Rhodes
Track Listing:
La Strada 2:46 | Route De nuit 3:38 | One Silver Dollar 3:49 | Thème De Fantômas 4:13 | Ascenseur Pour L'échafaud 3:26 | Persuader's Theme 3:41 | La Lettre De Rosalie 4:08 | Le Casse 5:19 | Quel Temps Fait-il À Paris ? 3:04
Release Date: 7 april 2023
Format: LP | CD| Streaming & Hi Res Download
Label: Blue Note Records
Photo's by Vincent Guignet.
Erik Truffaz with his group used for the recording of "rollin'" will be performing this album on their "Rollin & Clap" tour in Europe from September-November. Concerts by date and place listed below.
September 2, Saturday—Concert Hall of Polish Radio, Wroclaw, Poland
September 4, Monday—Szczecin Philharmonic, Szczecin, Poland
September 9, Saturday—Festival de la Batie, Geneva, Switzerland
October 2, Monday—Klub Fleda, Brno, Czech Republic
October 3, Tuesday—Palac Akropolis, Prague, Czech Republic
October 4, Wednesday—Jazz Dock, Prague, Czech Republic
October 5, Thursday—Jazz Tibet Club, Olomouc, Czech Republic
October 8, Sunday—Le Bikini, Ramonville-St. Agne, France
October 10, Tuesday—Tourcoing Jazz Festival, Tourcoing, France
October 11, Wednesday—Nancy Jazz Pulsations, Nancy, France
November 14, Tuesday—Le Colisee, Lens, France
November 24, Friday—Jazz a Fareins, Fareins, France
November 25, Saturday—La Source, Volvic, France
Last modified: August 30, 2023