The violin is the centerpiece of this year's Dobršská brána International Music Festival, with artists from Europe and the Americas represented in a weekend of first-rate concerts and a workshop.
While the violin is an uncommon instrument for jazz, there are a few legendary figures of jazz who were violinists including Jean-Luc Ponty, and his compatriot and predecessor, a pioneer of "le hot jazz" in France, Stephane Grappelli, who began playing with guitarist Django Reinhart in the 1930s. In the United States, Regina Carter is foremost on the contemporary scene as a masterful jazz violinist.
There are violinists who straddle the genres of jazz, classical or chamber music, and folk, and the top headliners this year fall into this group, including Scott Tixier, Yilian Canizares and Adam Baldych.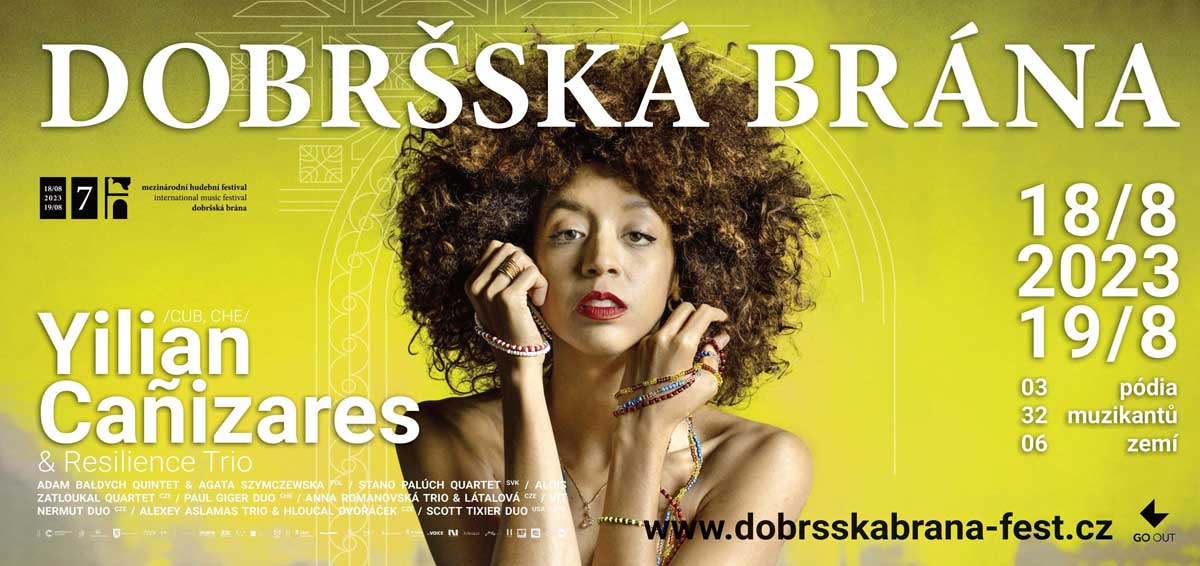 For the festival's opening night, the Adam Baldych Quintet will be joined by classical violinist Agata Szymczewska for their recording project Legend (2022). Baldych (born 1986 in Poland) is a critically-acclaimed jazz musician with recordings since 2012 almost exclusively for ACT MUSIC (Germany).
His "Legend" recording, however, was done for the Polish label Anaklasis. This project has a Polish emphasis as Baldych has written compositions based on motifs of the 19th century Polish composer and violinist Henry Wieniawskeho, and the result is a stirring or compelling and evocative chamber jazz.
Scott Tixier (born 1986 in France), currently based in Texas as a professor of jazz violin, is a co-headliner for the program on Saturday. Tixier is a classically-trained violinist from the Conservatory of Paris, but he made a mark on the jazz scene with two notable recordings: "Brooklyn Bazaar" and "Cosmic Adventure." His 2012 debut, "Brooklyn Bazaar," was co-produced by Jean-Luc Ponty, which certainly helped to raise his profile in the jazz world. However, his ability to work remarkably with top jazz players from New York City is a remarkable achievement, shown on both recording; "Cosmic Adventure," was selected as one of the best albums of 2016 by DownBeat Magazine. For this festival, he will be playing compositions of Jon Batiste, as a duo with his twin-brother, pianist Tony Tixier, who also just happens to be a classically-trained pianist and leader of a New York-based modern jazz group.
Also on Saturday evening, there is Yilian Cañizares & Resilience Trio. Cañizares was born in Cuba (1983) and she studied violin there (under Russian classical music direction), then at the age of 14, she moved to Venezuela to pursue her studies at the Academy of Latin American Music for violin. In 2000, she moved to Switzerland to study at the Freiburg conservatory, and she has been based in Switzerland since then. However, from her new base in Europe, she returned to her roots for musical directions by forming Afro-Cubano jazz groups, including the Ochumare Quartet, and in this shift she also became a vocalist. For her 2013 album "Invocación" she was recognized most by French media as a rising star, and since this album onwards she combines classical, jazz and Afro-Cubano influences. Her last album as a leader was released in 2019, recorded in New Orleans with American jazz players including Christian Scott on trumpet; titled "Erzulie," it is named after the Haitian goddess of love and freedom, and this has more of a fusion of contemporary jazz with her deeper approach to ballads or love songs.
Yilian Cañizares & Resilience Trio featuring Childo Tomas (on guitar) and Ernesttico (on drums and percussion) conclude the festival, which is two days/evenings in venues including an outdoor stage at Dobrš chateau built as a castle in 1597 (and now partly used as a contemporary art space for CoCo gallery), a tiny Baroque church, a lawn atop a hill at a Gothic tower (from 1300s), and a cozy bare-bones pub (in case of rain) all situated in the village of Dobrš, in the foothills of Sumava mountains.
Other featured groups include Paul Giger, on violin and vionlino d'amore, performing as a duo collaboration with Marie-Louise Dahler, on harpsichord and portable organ. Giger is an established ECM recording artist from Switzerland, and he'll perform his latest album on that label "Ars Moriendi" (From Silence to Silence), which combines Bach compositions (so-called Early Music) with Giger's original compositions, improvisations and music based on traditional Swiss folk music; it is a music of deep spirituality, emphasizing silence on both ends (of life) with music as the pathway in-between.
From the Czech scene, there is a surprise on opening night with the Alois Zatloukal Quartet, otherwise called the Rusty Cowboys, which has a laid-back Americana, roots or country-music, folk combined with jazz influence in the same vein as Bill Frisell. Besides Zatloukal on violin, this younger group includes Jan Bára (guitar and composer), Filip Tománek (drums) and Michael Lužný (bass guitar).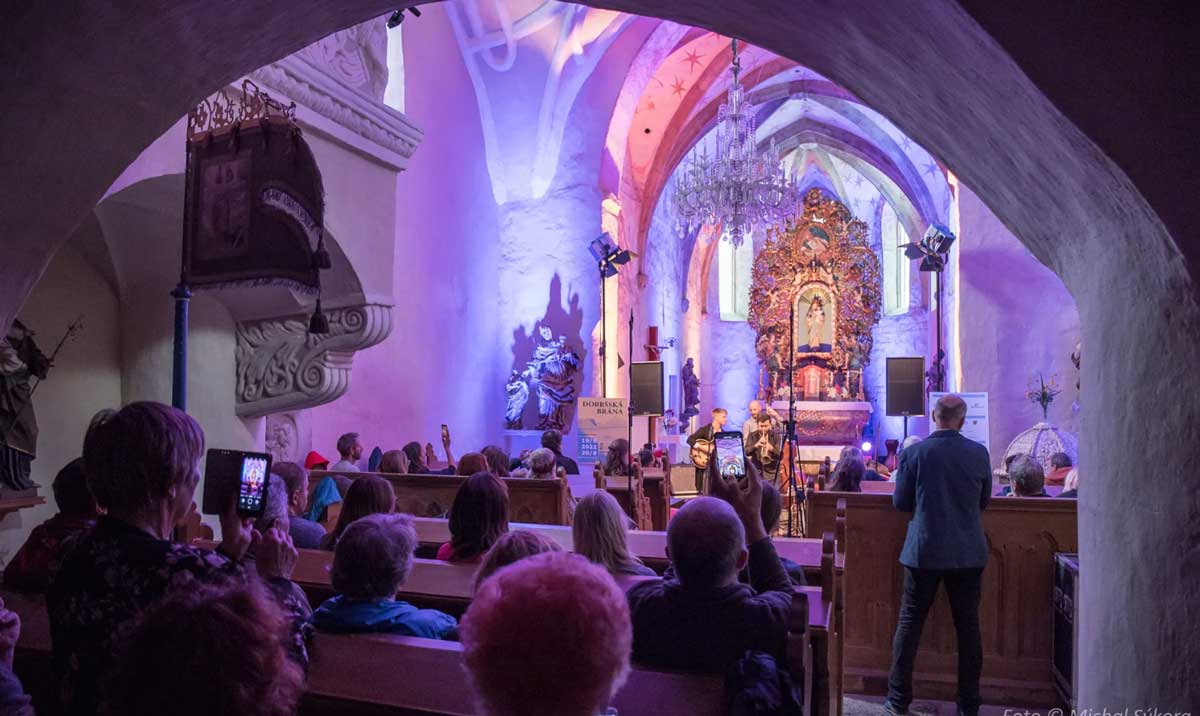 When the three violinists, Anna Romanovská-Fliegerová, Jana Havláková, and Milan Jakeš perform as a string quartet, they are not only sublime, they have a brilliant name – MAOMAH (the Music Army of Mystery and Hope). However, without their contra-bassist Klára Pudláková, they will perform merely as the trio Romanovská, Havláková, Jakeš, and with a modern dance performance by Jana Látalova.
Meanwhile, S.V.A. Trio, a well-established and acclaimed chamber jazz unit featuring Alexey Aslamas (violin), Vladan Malinjak (viola), Simon Marek (violin-cello), also calling itself the Urban Fusion Trio will be joined by Czech jazz mainstays Miroslav Hloucal (trumpet) and Miloš Dvořáček on drums.
Most experimental from the Czech groups, the Vít Nermut Duo will perform their project Medieval Inspiration. Both musicians are established in the jazz scene, but this project is an experimental, improvisatory one with Nermut on fiddle and violin, and Michal Hrubý on flute and bass clarinet. Hrubý was also the first musical programmer for this festival, so his appearance is a kind return.
From Slovakia, there is violinist Stano Palúch with his Transformation Project featuring Marcel Comendant (cymbal), Michal Fedor (drums) and Peter Korman (double bass). This is a jazz-folk fusion based on Slovak folk-music, meaning cymbal and violin are essential, in any case, for an upbeat sound.
These Czech and Slovak groups well represent the wide spectrum within the contemporary jazz scene. And with each year, this festival keeps growing in innovation and charm for its existence in a sparsely-populated village, yet managing to bring such talents from around the world for its two-day event.
The Seventh Annual Dobršská brána International Music Festival 2023 will be on Friday and Saturday, August 18th & 19th.
More information can be found on the festivals website.
Last modified: August 11, 2023