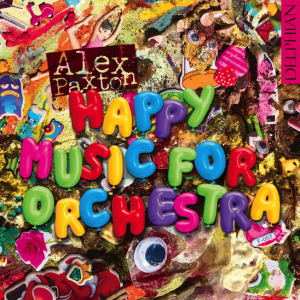 Improvising trombonist, composer and educator Alex Paxton has produced another maximalist, gem-filled treasure-chest of an album, in the form of Happy Music For Orchestra, released on Delphian last April. As usual, although not strictly jazz, it might be characterised as neo-classical embracing improvisation, with obvious technical including rhythmic smarts – all of which make it an intriguing prospect for those of us who enjoy modern jazz.
Along similar lines to his last two albums, Music For Bosch People (2021) and ilolli-pop (2022), this year's album however differs from its predecessors' almost overwhelming hyperactivity and near constant highs, when it occasionally seems to acknowledge that other side of the coin: tranquillity and melancholy.
Also new in Happy Music For Orchestra is the ease with which, most of the time, one can hear the detail of the Dreammusics Orchestra (or Dreammusics Ensemble on two tracks) scores, their through-composed passages acting generally as frameworks for Paxton and the other improvising soloists to playfully enwreathe or react to.
For the listener both these characteristics make for a marginally less fun yet less exhausting experience and overall more satisfying experience.
At just over 45 minutes long, the album consists of six tunes, all composed by Paxton. His inventive trombone (squeaking, fluffing, blurting..) joyfully improvises on all tracks, the four soloists improvising in similar high spirits.
Beibei Wang produces a surprising range of sounds from water, on Water Music (also contributing 'regular' percussion elsewhere on the album), while countertenor Patrick Terry sounds like he's having a marvellous time on the love song Strawberry, as do alto saxophonist Mathew Herd and drummer David Ingamells on that same track.
As is usual in Paxton's music, there is much of both hilarity and cleverness, but this album has in addition episodes of considerable beauty. I suggest this album is worth having a listen to, as this happy music for orchestra might just spread some of its happiness into you. It did to me.
Last modified: August 17, 2023