Featured Image: Gent Jazz Festival, 2019, Gonzalo Rubalcaba Trio | Photo by Maurits van Hout
Once again this years the Gent Jazz Festival will take place from the 5th of July through to the 15th of July however this year the event will be back in its old, familiar form. This means with a main stage and a second location, the Garden Stage. Last year, as it turned out, due to serious financial issues, the second stage was not there. Luckily, that period is over and this means music throughout the festival day. During the three quarters of an hour change-over between acts on the main stage the Garden Stage will be running with short sets from often young talents.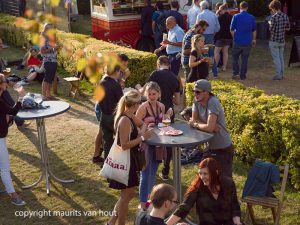 This year about 60 musicians and groups have been booked for the music festival in the Belgian city, and the program features a mix of established names from the jazz world interspersed with young up-coming talent. In addition, there are performances by artists who are described as "near" jazz (and yes, that's a thing these days -ed). It is a marathon for the enthusiast who wants to experience everything: ten days worth of music in eleven days.
Some highlights on the program include the crowd pleaser, Gregory Porter on Wednesday the 5th of July. Porter is no stranger to Gent having performed in both 2015 and 2019. Porter has become one of the genre's biggest drawcards and his mix of jazz, soul, blues and gospel is bound to deliver a huge audience.
Performing on the main stage before Porter is one the that artists that we've had our eye on for sometime here on Jazz In Europe, Somi Kakoma. or better known as just Somi. Somi's latest album, Zenzile: The Reimagination of Miriam Makeba is a deeply personal all-star tribute to Miriam Makeba, the groundbreaking South African singer and activist who turned 31 years of political exile during the apartheid era into a career of global triumph and influence. In October 2022, the Zenzile album was awarded Best Jazz Vocal Performance at the inaugural Jazz Music Awards. It is also a companion project to an original musical (also about Miriam Makeba) that Somi wrote called "Dreaming Zenzile". Both projects arrive on the heels of the unplanned release Holy Room – Live at Alte Oper with Frankfurt Radio Big Band that Somi decided to independently put out shortly after the onset of the COVID-19 pandemic. The album ultimately earned her a 2021 Grammy® nomination for Best Jazz Vocal Album.
Kamaal Williams brings a music mix of synthesizer and traditional instruments a day later and closing of the day on the main stage is The Snarky Puppy collective. A guaranteed highlight of the day will be Mulatu Astatke. He is known as the founder of "Ethio-jazz", in which music from Ethiopia is mixed with Latin American rhythms and traditional jazz. Editors Note: Having had the opportunity to catch Mulatu live at the Red Sea Jazz Festival last year, I can fully concur with Maurits, this will be without a doubt a highlight of the day.
Friday, July 7 is Guitar Day. Ghent native Roland van Campenhout and his Space Cowboys, bassist Marcus Miller and Joe Bonamassa are the main acts. Norah Jones will no doubt be a mega crowd pleaser. All tickets for Saturday have been sold. The same goes for Sunday when Ludovico Einaudi performs. Monday is an extra day with the Italian grandmaster of minimal music. Tuesday is also sold out (Hoover Phonic and Zaz).
Wednesday, July 12 is a day of rest. On Thursday, Portico Quartet, Nils Frahm and Stavroz will be acts on the main stage. Belgian bassist Lara Rosseel and her orchestra kick things off on Friday. She hired Bert Joris to make arrangements of her compositions. The famous Branford Marsalis Quartet concludes the day. A day later, pianist Herbie Hancock closes the festival. In addition to this celebrity, there is also special attention for the trio AKA Moon, which is a guest of the Brussels Jazz Orchestra. Both have been around for 30 years.
More information and tickets can be found at the festivals website.
Last modified: June 26, 2023