The legendary Rickie Lee Jones reunites with producer Russ Titelman to release Pieces of Treasure, an album of stunning interpretations of songs from the American Songbook. Russ Titelman co-produced Rickie Lee Jones self-titled debut album in 1979 along with her second album Pirates in 1981 and this new album clearly references the rawness and beauty of those two exceptional albums. A 'jazz record' had in fact been discussed on and off for over twenty years by Rickie and Russ, eventually moving forward with the idea in 2021 'Russ Titleman and I agreed to plan, prepare, and produce a jazz record, songs from the American songbook. We passed song lists, zoomed with pianists, and finally rehearsed, Rob Mounsey and me, just as Russ planned. I had only one job. I came to sing'. Recorded over five days, it is a masterpiece.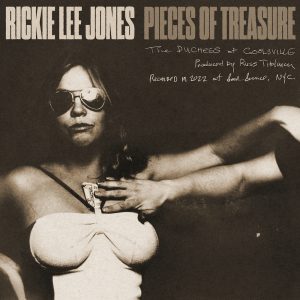 Opening with 'Just In Time' and some masterful vibraphone from Mike Mainieri, we are instantly transported into a world of connectivity. The relationship between the vocals and the other musicians is something quite magical, a connection rarely experienced to this depth but one that is entirely expected considering the work of Rickie Lee Jones. While keeping the joyful energy ever present, the rawness and reality of the lyrics are brought to the forefront in a way that only Rickie Lee Jones can do. 'You found me just in time' a line often thrown away, is sang here with a truth that is palpable. There is an entire novel in her delivery of that one line.
The second track 'There Will Never Be Another You' brings an exquisite intimacy to this brilliant interpretation of this song, matched with a beautifully rasping snare and offsetting and yet somehow connecting with the vulnerability and wise innocence of the raw vocals. This is part of Rickie's superpower. She communicates vulnerability, wisdom, youth, maturity, innocence, pain and freedom while sounding completely in control and empowered all at the same time. There is no other artist like it.
All of the tracks on this album are tracks we know and love and undoubtedly, we all have some favorite versions of these songs. It is always a challenge to bring something new to the standards and Rickie's exceptional storytelling brings to light hidden depths to these songs and we fall in love with them all over again but for new reasons. 'Nature Boy' opens with Ara Dinkjian, the son of Onnik Dinkjian, the foremost oud player in the world, which was the suggestion of Russ Titelman. Rickie explains that she first learnt this song when she was ten or twelve from her father and describes it as 'a very odd song, almost like an introduction without a body…It is always a thrill to learn about and meet musicians who have tenure in the world, and spend a little time with their vocabulary. I believe the oud fit spectacularly well into "Nature Boy," making the recording unlike any other rendition.' This song is completely reimagined and hauntingly bewitching.
'One For My Baby' a song that has had Frank Sinatra firmly at the helm for many years having first recorded it in 1947 and then a performance in the 1954 film 'Young at Heart' from which point it was firmly in his repertoire, is the song on the album Rickie says she worked the hardest on. 'Honestly, Frank Sinatra was in the doorway barring my entry to this song. I just could not get around his barroom stool, it was too iconic'. In her journey around the stool, Rickie discovered Ida Lupino's 1947 performance of this song, created a driving opening piano figure and developed an arrangement that someone how feels like it should have been presented this way all along. This song is full of sass and strength.
'You Can't Take That Away From Me' starts with the iconic Rickie Lee Jones finger clicks (anyone who knows 'Danny's All-Star Joint' and 'Woody and Dutch on the Slow Train to Peking' will know exactly what I mean) and sheer joy. You can feel the fun she had with this song and the energy is full and seductive. We then arrive at 'All The Way'. She reaches depths here that even she didn't realise needed to come out until she started recording this beautiful song. She truly becomes one with the song. It is sublime. 'Here's That Rainy Day' is a perfect demonstration of Rickie's ability to combine innocence with wisdom and youth with experience. An exquisitely simple arrangement with gorgeous piano and double bass completely connected and at one with the vocals throughout the track.
Rickie's father has a strong presence on this album, with many songs she first connected to through him as a child, re read with a travelled soul and experienced eyes. 'September Song' is a song she heard many times growing up and you can hear new depths to the connection with lyrics here that are unlike any previous version of this song I have heard.
'I articulated this song more than I have spoken any text in my entire life. I wanted everyone to hear what I was saying, to understand how deeply, how acutely everything is felt in the time before it ceases to exist. There is the autumn leaf. There is the moon. Here is your face. Life is articulated for the old folks, who gentle it with a resolute mind, for they know the world belongs to the young'
One of the first jazz songs Rickie ever learnt, at the age of eight was 'On the Sunny Side of the Street'. A beautifully simple arrangement with only vocals and guitar from Jon Herrington and it is truly stunning. The final song 'It's All in the Game' is heartbreaking. You cannot help but fall into this one and you sense the emotions in this song almost devoured Rickie. It is raw yet graceful. Stunning.
I have been connected to Rickie Lee Jones' music all my life and even before listening, I knew I would love this album but even I was completely blown away. She has completely transformed these classic songs and brought new life to them. It feels like they should always have been performed this way. She is the ultimate storyteller and shares with us a lifetime of experience with each and every note.
'Singing, singing these songs, was like meeting myself again after all these years. The musicians opened up an entirely new gallery of images in my imagination, new platforms from which to push myself, new palettes to finish a musical sentence. The song is a love affair, a lifetime of nuance and memory passed between four men and a dame. It lasts about three and a half minutes, but it is echoing now and through infinity. I carved my name into the sky. Pieces of gold fell into my eye.' Rickie Lee Jones
Pieces of Treasure is available here
Vocals and horn arrangements: Rickie Lee Jones
Rob Mounsey: piano, Russell Malone: guitar, David Wong: Bass, Mark McLean: Drums, Mike Mainieri: Vibraphone
Jon Herington: Guitar, Mike Dillon: Vibes, Ara Dinkjian: Oud, Scott Robinson: Saxes and Trumpet
Ryan Roberts: Oboe, Gil Goldstein: String arrangements, Russ Titelman: Production
Just in Time (Jule Styne, Betty Comden, Adolph Green)
There Will Never Be Another You (Harry Warren, Mack Gordon)
Nature Boy (Eden Ahbez)
One for My Baby (Harold Arlen, Johnny Mercer)
They Can't Take That Away from Me (George Gershwin, Ira Gershwin)
All the Way (Jimmy Van Heusen, Sammy Cahn)
Here's That Rainy Day (Jimmy Van Heusen, Johnny Burke)
September Song (Kurt Weill, Maxwell Anderson)
On the Sunny Side of the Street (Jimmy McHugh, Dorothy Fields)
It's All in the Game (Charles G. Dawes, Carl Sigman)
Last modified: August 17, 2023