Welcome to the next interview in our Women in Jazz Media series 'Something New' exploring new albums and books through conversation directly with the artist to share a little insight into their work. For this interview we invited team member Sandra Booker to explore the work of Evie Asio.
Singer/songwriter/actress/activist/playwright Sandra Booker is regarded as one of the best voices in the modern jazz scene.  She has performed with Lalo Schifrin and the WDR Big Band, Wynton Marsalis & The Lincoln Center Jazz Orchestra, Billy Higgins, Frank Collett, Dado Moroni, Phillippe Martel, and the Dennis Dreith Band amongst others.  Highly respected for her virtuosic scat ability, impeccable timing, crystalline tone, and irrepressible musicality, she continues to push the musical envelope to create a style and sound that is her own. Her deep Southern roots and razor-sharp musical intuition are ever-present in her interpretations of standards, contemporary, and original compositions.
​Sandra is also the founder of the Jazz Musicians Against Cancer fund that raises resources and advocates for music as a form of wellness therapy for cancer survivors.  She created Transgenre Music Nonbinary™ and the Artists Spotlight series for genre-defying creatives and has published a wide range of articles.
Singer, songwriter and producer Evie Asio's new album Contending and Contention was released in November 2022 and has been supported by the legendary China Moses 'When I heard it, I literally screamed when I got to the end'.
For singers charting a course of authenticity and originality, offering a new narrative in their work can be a daunting task. Nevertheless, many are accepting the challenge to do just that, and not only rising to the occasion, but charting new territory.  The discovery of singer, songwriter, producer, and educator Evie Asio (born Evangeline Asio-Okwalinga) is a prime example of this new crop of visionary vocalists changing the conversation and direction of contemporary jazz in the modern era. I spoke with her to discuss her creative inspiration, career, and where she envisions herself in music.
SB: Where are you born? What university did you attend?
EA: I was born and bred in London. I attended the University of Southampton from 2011 to 2014 as a voice major.
SB: Do you feel like music is your calling?
EA: Yes, I would definitely say that.
SB: I discovered your music on YouTube and became an instant fan. Your writing is powerful, and the narrative of your songs is poignant, imaginative, and provocative. You worked as the vocal music manager at Triborough Music Hub and the youth music office at the London College of Creative Media (LCCM). Tell me about your work with these organizations.
EA: So, I worked at the London College of Creative Media up until March of 2022 and then transferred over to my new job at Triborough Music Hub, working with quite a few schools in the West London area.
SB: You are a singer, songwriter, pianist and educator. Do you play other instruments?
EA: Yes, so my main instrument is the piano. I'm a vocalist. That's the main thing that I am, and I play piano. I play a bit of guitar. That's my third instrument, just basic guitar. Piano, vocals, and that's where I feel most comfortable and at home. I'm a producer. I produced my last album. I call myself a singer, songwriter and producer. I have knowledge of quite a few different instruments, not in playing ability but in composing ability. I love working out with other instruments. I love the bass. I love the drums and all these instruments and how they work, so I know them from a mental perspective, but my fingers aren't that fast.
SB: Your current release, which came out in November 2022, Contending and Contention, is a moving spectral of sounds and stories. It touches on so many aspects of the human experience set against contemporary jazz and R&B grooves that give it a freshness and a hipness while conveying so much raw emotion. There has to be a fascinating story behind it. How much of it resulted from the pandemic, and can you share your motivation and inspiration for this project?
EA: Well, the story is as most kinds of young 20-somethings are…you get to your mid-20s, and it's crazy. For me, there were a lot of things going on in terms of me and my understanding of myself, my identity, relationships around me: friendships, family issues, career things – all sorts of things. I feel like my life was in some upheaval where everything was thrown up in the air, and I didn't know what to do. I didn't know who I was. I didn't trust myself; believe believed in myself. It was a lot – and I had to sort of carve my path and figure out who I was but also through these different relationships because I'm quite a relational person, and I think sometimes how you interact with others tells you a lot about yourself. So, it wasn't like I said, "I'm going to write this series of songs." I just started to write songs based on what was happening around me, kind of an outpouring of my feelings. As these songs began to come together and I knew I wanted to create a body of work. I realized these songs were connected, but they were connected through me in a way that I am dealing with my relationships and myself and seeing these patterns in how I deal with things. And so, that's how I decided I was going to create the album, and Contending and Contention is this idea…well, the "contending" side is the war side – so I felt like I was very much fighting for myself, fighting for my identity, fighting to have faith in who I was. "Contention" is the side of being stuck, so it's like being at war but also being stuck and trying to navigate through that, so the whole album process of me navigating through these personal challenges.
SB: As a self-produced album, why was taking the lead as producer important?
EA: I went into a variety of studios. Well, when I started the project, I didn't know I was going to end up self-producing. So, I looked for a producer and started the project working with a longtime friend, and then Covid hit, but before the shutdown, I felt like I needed to thoroughly give myself to the process. So, "Pendulum" was previously released. There are two versions, and I re-released it for this album, so I re-tuned it in terms of production because I first released it, and it was good, and I was so proud of it. It was my first proper release, but I hadn't given this everything and couldn't figure out why. Then Covid hit, and it gave me a lot of time to think, and I came out of that a new person musically.
SB: Most of your album was recorded during the pandemic. How did having so much time contribute to the making of this project?
EA: Actually, it was like a rebirth and it was a very painful one. I started the process of recording at my then-church building because we had a recording studio. So, I started there but couldn't go there anymore because of the pandemic. I couldn't go anywhere, and I didn't have the ability to record at home, so I really felt stuck. It was like all the stuff I was writing about, I had to live it in this album, and it was a painful time because I wanted to express myself so badly, but all I could do was sit and sit on the production and think about it so by the time it came out I knew that for me at this stage to execute the album I wanted to I had to take the reins of it and sort of make it happen and make it happen the way I know I can. And it was a beautiful process, and that's why all of the songs have a soft place in my heart for a different reason, but "Available" is the first song I would say I officially produced. It was for me that moment of "yes, this is like the restart of 'Contending and Contention' and what this album is going to be. From then on, it was just working with various people, going from studio to studio; some were done at LCCM, and some were done at connections at ICMP. I worked with Dave Holmes, who mixed a lot of the songs on my album at Lightship 95: that place is amazing. I did some things from home. I don't have a studio at my flat, as it were, but I used my MacBook and headphones and tried to get close to the sound as I wanted.
SB: The narrative of your songs is impressive, addressing many social issues as well. How many tracks are on the album and what was your primary inspiration?
EA: There are nine tracks on the album, including two instrumentals and seven complete songs, making up nine tracks. The track order is the chronology of my experiences, and it's a crescendo to my development in the recording process to create a musical arc if you will.
SB: When did you discover music was going to be your future?
EA: Great question! So, music has always been a part of my life. I could never let the music go. I can't remember a time music wasn't such a significant part of my life. I grew up obsessed with my parents' albums, singing in choir in schools, and making lots of music videos, and I was always in love with music. And a really big shifting point came at school. I didn't just want to listen to music and enjoy or sing it; I wanted to study it. I did GCSE and A-level, which are classes taken in the upper level of high school, and coming from a traditional African background, that was a big part of my creative influences. My parents were very supportive, but then there are always people who go, "Oh, you're going to do music at university, but what if it doesn't work out?" I was like, "I'm going! That's what I'm doing." So, I made music at university and that area of knowing I didn't want to let music go. I knew I wanted to do this in and with my life. The further I went in studying and all these other things that I liked by 17 or 18 years old, I knew this was what I wanted to do and in whatever capacity I could. Making that decision and not worrying about if it doesn't work out or all of those things and making that choice has been the right path for me.
SB: You say failure wasn't an option and that music would be your career and not default occupation. What gave you the impetus to make that decision at such an early age?
EA: Well, I didn't feel like I had another option. I was quite good in school, and I did do lots of different things. I considered myself smart and got good grades, but when I thought about all the other things I could do, I didn't feel I had the same drive for other career choices that I had for music. I wanted to wake up feeling excited to do whatever it did. I'm fortunate in the way that I do my music. I also have a "day job" in music as well. And my other big passion is music education, and that's where I have worked for the past number of years because I'm so passionate about making music accessible to as many young people as possible and anyone who wants to have music in their lives. So, I'm fortunate in that sense. I knew that music was something that I just couldn't let go of.
SB: Your writing style evokes wisdom that some might say extends beyond your years as a woman in her late 20s. Who are some of your musical heroes, influences, and inspirations?
EA: I have so many. Female singers/songwriters have been a huge part of my musical journey. I have a lot that I look to for inspiration, especially writers. Two writers that inspire me so much are a New Zealand artist, Brooke Fraser, who writes such beautifully poignant songs, and I'm a great admirer of Corinne Bailey Rae. I love all her albums, particularly her second album, "The Sea," which came out around 2010 and really impacted me at university. I would sit and listen to that album over and over and over again. These are people who I say, "I want to write like that." I was inspired by these extraordinary and poignant writers/singers.
SB: Do you write in other mediums such as novels, essays, poetry, etc., or is it streamlined with the focus being primarily music?
EA: I streamline it where music is concerned. That's where my passion lies, so that's where I put my full attention. When I was 13, I wrote poetry and stories and music, but the music was the one that took me. It was the easiest way for me to express myself because I like to use words to write through chords and sounds and things like that, so it's part of the writing for me. Music is the art form to express my feelings.
SB: You made mention of your traditional African background. How does that influence your creativity and your music?
EA: I was born in London, but my family is from Uganda. My parents came from Uganda to the UK just before I was born, maybe six months before, so I consider myself a British-born Ugandan. I love so much of my Ugandan heritage, and it's been a big part of my life growing up through food, music, culture, and family, and it's something that means a lot to me.
SB: Your father is human rights activist, humanitarian at Global Goodwill Ambassadors, and author Charles Okwalinga. As the daughter of such a prominent figure on the world stage advocating for a free, creative, and autonomous Africa, does that familial activism and humanitarianism extend to your music as well?
EA: Yes, Charles Okwalinga, he's my dad and indeed it does. The challenge that I have is to remain a person that is always looking outward and being aware of what is going on around me. I'm very conscious that we live in a society that constantly tells us to focus on ourselves, and to a certain extent, we do. I'm not going to sit here and say that I'm selfless. In this world, we do like to indulge in self, and our world revolves around us, as it were, but I never feel quite comfortable just being okay with that. My song "Available" is a bit about that struggle written through a different lens, a sort of third-party perspective. I wrote it inspired by my struggle to figure that part of me out. The part that wants to do good but is also somehow focused on me. Again, it's that idea of war and struggle between those two parts of me. I think the most anyone can do is try. And I try to do the best that I can to look outward. I don't know if I succeed every day, but it's essential to my heart and something I will always try to improve: being aware and concerned with the human condition around me.
SB: What makes it a scary time from an artistic perspective for you?
EA: What makes it scary is that I took a break from music before starting the album. I did some gigs in London, then the pressures of my job at the time when I was teaching in a school meant that I couldn't make music like singing and writing, some starting to make music again was the album, and that's what I've done for four years so not having such a massive project to work towards can be a bit scary. It can be a bit like the unknown. It's not about strict deadlines. The scary bit is about the openness of it and not knowing what the next project will be or if there will be a next project at all. I love albums, so I'm glad I have one, but I might just do another series of songs first or a number of collaborations. So this period is about not having expectations of something I have to do.
SB: Are there any artists, whether independent or on major labels, that you want to collaborate with, and who are they?
EA: Yeah! There are a few people who are friends and independent artists who I rub shoulders with, love dearly, and I love their music. One of my friends is Alyx Bell. We're in a period where we hang out and support each other, but I'm open to doing anything with her. She's amazing! Regarding more prominent artists, and depending on how crazy you want to go, people like Lianne La Habas and Jacob Collier would be at the top of my wish list.
SB: How would you describe the genre or style of your music?
EA: The title I use is alternative soul. It's underpinned by jazz and soul. I say alternative because I love to add different musical elements of electronic music, folk, R&B, or pop. I'm inspired by so much, and that's where the alternative part comes from and with a twist.
SB: Where will your music take you in the next year or five years?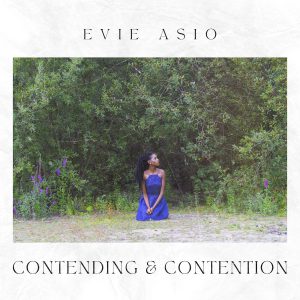 EA: That is a great question as well. Thank you! I'm not sure at the moment. I worked on the album for about four years, and when you do something so heavy and arduous, it's a great reward, but it also leaves you in a state of openness. The thing that I want to do is I want to perform more. I want to collaborate more, and those are the things that I'm putting my heart and energy towards. I'm also in a space where I'm trying not to put pressure on myself to force myself in a certain direction but also keep my heart open and mind open to see where I can go. It's a very exciting time, and it's also a very scary time, so I'm trying to reflect and go at an easy pace.
Evie Asio's album Contending and Contention is available on Spotify, Apple Music and other streaming services.
To purchase please follow this link
To follow and support Evie, please visit her website here
Last modified: June 7, 2023