The Scottish National Jazz Orchestra unites Orient with Occident and a 2000-year-old musical tradition with contemporary improvisation in World of the Gods, which tours Central Scotland from the 26th to the 28th May.
Composed by SNJO artistic director Tommy Smith and incorporating traditional Japanese melodies, World of the Gods was first performed in 2010 and brings the orchestra together with the percussive choreography of the Mugenyko Taiko Drummers. "I saw a fascinating Taiko drumming documentary full of choreography, sounds of thunder and delicacy, skill, strength, and endurance," says Smith. "But I assumed I'd have to travel to Japan to find genuine Taiko drummers." The reality was quite different, as Smith discovered.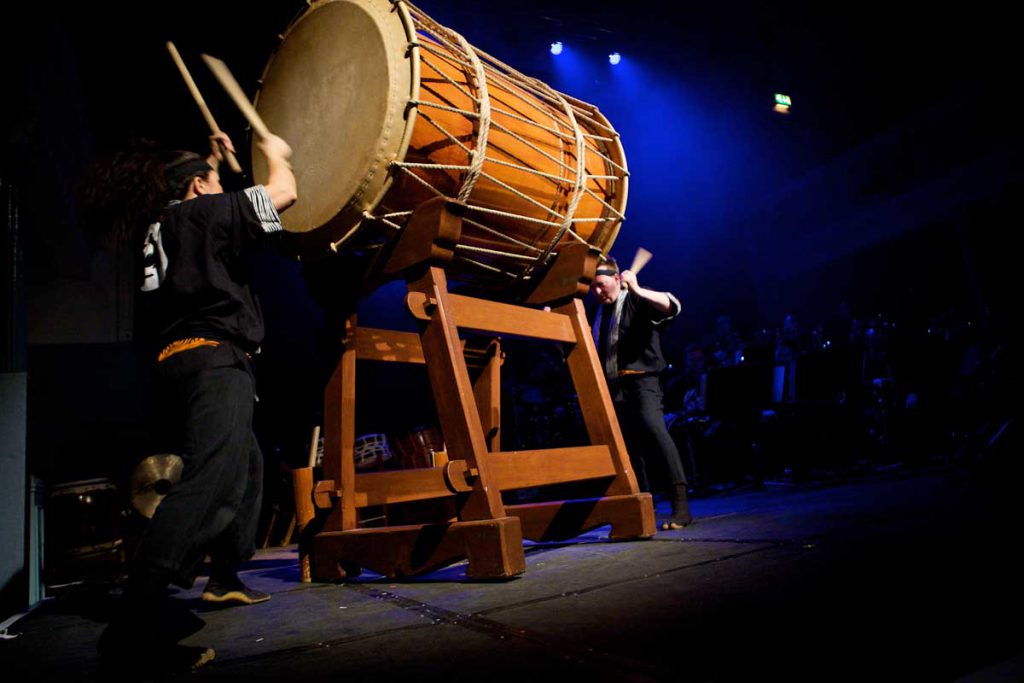 "I was astonished to find thatH the UK's first and only professional Taiko group have their Dojo – or rehearsal space – about five miles from where I live," he says. "We met to discuss creating a project together and they were very excited about working with the SNJO, and in 2010 and 2011, we had two successful tours in Scotland and England with World of the Gods. The audiences loved the spectacle of all these drums and the energy and musicality of Mugenkyo's performances."
Over the past thirty years, Mugenkyo has become synonymous with performances that are strikingly visual and range from industrially powerful rhythms to delicately expressive sequences. Their very physical drumming and coordinated moves have thrilled audiences from Glastonbury to Cork Jazz Festival to the Last Night of the Proms, which is broadcast on prime-time television by the BBC.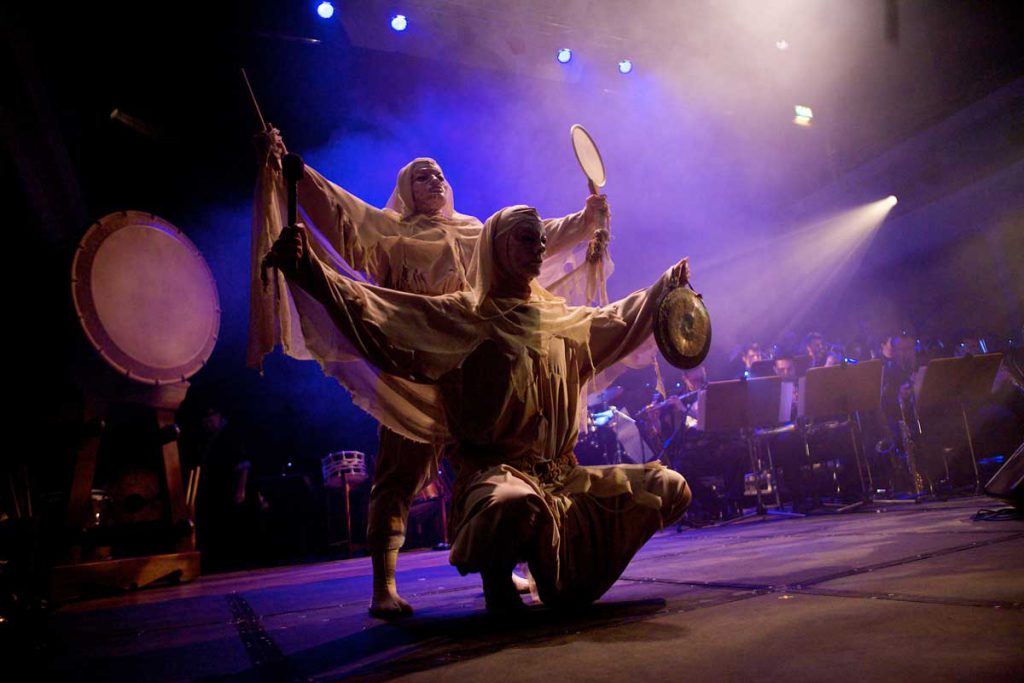 "World of the Gods is a project we've wanted to return to for some time," says Smith. "So we're looking forward to performing it again. We can justifiably say that we'll bring the rumble of thunder to these venues but there is also a contrast as the sweet fragrance of cherry blossoms is suggested through this music also."
The Scottish National Jazz Orchestra with Mugenkyo Taiko Drummer play World of the Gods at the Beacon Arts Centre, Greenock on Friday 26th May; Perth Concert Hall on Saturday 27th May; and Queen's Hall, Edinburgh on Sunday 28th May.
Photos by Derek Clark
Last modified: May 22, 2023