Recently we reviewed the debut album as a leader album from drummer Roberto Pistolesi, titled "Open Lands and Moving People". This album not only drew the attention of Jan Veldman, who took the time to write a quite extensive review, but also proved highly popular on our New Release Spotify playlist.
Now, Bandleading drummers may not be in the majority through the history of jazz, but their unique position in the group has made for some of the most fascinating recordings of the last century. Open Lands and Moving People is no different. Featuring dense harmony, thoughtful arrangements, a liveliness reminiscent of rock music and top level ensemble musicianship, it is apparent this is an ensemble rich in maturity and experience.
Roberto Pistolesi, a native Italian now resident in the Netherlands, is best known for his work with world-renowned saxophonist Stefano Di Battista with whom Pistolesi has been touring and recording for over a decade, the drummer has also collaborated with a variety of outstanding musicians including Steve Grossman, Tineke Postma, Jesse Van Ruller, Alina Engibaryan, and many more. However it was his own work as a leader that prompted us to reach out to Roberto to find out more about the background to the recording and what makes this highly talented drummer tick.
Andrew Read: Hi Roberto, thanks for taking the time to speak with us. Before we get into the new album let's start with some background information for our readers. How did you get your start in music?
Roberto Pistolesi: Well it all started when I was very young when my parents noticed me sort of singing along the radio. They thought "oh, he's actually singin in tune, maybe he should go to the conservatory!". A few years later, I was 8 I think, I did an intake at the conservatory of classical music in my hometown, Frosinone. I started doing a prep school for a few months where I studied solfège, and then later, I was enrolled in the middle school at the conservatory. There I attended the normal school, plus several hours a week of solfège, and twice a week I went back to the same building in the afternoon for the instruments lessons.
My main instrument back then was violin, and studied piano as a second instrument. Actually, it was very, very stressful, let's say my love for music was taken a bit for granted. When I was 15, I finally dropped the whole classical act and decided I was never going to play music, I wanted to be a professional skateboarder and I did pretty good at that. But, my friends had bands, and bands had drums. During the middle school, all I was doing in class was banging a couple of pencils wrapped in adhesive tape on the desk, and in fact I was kicked out of class many times because of that.
AR: Was this the point when you decided to switch to drums?
RP: So drums, yeah, I sat down once on a friend's drum set, and I started playing "Smells like teen spirit" from Nirvana. I had already rehearsed it with the pencils! My mother bought me the first kit and I basically spent ALL my time on it, from the second year of high-school on.
AR: When did you get into jazz?
RP: I have a tape somewhere at my parent's house where I improvise over "take five". I didn't know much about improvisation and playing in 5/4, but when I listen back to it, it seemed like maybe I did. I Started to play with bands, a lot of rock, punk, original music, cover bands but I felt like I finally had found my dimension, I finally was feeling great playing music on an instrument. After about a year of just playing I found my first and most important drum teacher, and studied with him for nearly 3 years. I was very interested in jazz, even if rock was the main attraction, but I kept practicing and that included a lot of "attempting jazz".
In the meantime I attended a workshop in Roma with some big names of the Italian jazz scene. By that time I was around 18, I was already experienced with jazz rhythms, and those teachers seemed to take an interest in me, but jazz had to wait. I wanted to be a pop/fusion drummer, my dream was to play that music. After a few years I began to attend jam sessions, and there something big happened in me: I think I've found the will to make the leap and become a real jazz musician, willing to learn the jazz vocabulary for real, starting from the beginning. Of course Be-Bop was the first trajectory, passing through dixieland and swing, and eventually leading to contemporary jazz. I was making myself a bit of a new as an up and coming jazz drummer, and I was receiving calls for gigs.
AR: So, when did you make your first trip to New York?
RP: I felt like New York was the place to discover next, and I began to travel there in 2006. New York represented a "lighthouse" for me. I will never forget the first time! I was literally shocked by what was going on there. The level of both musicians and music was really something else, I could not believe my eyes and ears. I was immediately driven to get better at what I already was doing, and I was ready to swallow the hours and hours of sessions, see concerts from the very best in the world, and to take lessons from the drummers that I liked the most. Since my first trip in 2006, I went back to NY almost every year until 2016, the year in which I moved to the Netherlands. In 2017 I got to stay in New York for six months in 2017, thanks to a school visa provided through my masters study that I was doing in the Netherlands.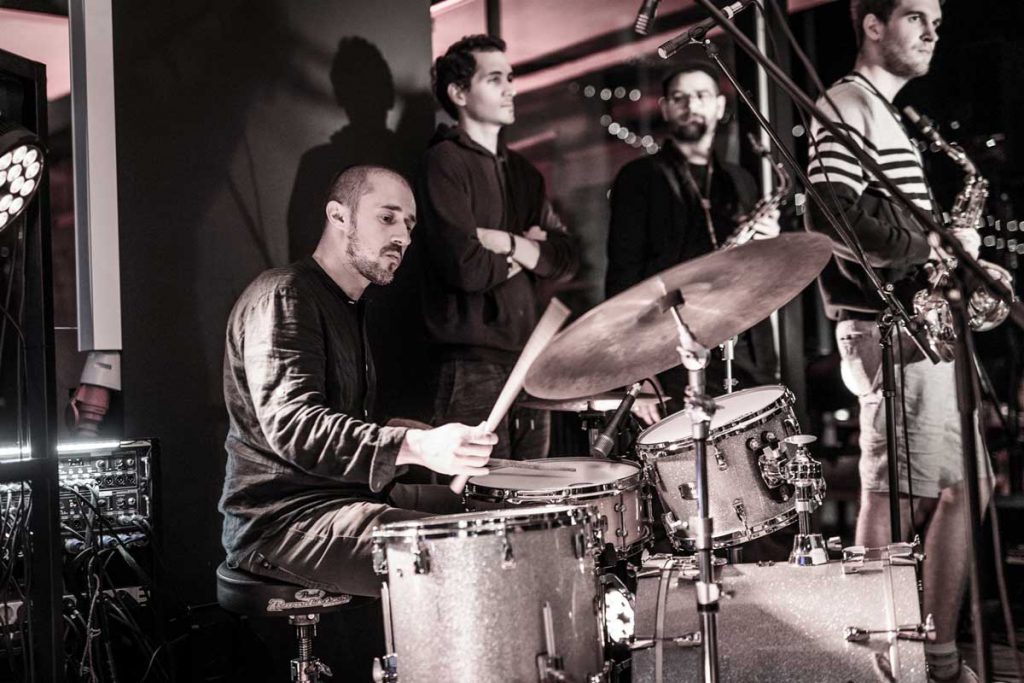 AR: Who did you study with and where did you play in that time?
RP: I have taken lessons, single ones or a series of them, by many drummers, all of them for different reasons. The great masters from whom I've learned the most were Kenny Washington, John Riley, Dan Weiss and Bob Gullotti (the last one in Boston). I got occasional lessons from other great drummers, like Ari Hoenig, Kendrick Scott, Billy Drummond, Carl Allen, Michael Carvin. Work-wise, in New York I've played at smalls with my own quartet, with Patrick Cornelius, Noam Weisenberg and David Berkman, at Shapeshifterlab with my trio, with Roberto Tarenzi and Noam Weisenberg, and I've played sub gigs with a multitude of musicians, such as with my long time friend Francesco Cafiso, Joseph Lepore, Greg Glassman, Gianluca Renzi, Dred Scott, Carol Sudhalter and many others. Oh and Composing-wise, I've been writing a lot.
AR: So what brought you to the Netherlands?
RP: Well, I'd realized that I had kind of failed in my goal of moving to New York, mainly because I was working so much in Italy and I felt to much time had passed. But I felt I needed to change, I had been living in Rome for almost 20 years, and nothing of my life was new. But the biggest reason I wanted to move was that in Italy I was a recognized session jazz player, one with a lot of artistic qualities, but still a session musician. The trio I had with Roberto Tarenzi and Dario Deidda was one of the few bands where I could really express, but for the rest I was just a sideman.
I was occasionally booking gigs in my own name, but I had almost no originals to play, very little experience in writing a tune top to bottom, and basically enough money and gigs to be taking it easy. But I wasn't happy anymore, I felt that people really want to hire me for my qualities but they didn't want to take the leap and give total carte blanche to my playing, or to ask me if I would co-compose or write some stuff with them. In short, I didn't feel recognized as an artist. Also and most importantly: the majority of the music I was playing was pop-ish, that was ok but I missed playing Jazz, I was becoming a pop musician again, and I didn't want that.
Here in the Netherlands I started to play right away with the Peter Beets Trio and with many other musicians. The music here seemed more connected to the reasons I wanted to be a musician, and I got to play a lot more "Jazz". Besides that, the large amount of musicians who play both in the jazz tradition and compose original and modern music is astounding, and that in it's self is very good reason to stay. I became stimulated to play my own music, and in fact this translated into a record, the first one under my own name. On top of that, since the very beginning of my stay here, I enrolled a master degree program, and this is actually my first proper academic title. During the master I studied composition, arrangement, academic writing, harmony and I stretched my mind very much.
AR: You mentioned your Album, maybe it's a good idea to move on to that now. you mentioned "Open Lands and Moving People" is you first album as a leader. What inspired you to record an album of your own music?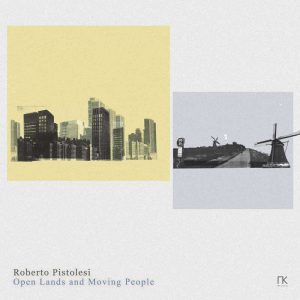 RP: I really needed to write an album, for myself. I felt I was missing a big piece in my life as a professional musician/artist. Crystalizing ideas in a song is like telling the world what your thoughts are about music, and I felt I had a lot to tell. I hadn't believed much in my musical thoughts in the past, but then I realized that the other musicians' average musical thoughts were no better than mine. In New York especially, everyone was very busy writing something, not everything was great, actually most of the things weren't, but they were played in the best possible way. That gave me a lot of push to go further and believe in my own writing. Also, I really wanted to provide the listener with the feelings I had when I composed the pieces. I don't know if I succeeded in that, but for shure, I still don't hate my music when I listen back to it. I actually like it.
AR: Can you tell me about your composition process and how you went about the arrangement process?
RP: Except for "The Big Wave", which was composed in NY on a Casio keyboard and written down in Sibelius, all the music was written in Holland in my small project studio in the woods of Den Dolder. It's a really solitary place where I have my instruments and my computer. The compositional process didn't really involve writing on music paper, I wrote directly into my computer, using a DAW, like you would record when you're in a recording studio. I play a few different instruments: bass, guitar, piano and (yeah) a bit of bad singing. So what happened for me during the first and most terrible Covid-19 wave, is that I closed myself there and wrote a lot of music, starting with a guitar riff, or a keyboard melody, or a drum riff, and so on, and building up from there.
Most of the time it was just thinking of the music I wanted to compose, and trying to hold that thought long enough to be able to play it on some instrument, recording it, editing it, adding tracks and building up arrangements. There was a lot of editing, moving sections, trying this or that, dumping everything and starting over, spending one day to find a plugin that sounded something similar to an orchestra, and so on. I really gave it all I had. I revised the form of the songs many times, creating hundreds of projects in my DAW and getting lost and desperate many times. What I loved the most was when the music told me that a tune was finished. Sometimes I git warm feeling when I listen to music, and when it happens with something I've written, I know that that tune is going to stay.
The arrangements of the orchestral parts, or the harmonization's are a combination of using my ears, using the little formal education that I have about arrangement, and a lot of changing and listening back and changing again. I also really looked for that macro-approach, trying to look at my tunes visually to see if they made sense. In some tunes, the initial melodies entangled themselves with some new ones. I strived to think a bit about classical music and how many new ideas co-exist together with a logic that's a bit more vast than one's ability to hold information.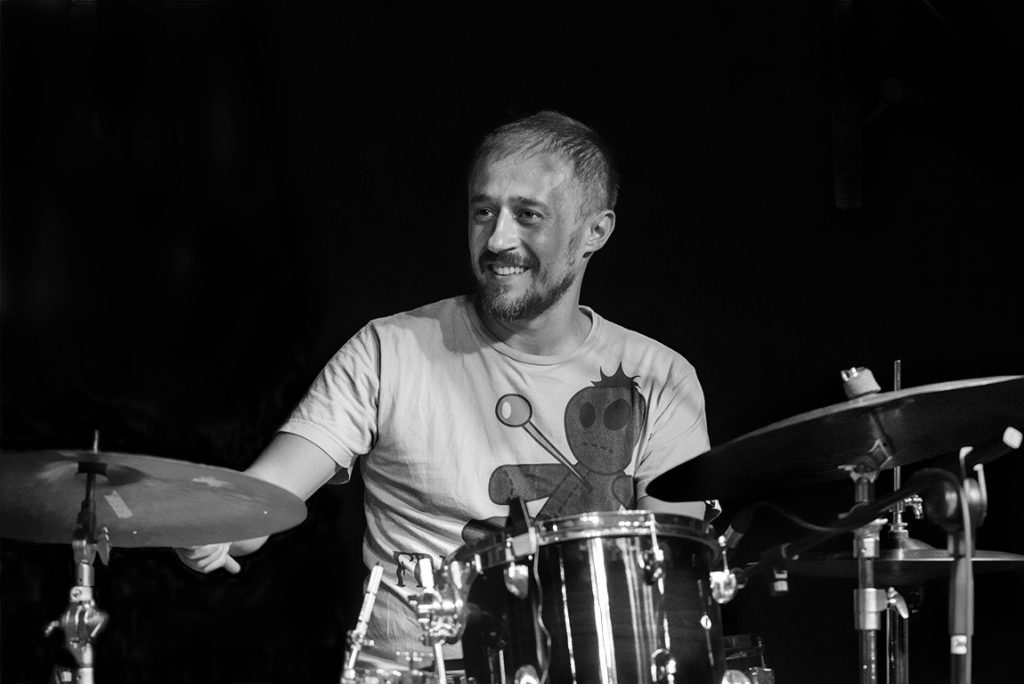 AR: Musically, there are a lot of influences I hear in the album that come from outside the traditional jazz genre. Can you speak a little about this?
RP: My musical influences are pretty vast. I am 45, and I spent most of my life listening to music, it was my favourite thing to do, more than anything else. I've listened to a lot of grunge, punk, but also prog-rock. I love Genesis, Yes and King Crimson: the soundscapes they created were in another league. I love Frank Zappa, I love his darkness and the music from space that he composed, also his rhythmic approach was very fond of irregular groups of notes, that's material I've studied and researched for years in my drum booth.
I loved the warm and depressing hug of the music from the 80's and 90's, I love singer-songwriters of many kinds, their purity of sound and ideas, I love Weather Report and Joe Zawinul, I love MIlton Nascimento, Chico Buarque, Toninho Horta, Gal Costa, so many. I love Fleet Foxes, Sonic Youth, Counting Crows, Springsteen, Bowie. It's too much music to tell, actually. And then there's Jazz: I can say that I've listened from jazz of the 20's until the current day, in a very sparse order. Jazz is the core of everything else, jazz is the means I use to understand all music. Parker and Coltrane are probably the greatest geniuses ever existed in music, probably.
AR: Many of the compositions are heavily arranged. How did you conceive the integration between the through composed passages and the improvisational sections.
RP: I really navigated on sight, at first. I've tried to listen to my music as a listener. A listener needs a rest, or some moment, fun or excitement. It can't be all brain, or all muscles. I did my best to stay fresh in the listening, and allowing what I was writing to evoke other things, as for example imagining a sax solo emerging from the riff of "Serious Moves Towards An Argument". After a long series of events, a cathartic release was much needed, something that would warm my heart. I think that I was looking for emotions, and sometimes thouse would come from an unexpected arrangement, or from a very inspired solo. Drums were pretty much filling in, providing the right wash or tightness to keep all things together. Once again, I've done a lot of cut and paste in the composition process, to finally find a form that would suit my needs.
AR: As a drummer/composer and leader on the album, how did you see your role in putting the album together from a musical perspective.
RP: I felt that doing this album I would spend more time conceiving all the music rather than thinking what would I play on the drums. I've come to realise that sometimes it's mostly the music that determines what I play. However, sometimes it was the other way around, I sat on the drums and I thought "what hip things would I like to hear from myself as a drummer?" And then I built the music around that idea. It was really all about researching deep inside of me, what I like and what makes me vibe. The drumming that came out of this is pretty constrained, well not always!, but overall I would say it's not a virtuoso album, I can play more drums than that, but the music did not require it.
AR: How did you choose the players on the album and what was the motivation in choosing these specific musicians.
RP: I tried to pick up the musicians that I thought would have something to say in my music. Roberto Tarenzi is a long time collaborator and I know he can handle any music. Teis Semey has a great, fresh vision and his playing is really original. Sanne Huijbregts is a mix of a songwriter and a virtuoso jazz singer, and also a percussionist and sound creator. Zack Lober, is my buddy, I knew him from New York (he didn't know me) his Ancestry Project, back then, blew me away, and I know he had the right mentality and a great deal of experience to play the music. Daniel Juàrez is like a brother to me, I've played and recorded his original music and I think he's one of the finest soloists around on his instrument, he also can handle every kind of difficulty and expression in music, and he has a big heart.
AR: I enjoyed the way you integrated the vocals into the arrangements. Can you tell me a little more about this and the collaboration with Sanne Huijbregts, specifically in the writing of the lyrics?
RP: I went to Sanne's house initially to show her the music that I wanted her to play and sing. I had initially written the lyrics to my tunes. She told me that she would love to be able to modify some parts of them and with her being the singer and interpreter on the project, I trusted her and I think she's did a great job in the choice of words the ended up in the final versions. We had discussed it a few times about what i wanted to say and evoke with those words, the images that I wanted to project to the listener's mind. I hope we succeded!
AR: To finish up, now that the album is out, what are your plans moving forward. Do you plan to tour with the project.
RP: I plan to present the album live, even though with this type of line-up it's pretty difficult and expensive. My main idea was to write the music, finish the album and call it a day.
On the 13th of March, my son Manuel was born, and since then I pressed pause on almost everything. The record is like another baby to me, but he'll have to wait a little bit to be presented live. So far I have a concert at Casa Del Jazz, in Rome in September, and I hope on filling a lot of dates from there till the end of the year. But again, it's not the main purpose of this record to be presented live. The music needs rehearsals, a big budget, and the right crowd.
Of course. Since I recorded my album, I have written almost 30 new tunes. This time I want to dig deep in feelings and emotions, deeper than before. I have written a couple of tunes that I really like, one of them for my son, and I intend to collaborate with my brother in law, a incredible singer and composer called Ivan Segreto. His music is some of the best songwriting of the last 20 years, in my opinion. Besides that, I'd like to make a record in which I play all the instrument, recorded, produced and mixed by me, only songs, maybe folk-inspired. I like building-up layered guitar tracks, mixing acoustic and electric, and I'm looking to explore those sounds. Also, I've taken quite some interest in analog synthesizers, and I've just bought 2: I really want to make good use of them.
AR: Thanks Roberto for taking the time to speak with us and congratulations on the birth of your son. I really enjoyed the album and I hope I'll get the opportunity to hear it live. Keep in touch.
If you want to find out more about Roberto's album, read Jan Veldman's review here. You can find the album on all major streaming platforms and the CD and Downloads are available below on Bandcamp.

Last modified: May 9, 2023