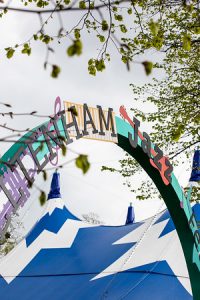 With a reputation as one of the UK's most renowned jazz events, I was delighted to be invited to The Cheltenham Jazz Festival. Through platforming a combination of international jazz icons to encouraging young talent, the stages of Montpellier Gardens glowed with musical genius. There was a buzz in the air as the 20,000 festivalgoers enjoyed the first real day of sunshine to hit the UK. The 2023 line-up was impressive, featuring Van Morrison, Gregory Porter, Laura Mvula, MIKA, Lizz Wright, and many more high-profile names and up-and-coming young artists.
One performance to note was Sarah Brown's tribute to Mahalia Jackson at The Jazz Arena on Saturday evening. After speaking to Sarah before her sound check, I began to grasp the true significance of representing Mahalia at an event like The Cheltenham Jazz Festival; this tribute was not just done out of love for the artist, but respect for her impact on the genre as a whole. From being a backing singer most of her career, Sarah spoke about the nerves that came with starting her solo vocal journey; what she called, 'stepping into the fear'. Throughout the show, Sarah Brown's vocals became more powerful and passionate, made all the more poignant by her personal storytelling between each rendition.
I wish to step into courage and share with you, Mahalia…
Sarah also emphasised how many inspirational women surrounded her on the festival line-up, including Lizz Wright whose performance was one I will never forget. Her stunning vocals ricocheted off every corner of the plastic walls, capturing the audience through every melodic turn.
I don't wish to disparage the insane talent held by the women who pour their souls into vocal performance and songwriting; however, I couldn't help but notice that 80% of the women on the festival lineup were singers, with all-male bands. Most of the headliner positions were taken up by men, with more women performing in the Jazz Arena rather than the Big Top, a middle-of-the-bill position.
Though there is a clear drive towards a more equal lineup at big festivals such as Cheltenham Jazz Festival, it seems as if diversifying those invited to perform has become a box-ticking exercise, with women being booked because the Keychange Report dictates it, rather than simply booking more women to fuel a healthy and fair music industry. Talent is talent and gender should never be the primary consideration when programming a festival, but until we see more women in 'Big Top' positions in jazz, the gender divide will continue to grow. This disparity is particularly noticeable regarding jazz instrumentalists. Perhaps the problem stems from deeper within the jazz industry and cannot be mitigated by the festivals themselves. If the majority of session/jazz instrumentalists encouraged on these career paths are men, how can we see more women in these positions?
This diversity issue does not just come down to men and women: how many non-conforming/genderqueer artists were programmed? How many artists from Asian backgrounds were programmed? How many older women were programmed? The list of questions goes on. Until we make a distinct effort to ask and answer these questions, festivals will not be fully representative of their audiences.
Maybe, for now, festivals must go through the conscious process of 'box ticking' for it to develop into a subconscious measure in festival programming, leading to women and minority groups appearing as headliners without question.
This push for more varied lineups cannot be put on Cheltenham Jazz Festival alone. After speaking to the festival programmers, it became evident that they are working to steer this charge, through creating multiple talent schemes and outreach programmes that aim to platform young talent. The Talent Development Scheme seeks to develop the careers of emerging and established jazz artists, by offering invaluable career advice from industry professionals. These artists are given the opportunity to introduce their music to audiences through The Jazz Exchange and The Showcase. The Jazz Exchange concert welcomes students from the Royal Birmingham Conservatoire and other key educational jazz institutions.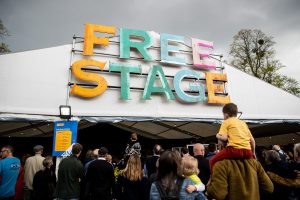 On Sunday afternoon, I got to catch Birmingham Conservatoire's Afro-Cuban Band taking on the Free Stage. This was such an encouraging sight; observing these young musicians interact with a festival crowd, whilst appreciating every minute of the experience. This seemed like an incredibly effective way to expose young students to the nature of performing at jazz events. It is also a key way of getting young women on the right paths towards recognition as instrumentalists in the jazz world.
There were also multiple bands from Tomorrow's Warriors, including their Female Frontline group, exhibiting what wonderful music can be made within an all-female ensemble.
John Oldham, the sponsor for the Talent Development Scheme, spoke to me about the work that's done with the various festivals taking place in Cheltenham. This year's performers at The Showcase were Tamzene and Immy, following on from the 2022 musicians, Georgia Cecile and Elles Bailey who have both significantly progressed since. Georgia Cecile was given her own slot in the Cheltenham Jazz 2023 lineup on the Jazz Arena stage, which quickly sold out, and Elles Bailey won the UK Americana Artist of the Year Award for 2023. This 'conveyor belt system' taking young artists from the Free Stage to The Showcase, onto bigger and better things, is an inspiring way of allowing new talent to adjust to the industry, taking things one step at a time. After The Showcase performances, a mentoring session is offered to the musicians, along with a chat with the editor of Jazzwise, the head of Jazz FM and other agents, asking the artists what is next for them.
From speaking to Immy after the festival, I have begun to appreciate how beneficial these opportunities can be for young artists looking to break into the scene:
I was in a room with about seven industry professionals where we all chatted about the industry and what I'm struggling with, and then they asked questions about my experience. 
 My music journey has been very up and down. I have been releasing music for over three years now. It can be very hard, but I've learned a lot. I have released many songs that have done really badly and others that have gone really well, I've made many mistakes but now think I'm at a place where I am able to release and promote a song correctly.
My time at Cheltenham Jazz Festival was very positive. It's so valuable to see how festivals are making necessary changes in their programming and how these changes can impact the jazz world as a whole. Despite this, I do think it is still essential to ask questions and see what more can be done, for the overall health of the music industry itself.
Links:
Photos courtesy of  Cheltenham Jazz Festival, Still Moving Media
Last modified: May 23, 2023