Since the early 1960s, Paris had jazz clubs in the Latin Quarter willing and with gratitude to have American musicians playing avant garde – free jazz. Unlike The Blue Note or Birdland in New York City at that time, Le Chat Qui Peche, owned by Madame Ricard, regularly booked avant-garde jazz (understanding the musicians as artists); this attitude was also shared at the time in Denmark and Sweden with Albert Ayler, Eric Dolphy, and George Russell (musician, composer and music theorist).
However, Paris and the south of France (in and around Antibes) for many decades had already been a haven for American jazz exiles from Josephine Baker and Sidney Bechet to modern times of Dexter Gordon, Bud Powell, Chet Baker, Jackie McLean, Kenny Clarke, Nina Simone and others for its general tolerance, i.e. less racist attitudes (no segregation policies for clubs, restaurants, hotels), and in music, for its more openness to experimentation instead of a labels' concern about commercial sales.
The Canadian artist Stan Douglas recreated this phenomenon in "Hors-champs" (means "off-screen"), which was first exhibited at documenta 9, in 1992. This video installation is back in Europe, serving as a jazz baptism for "Bohemia – History of an Idea – 1950-2000" at Kunsthalle Prague. The first part of the exhibit focuses on Paris's Left Bank, Swinging London in the 60s, and 60s-70s in New York City.
"Hors-champs" shows American jazz musicians filmed in black & white in the guise of a 60s cultural program for French TV. The musicians are Douglas Ewart (saxophone), George Lewis (trombone), Kent Carter (bass) and Oliver Johnson (drums). Of this quartet, Johnson (born 1944) and Carter (born 1939) lived in Paris throughout the 1960s, while the other two had periods living there later in the 70s.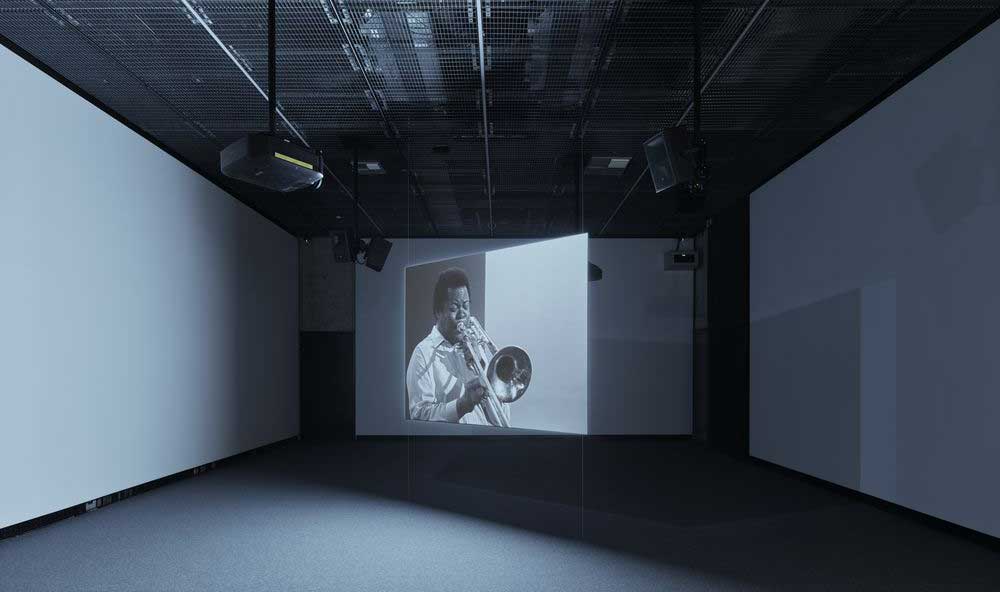 The musicians improvise saxophonist Ayler's "Spirits Rejoice" (his composition), which is also the title of an album recorded live in Judson Hall in New York City (in 1965), but it was performed for no audience. Similarly, the performance of "Spirits Rejoice" by Lewis, Ewart, Carter and Johnson has no live audience until it is played in a gallery space, or another venue for projections. The song itself is broken into four parts: a gospel melody, breaks for individual solos by each player, a faster tempo burst of improvised outside jazz, and a fragment of the French national song of resistance "La Marseillaise."
At Kunsthalle Prague, "Hors-champs" is played right at the entrance, so it becomes a sort of initiation into a private improv jazz session, loud enough to be heard from any other area of the exhibit's first floor, with its interconnecting rooms filled with paintings, photos and a few related films, from the late 1950s through the 1960s. Visitors throughout the first section are thus immersed in an avant garde or free jazz celebration, or it can be an assault on their senses, which leaves them anxious or unsettled.
Visually, the screen is suspended in the middle of the room with projections on either side, showing different vantage points or perspectives of the same performance. While one side, for instance, shows at close range an intricate drum solo, the other side shows the musicians looking on with excitement, or sometimes they talk to each other, as in back stage chatter or jiving around or whispering to each other. At times, the players sway to the music and the camera follows this movement itself, like a slow dancer. These activities are supposed to depict behind the scenes of the performance. In either case, the camera is never static, constantly zooming in and out of faces, instruments or the group overall.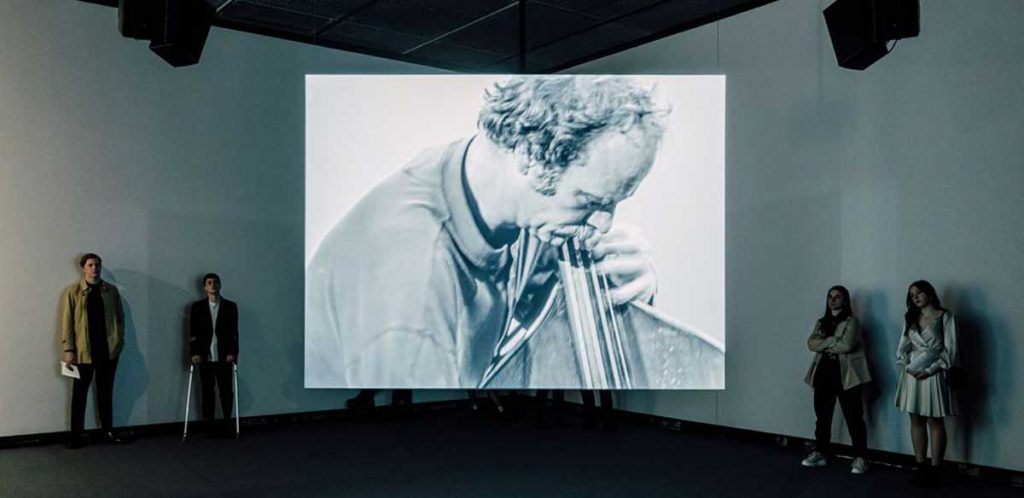 Meanwhile, a film not very close to "Hors-champs" but close enough so that the music overlaps is "Pull My Daisy" from 1959, made by Robert Frank and Alfred Leslie from a theatre script titled "The Beat Generation," written by Jack Kerouac, and the film has a voiceover by Kerouac. The cast includes Beat poets, Allen Ginsberg, Gregory Corso, Peter Orlofsky, and the musician-composer David Amram, who did the film score, and who plays a beat jazzman called Mez McGillicuddy. The film boils down to a nonsensical and philosophical "dinner" party for a "bishop" who visits a railroad man, his wife and his drunken poet friends (pure Beatniks), which naturally gets out of control in a tiny apartment in the Lower East Side of New York City. At the end of the party, as an elder lady plays soothing spiritual organ music for the bishop, Mez starts playing some jazz on the French horn, then the owner of the flat, Milo, joins in on his saxophone, blowing hard; this is followed by his young son (played by Pablo Frank) who can't go to sleep in any case, comes out of his room wearing pajamas to join them, playing the tuba. It becomes a raucous bebop improv session, made more intriguing as the avant garde music from across the hall, the sounds of "Hors-champs" heard in the background, becomes part of the film. It is as if their neighbors in the same building are doing their own free jazz improv late into the night. But in reality, Black neighbors would only be further uptown in Harlem, if anywhere else, in the city.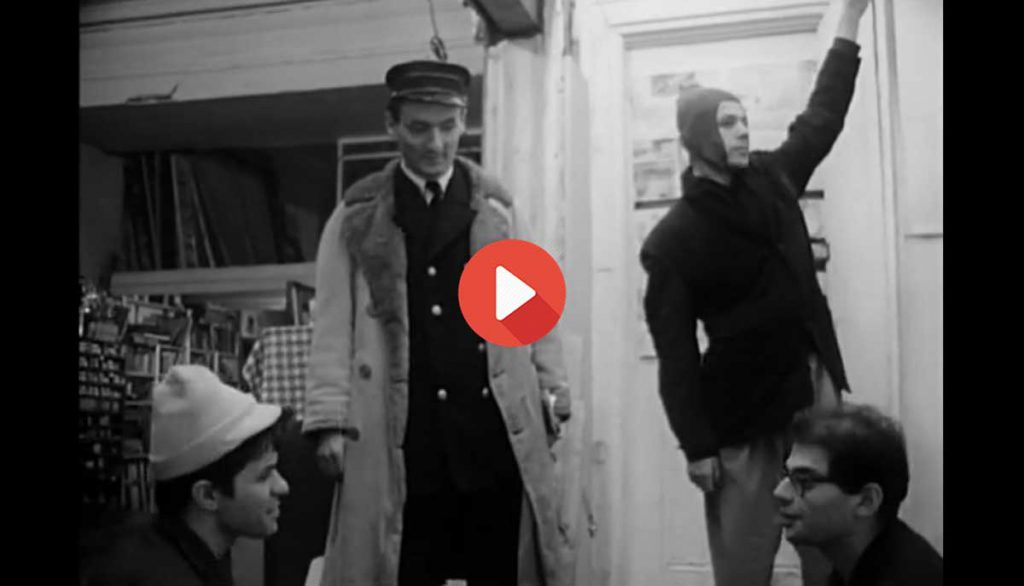 Thus, back to "Hors-champs"; Albert Ayler apparently killed himself, in 1970, by leaping into the East River from the Statute of Liberty in New York City. He died as a frustrated and unsuccessful artist.
And so, the musicians performing his "Spirits Rejoice" add significance to this. Lewis (born 1952 in Chicago) and Ewart (born 1946 in Jamaica and immigrated to the US, to Chicago in 1963), are part of the oldest working jazz collective in the United States, the Association for the Advancement of Creative Musicians (AACM) which was founded in Chicago in 1965. Connected to the AACM, musicians later known as the Art Ensemble of Chicago had their premiere at the Le Chat Qui Peche in Paris, in 1969. But when they first arrived to France, they did not have any albums under this name. This group including Roscoe Mitchell, Lester Bowie, Joseph Jarman, and Malachi Favors are now legends of avant garde jazz, but at the time, they were hardly known, whether in New York City, or Chicago.
Only the drummer Oliver Johnson (from "Hors-champs") lived steadily in Paris from the 60s, till the end of his life. So, one can imagine him in the milieu of African-American jazz exiles, friends with Art Ensemble of Chicago. Maybe he was around during the third recording of theirs, "The Spiritual" which was made in Paris just as their first two albums. But only this one is mentioned because in comparison to the musicians performing in Stan Douglas's video installation, the Art Ensemble of Chicago reveal a prankster side or irreverence in the recording studio, or in general, just as the Beat poets (from "Pull My Daisy") also live to play around. Midway through "The Spiritual" in an interlude of loud whistles, harmonica and kazoo in the background of the track "That the Evening Sky Fell through the Glass Wall and We Stood Alone Somewhere?" the co-founder, poet, saxophonist and other assorted winds player (clarinet, oboe and flute), Joseph Jarman of the Art Ensemble of Chicago is asked this for the record:
"Mr. Jarman, so what do you think of uh, Europe, Mr. Jarman?"
Jarman replies: "Here is what I think of Europe, Mr." (followed by unintelligible muttering), then "What do I think of Europe? Uh, what do you think I think? I don't understand, uh."
"Well I think if you can put it in one word?" the interviewer tries again.
Jarman replies: "Oh I see. Well you know… That's how it is." Then the screech of horns comes in.

In postscript, Oliver Johnson who lived most of his life, from the late 60s in Europe, tragically just over a decade after making "Hors-champs," was murdered in 2004 on the streets of Paris, by a homeless man. This sad note is not mentioned in informational text of "Bohemia – History of an Idea," but it is noteworthy and corresponds to the outlook of the curator Russel Ferguson, that the "idea" may be over.
Tony Ozuna is Art Director and senior lecturer for the School of Journalism, Media & Visual Arts at Anglo-American University in Prague.
Last modified: April 21, 2023