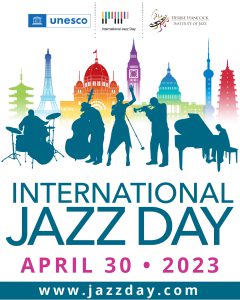 International Jazz Day , originally founded in 2011 by the United Nations Educational, Scientific and Cultural Organization (UNESCO) was created to shine a light on the power of Jazz and the power of the jazz community across the world, chaired and led by UNESCO Director General Audrey Azoulay and legendary jazz pianist and composer Herbie Hancock.
'International Jazz Day brings together communities, schools, artists, historians, academics, and jazz enthusiasts all over the world to celebrate and learn about jazz and its roots, future and impact; raise awareness of the need for intercultural dialogue and mutual understanding; and reinforce international cooperation and communication. Each year on April 30, this international art form is recognized for promoting peace, dialogue among cultures, diversity, and respect for human rights and human dignity; eradicating discrimination; fostering gender equality; and promoting freedom of expression'  IJD
On this day of celebrating jazz and the importance of partnerships, Women in Jazz Media took this opportunity to shine a light on a partnership that is often unexplored and celebrated. There are many great partnerships in jazz that come to mind, but the importance of the relationship and powerful connection between musician and photographer is one we have all seen but rarely discussed. We have all admired inspirational album covers, live performance photography, portrait shots and more but how did they happen? How was the magic created?  The multi award winning Argentinian photographer, Cinematographer and Professor, Adriana Mateo knows.
Having been taking photographs since childhood and growing up with an award-winning cinematographer Roberto Mateo, as a father, it was no surprise that Adriana Mateo has become one of the most successful contemporary photographers in the jazz industry and is a role model to many people across the world. Her portfolio is significant and includes heavyweights such as Dave Brubeck, Jimmy Heath, Sonny Rollins, Herbie Hancock, Wayne Shorter, Branford Marsalis, Chick Corea, Esperanza Spalding, Wynton Marsalis, Cedar Walton, Ron Carter and she worked extensively with Roy Hargrove with her stunning photograph of him at Umbria Jazz festival, winning her the Photography of The Year award from the Jazz Journalists Association. Her partnerships with musicians have produced stunning work and it is no surprise that she has just recently been nominated for the Lona Foote-Bob Parent Award for Career Excellence in Photography by the Jazz Journalists Association.
Adriana's work with the jazz master's led her to meet and form an inspired partnership with trumpeter, producer and educator, Jeremy Pelt. Having worked with the Mingus Big Band early in his career, Jeremy's work has seen him play with Ravi Coltrane, Frank Foster, Winard Harper, Jimmy Heath, Vincent Herring, John Hicks, Charli Persip, Ralph Peterson, Lonnie Plaxico, Bobby Short,Frank Wess, Nancy Wilson and The Skatalites and Cedar Walton, to name a few. It is in fact, through Cedar Walton that Jeremy and Adriana first met.
Jeremy performs alongside the Roy Hargrove Big Band, The Village Vanguard Orchestra and the Duke Ellington Big Band, and is a member of the Lewis Nash Septet and The Cannonball Adderley Legacy Band featuring Louis Hayes. As a leader, he has recorded ten albums and has toured globally with his various ensembles, appearing at many major jazz festivals and concert venues. His work is incredible.
Together, Adriana and Jeremy have worked on many incredible projects and the results are inspired. It was a great pleasure to explore their work together, via Zoom, on this special International Jazz Day episode of the Women in Jazz Media 'In Conversation With…' series.
To explore Adriana's work please visit her website here
To explore Jeremy Pelt's work, please visit his website here
To find out more about International Jazz Day, please click here
Last modified: April 30, 2023