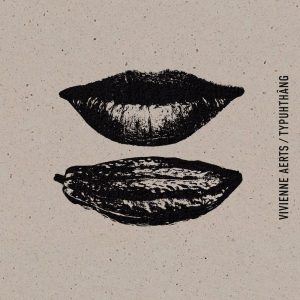 Vocalist, performer & composer Vivienne Aerts has just released her innovative new album Typuhthâng in conjunction with International Women's Day. Featuring 100 female musicians as well as a female- led, behind the scenes team, Vivienne has created something incredibly special. Her aim is simple. She wants to raise awareness of sustainability and show how we can all genuinely make a difference. How has she chosen to do this? With an exciting partner – chocolate.
Married to a pastry chef, Ted Steinebach, the journey to chocolate-inspired Art was quite straightforward. Together they created the Vervool project, which is 'a multi-sensory experience that immerses you into a fulfilment of a feeling'. It is absolutely fascinating. We all love chocolate, well most of us, but this experience takes chocolate to a whole new level. Working as one, Chef Ted creates a painting with food, using haute cuisine molecular techniques in response to Vivienne improvising to his movements. The artwork that is created is then given to the audience and eaten as part of the experience.
This video gives you a glimpse into the experience:
ChocoJazz Meets de Stijl – Red from ChocoJazz on Vimeo.
After the very successful creation of this project, it wasn't long before a relationship with Original Beans Chocolate was established. Inspired by their passion for sustainability and female empowerment, Vivienne explains: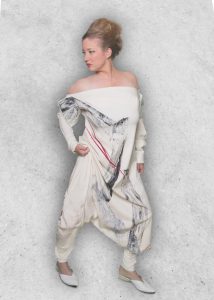 'They are basically one of the few brands in the world that are actually good for the people. The Femmes de Virunga are a cacao farm collective of 1500 women in Virunga State Park in the Democratic Republic of Congo. The collective, initiated and supported in 2008 by Original Beans, gave women the tools and opportunities to overcome extreme hardship and political unrest. These women, often victimized and routinely left to undertake hard agricultural labor, were empowered through literacy campaigns and leadership training, invited to cultivate cacao and set up a tree nursery. In cultivating this crop, they cultivate their communities. Continued learning, regenerative farming and stable "living wage" from Original Beans enables them to elevate their standard of living.'
If you buy a physical copy of the new album, you will also receive a free bar of chocolate, but it is so much more than that. Vivienne wanted buying music, that physical product, to be an experience. With the emphasis on digital releases over the past few years, the importance of a physical release and the time and care put into it, is not lost. The cover artwork is screen printed on cacao pulp paper and the stunning booklet, designed by Natalia Olbinski, includes a map of where all the musicians involved in the album are, across the globe. Each album that is bought not only supports 1500 female farmers, but trees are planted as part of the regenerating the rainforest project.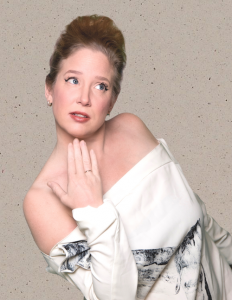 'I wanted to use my music to raise awareness of this project. I wanted to use my music, not to inspire charity but to match their entrepreneurial spirit and generate business, 'Let's make an album that sells their chocolate.' And of course, chocolate and music are a bit of a magical combination, right?'
This as you can imagine, has been an epic project – working with 100 musicians from around the world, creating soundscapes, editing, mixing etc. I spoke to Vivienne about how she managed this, not just the administrative side, but how much space she gave each musician to create their own sound within the framework of her composition. Vivienne references her work with Kenny Werner as a driving force.
I studied choir conducting in the Netherlands Conservatory as well as Clinical Psychology and then I worked in the daytime as a psychologist and in the night as a choir conductor – I think I had five choirs at some point! I quit everything and I went to Boston to study more and during my last semester I met Kenny and I'm like wow! What he was talking about was basic cognitive behavioral therapy but he didn't give it a name. He said touch your instrument without desire, without expectations, reconditioning yourself  –  any sound is the most beautiful sound and if that's your basic starting point then you can add new information from there and then everything that you do, you do from a point of conviction. I started working for him, and now it's been almost ten years… Working with Kenny has been brilliant and it's just a beautiful method and he's an intense person, funny as well.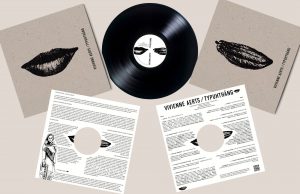 Kenny Werner's book Effortless Mastery, published in 1996, years later became an institute at Berkelee, The Effortless Mastery Institute and Vivienne, as a faculty member there, works closely with Kenny. The course is designed to help students connect to music by emphasizing 'complete focus when practicing; total liberation in performing; full use of body, mind, and soul; and reclaiming your love and inner connection to your music' and it was with this very clear mindset that Vivienne worked with her musicians.
All the musicians were recorded remotely and there were no actual live sessions. The musicians are from over 40 countries, and I gave everybody a lot of freedom. I told them they just need to do it from a place of love and interest, putting their own sound on it.
The way Vivienne has put this together is just incredible. To highlight a few tracks, the opening track 'Just Go' has a vocal group of 26 singers, 'You're My Morning' features a sextet of voice, guitar, cajon, bass, duduk and harmonica and there is even a Cuban Bolero for a large ensemble. The album is rich in every direction from the cacao paper booklet to each and every song. With so many elements to explore, I asked Vivienne how she hoped people would feel after listening to her music
I would love them to feel connected to themselves. I want to create a sort of a security that it's okay and once you're there, in the moment, you can change the world – because you can if everybody would just take a breath…one of the songs is called silence and it's all about breathing and taking your time and trusting where you want to go.  I strongly believe you can do whatever you want!
Typuhthâng is available to buy now in various ways:  digital, vinyl and the Limited Edition CD Album & Booklet with Chocolate, Screenprint and stickers. Click here
Photos by Trudy Gio.
This article is also published in the Women in Jazz Media magazine, March 2023 edition.
Last modified: March 8, 2023