Rickie Lee Jones. Songwriter. Storyteller. Trailblazer. Legend.
Rickie Lee Jones has been my musical companion almost my whole life. I was first introduced to her music when I was child. I would sneak downstairs into my older brothers bedroom when he was out and forage through his records while wondering what this 'eau de teenage boy' scent was all about. Those moments had a significant impact on my life. My first Rickie Lee Jones encounter was Pirates. 'We Belong Together'. That opening. Captivating. Magnificent. It was at that moment I decided we did indeed belong together and her music has been with me ever since.
There is much I could say about Rickie Lee Jones. There is much that should be said. She is one of the greatest songwriters of our time. Exploding onto the scene with her self-titled debut album Rickie Lee Jones in 1979, which went on to earn her 4 Grammy nominations and a win for Best New Artist. That same year, Times magazine said 'Chuck E.'s in Love' was 'the most unlikely hit of the season' and named her The Duchess of Coolsville.
Fast forward a few years and many, many achievements -18 albums, more Grammy nominations and wins, included in the 100 Greatest Women in Rock & Roll and with her second album Pirates included in the list of the greatest albums made by Women (I would strongly argue gender is not relevant here. It's a great album period). Rickie Lee Jones is releasing a new album Pieces of Treasure.
Reflecting on the process of making her first album, when she was new on the scene and starting to develop and share her conversations and the fascinating journey she has been on since then, I asked Rickie about making this new album, compared to her first. I was imagining that perhaps back then, as a new artist and a female one at that, in the seventies, she would have been in situations where perhaps her individuality, her artistry was questioned and that she may have had some challenges. But this was not the case at all.
Well, in the fall of 1977, I was homeless and then in the spring of 1978, I had a record contract and a $50,000 advance. So, the journey from that to that, is a powerful one that feels more like I had gone into a script that was already written, it just tumbled into that destiny. In the fall before, I was thinking if I'm lucky I could be a songwriter for other people, like Bette Midler, but then in the spring, it became clear that people were interested in me as an artist. That was always what we hope to have but didn't dare hope.
I was writing and I was reading a lot and what started to come out was a more fictional, street kind of thing as if I was already in a play. I had already written 'Twelve Bars Past Midnight', (Rickie sings) All the gang has gone home, Standing on the corner, All alone…I'd already written 'Company', 'Easy Money', 'Weasel and The White Boys Cool' and 'Chuck E's in Love' was a real fast kind of thing (Rickie sings 'I think that Chuck E's in Love' here) real fast…and that's what you've got to do when you're selling it on the stage, but then I slowed it down on some sad night, and hit the vein of how that one should be. When I got into the studio, I had two things going for me. The first is that I had two producers who had worked with great singer-songwriters and didn't in any way, try to tell me what to do. So, it wasn't really necessary for me to ever be strident although I'm sure that I was much more fearful and you know, what we don't know, we try to cover it right? I really didn't know anything about recording a record, I just knew about my songs only and I had never imagined them with other people playing on them, I had only imagined the feeling of them, but they came to fruition. I really think the second record is where you would have met the person you're talking about.
I had producers who didn't ever fight with me about their vision versus mine and we were all in it together. But as a human being I had become a much more defensive person. I had people around me who were very humanistic people and they weren't just about the success, pretty lucky, I think.
I just want to take a moment to repeat this phrase: 'but then I slowed it down on some sad night, and hit the vein of how that one should be'
Rickie's fourth album, The Magazine, was the first album she co-produced and the start of her journey as the producer of her work. For her new album, she is reunited with legendary producer Russ Titelman, who was the co-producer of her first two albums, Rickie Lee Jones and Pirates.
After the journey of many decades and leaving those guys, that record company and going on many journeys that were about my decisions only – firing bad people, hiring certain good people and doing it all myself – I came to a point of appreciation of another person's abilities that are unique and feel no competition. I think when I was 27 or 28, surrounded by guys I was like, I could do that just as well as him and I'm going to get rid of him and I'm going to do that and I can do that job too so I'm going to do that and then some. I do love The Magazine but by the time I got to it, I was, I can do all this myself and that's OK you know because this was in the 80s and my journey, I had to find out the value of other people. It's not a question of whether I can paint a picture or know how to produce or arrange the horns, it's a question of the value of other people and what they bring when they do that task. At this point this in my life, it's all about other people. I don't need it to prove anything and in this case, I just wanted to be this singer and not have any other weight on my shoulder. I want to be the singer like Peggy Lee. I want to walk in and give all my energy to the sound of my voice and then walk out.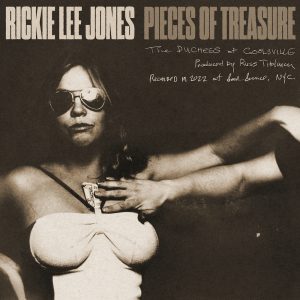 In this new album, Pieces of Treasure, she interprets ten jazz standards and somehow makes the songs sound like this is the way they should have always been sung.  Her extensive sleeve notes on each song are gold and she shares with us her journey through these songs with beauty and depth. No stranger to jazz, Rickie grew up in a world where her father opened the jazz door for her. 'On The Sunny Side of The Street', on the new album, is a song her father taught her when she was just eight years old.
'My mission to discover new ways to do well-known songs is well served here. A duet of an old Dixieland-type song, this song is probably performed instrumentally more than vocally, and even then it's so celebratory, who really listens to the words? One can't help but contemplate what is being said when it is said so slowly. I am addressing someone who is blue and telling them I was sad once too.  And maybe things won't get better for me, but money ain't what makes you rich'
Rickie was Grammy nominated for Best Jazz Vocal Performance, in 1989, for her recording of Autumn Leaves and won Best Jazz Vocal Collaboration, the following year for her brilliant duet with Dr John 'Makin' Whoopee'. However, some of the jazz critics have not always been so welcoming to her. I often explore this peculiar contradiction of judging new jazz music against old standards and that box ticking exercise sometimes conducted by who some of us refer to as the jazz police.
This is a great subject. I don't think that the jazz police are going to bother me. I mean they did of course, most my life. But you know it's mostly men, when they hit 17 or 18 and they're kind of lonely and they discovered jazz, mostly white guys and they are fierce about anybody that isn't exclusively jazz… it's very complicated and I've had this all my life. Leonard Feather was a very aggressive critic of me and I understood that he was protecting his idea of jazz from the 1950s. But the reason that I felt I had a right to sing jazz was because first of all, I can sing anything I want. You don't have to listen to it, but I'm going to sing it.
But let's just cut to the timbre of the voice. I don't have a trained voice; I don't like a trained voice and I've resisted singing that way all my life. I bring my own distinctive sound to jazz. The timbre of my voice isn't like say, Sarah Vaughan, who in the 1980s was really a darling, the timbre of my voice is much more like Ella Fitzgerald and a little bit of Betty Carter (Rickie sings 'a tisket a tasket') but I can imitate anybody if I want to because I'm a singer right?! But the timbre of my voice is so young sounding and always will be and there are just certain kinds of listeners who say they'd rather hear Barbara Streisand than Rickie Lee Jones, that's fine. But you can't limit a thing so grossly that it dies and you're not letting new stuff in, new kinds of sounds.  With this record, and I don't know if it was part of Russ's reason, because he just went, you are a great jazz singer and we have to do a jazz record! So maybe somewhere in all those years of reading the stupid things people said Russ was like, I'm going to fix this thing because by doing just straight-ahead jazz, we can show them the depths of our understanding of jazz. So, I don't think they're going to yell at me.
The new album is simply stunning and Rickie has made these classic songs sound so fresh and new, but equally, with a level of depth and wisdom that is astounding. This is Rickie being, well Rickie. That inspiring combination of youth and wisdom, strength and vulnerability. She makes you feel you are not alone in your isolation.
In an interview she recently did with the brilliant music journalist Jessica Hopper, Rickie talked about success and what that means to her. When discussing songs that were 'unsuccessful' she said that you 'carry that disappointment in your heart'. I must admit, it hurt to hear her say that but at the same time it was inspiring to hear. Rickie has touched the lives of millions of people across the world, and will continue to do so for generations. Her breath taking songs are powerful and connect with you on so many levels. Rickie is a role model, a muse, an inspiration. She makes you feel you are not alone. You are not alone when Rickie is there. Disappointment is never a word that comes to mind. But being an artist, comes with vulnerability and continual reflection. I asked Rickie if she really thought her music had ever been a disappointment and how she measures success. I also asked her if she realised what an inspiration she really was.
 Yes, every time I make a record there is the hope of a number, the hope of a place because you have to have a place where you say I succeeded. You're in business and yes, it should just be the creation of the art, wouldn't that be good? But it's not. It's, I hope somebody buys it. In fact, I hope 20,000 people. I hope 40,000 people. So whatever number you think is reasonable around the world, you set that and in each case, it has not achieved, the meagre numbers I set, so there is the moment of satisfaction, in the creation of this song but once the song is created and goes out into the studio… you know so up until now it's been a pretty unsatisfying thing. I'm listening to your words and I'm thinking I've only heard a few people recently talk to me with this enthusiasm and say, your work matters and to be honest I've been out here alone on this boat for a long time. So, what matters more is this, when our interview is done and I go about my day, do I remember that someone somewhere in the world, got it? Does that make me feel more inclined to finish the song I'm working on or have I set up a system where nothing anybody says matters? Because if you say these beautiful things and I open up a window to hear them, right at the back of you, that fucker who says those terrible things, can yell in that window too and unfortunately the bad things have a bigger impact than the good things. So, I hear you and I see you and that's enough for today you know? That's another understanding of knowing that this weird journey I have been on, has been heard and appreciated, so thank you.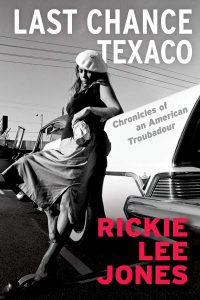 Rickie's incredible journey is beautifully explored in her book Last Chance Texaco and I cannot recommend this highly enough. Some people have described it as a memoir, but I don't see it in this way. It is first and foremost a story. The story of Rickie, her family, her life and her words, as always, inspired.
We discussed separating art from the artist, leading on from a conversation about some artists political views and how good music, is just good music irrelevant of their political affiliations and I asked Rickie if she felt there was something her audience needed to know that wasn't in her music.
Well, the question is why would they need to know anything, I guess. Is it a question of if they understood where it comes from that the music would be a better experience? I hope not. They should know the story of my life just because it is a most incredible story.  They don't need to but it's a wonderful and unique journey and I would recommend reading the book. I don't like memoirs but it's a story in itself.  It's not the story of a rock singer, it's the story of an amazing family and their journey.
Talking to Rickie Lee Jones was truly incredible. My final question for her, although an obvious one, is important. She is a legend, and her journey and the path she is on, is one that we can all learn from.
What words of wisdom or advice would you give to anyone reading this article?
I would say the most powerful thing that we can do is go through the world as compassionate people. When we set aside our own grievances and sorrows and listen to the other person, we can do so much good just in being a listener. If you're also an artist, when you go home and write, you made the world a little better just for you being in that kind of space, it trickles into your work. But my advice is just to everybody – women or men – as they go into the world is to be compassionate people. That's the good thing that I have learned as I age, because when we're young we're all about ourselves, what I see and what I think. But once you shut this down, the world opens up and it's a freer place to be when you're thinking about the other before yourself.
Pieces of Treasure will be available from April 28th 2023 and can be pre ordered here
Last Chance Texaco: The Chronicles of an American Troubadour can be purchased here
This article was originally published in the March 2023 Women in Jazz Media magazine
Last modified: March 20, 2023